ICF News Roundup
ICF Home on a Show Floor
Most attendees at the spring home show in Hartford, Conn., were surprised to find a full-size ICF home in the middle of the convention center.
Built by The Connecticut Concrete Promotion Council, Hartford Area Home Builders Association, and Polysteel Northeast, the 1,300-sq. ft. home was erected during a 4-day period just prior to the home show. An estimated 15,000 people toured the structure. The ICF exterior walls—which were not filled with concrete—were left partially uncovered for educational purposes. Seminars addressing a variety of ICF and concrete topics were held throughout the 3-day event, which took place March 2–4.
Sponsors claim inquiries about concrete homes increased dramatically in the days following the home show. The project also attracted a great deal of media attention, with coverage from local newspapers, radio, and television stations.
Concrete Technologies Tour
This year's Concrete Technologies tour of facilities in and around Minneapolis, Minn. provided ample opportunities to learn about ICFs.
Polar ICF, Reward Wall Systems and Cemstone, the Minnesota distributor of Reward ICFs, sponsored the tour. Cemstone hosted them at their facilities, and Reward showed their Builder DVD on the bus in between tour stops. The group also stopped at a private residence in Minneapolis, where the owners offered their first-hand knowledge of the benefits ICFs provide.
Chelsea Oxton, a marketing manager at Reward Walls, says, "It was very productive and positive as far as promoting awareness of ICF building and the benefits it provides. [The tour] was extremely informative and everyone who went was very inquisitive about how to build with ICFs and how they were different and better than conventional building materials."
Fox Blocks Offers Local Support: Fox Blocks, a division of Omaha-based Airlite Plastics Company, has partnered with Rotella's Custom Building Supply to provide local support for builders. Rotella's already stocks many essential residential and commercial building products; now, they also serve as a manufacturer's rep for Fox Blocks, offering a full range of ICF support services: tech support, estimating, project supervision, bracing rental, and accessories.
As Rotella's is not a Fox Blocks distributor, customers can purchase Fox Blocks at the same factory direct prices as any other customer. For more information, call
1-877-369-2562 or visit www.FoxBlocks.com.
Tritex Expands Production Capacity
Tritex has added two production facilities in the Pacific Northwest and Southeastern United States, bringing the number of plants producing the Tritex ICFs to five. The Wilsonville, Ore. plant is operated by Tegrant, formerly SCA Packaging of North America. In the Southeast, Tritex forms will be manufactured by Cellofoam in Orlando, Fla.
The Orlando and Wilsonville plants began producing Tritex in May. The other Tritex production facilities are located in Colorado Springs, Colo., Conyers, Ga. and Plymouth, Wis.
European ICF Hits U.S. Market: Variant House LLC is marketing a post-and-beam design developed by Variant-Haus GmbH of Germany. Jeffery Zwier, head of U.S. sales, says the major advantage of the forms is that they are made from BASF's Neopor polystyrene. The silver-gray foam is considerably stronger than regular EPS. The blocks are 50% lighter and up to 20% thinner compared to other ICFs, without a loss of strength or insulation. Blocks include molded-in-place furring strips for easy attachment of finishes. The company is actively seeking U.S. distributors. For more information, visit www.varianthouse.com or call (305) 777-3849.
Quad-Lock Releases ICF Promotion Video
In April, Quad-Lock Building Systems Ltd. released a new promotional video, SAFE-R, The Solution for Residential Construction, targeting homeowners interested in building a concrete home.
The 12-minute video details why living in a concrete home is more comfortable, energy efficient and safer than living in homes built with other materials. In addition to the video, product brochures, a photo gallery, and testimonials are available on the DVD.
The video also includes a time-enhanced video clip showing how fast and easy it is to build with ICFs.
Massive Habitat Project Uses ICFs
A massive Habitat for Humanity project in Indiantown, Fla. is being built with ICFs, thanks to the generous support of Greenblock Worldwide.
"This is a huge step," said Marty Miller-Leveillee, director of Habitat for Humanity of Martin County, who is overseeing the construction of 58 ICF homes.
"Since Greenblock is local to Martin County this project is a natural," said Jeff Alexander, president and CEO of Greenblock. "Our installers at Insulated Concrete Walls had the walls up and ready for concrete on the first home in eight hours."
Fox Blocks Offers Home Plans, LiteDeck
Fox Blocks, a division of Airlite Plastics Company, has expanded their product services significantly. Fox Blocks now offers its customers an insulated floor and roof system with the addition of Lite Deck to its product line up. Lite Deck is a custom, cut-to-length EPS decking system that can be used for floors, roofs, and even tilt-up applications.
The company has also added custom home plans to its list of services. The 10 new house plans, designed specifically for Fox Block ICFs by Design Basics Inc., can be viewed, specified and printed at www.FoxBlocks.com by clicking on ICF House Plans.
For more information on either Lite-Deck or the home plans, call 1-877-369-2562 or visit www.FoxBlocks.com.
New PCA Newletter
The Portland Cement Association has announced a new e-newsletter for members of the building industry interested in sustainable development. Three of the five stories in the first issue deal with ICFs.
The free email contains promotes the benefits of building with cement-based products and real-world examples of putting the products into use.
---

ICF Builder Magazine


Construction Financing for Owner/Builders
One rapidly growing trend in the residential homebuilding market is for the homeowner to act as general contractor during construction. By handling scheduling, bids, and subcontractors themselves, they save tens of thousands of dollars in construction costs.
A conventional general contractor, according to NAHB, typically averages about 21% gross profit margin, opposed to the 3% to 8% the construction guidance companies charge. Advantages for the consumer are clear.
Several ICF companies are taking steps to capitalize on this trend. Fox Blocks, Reward Walls, and Arxx all offer programs aimed at helping ICF owner/builders get the training, financing, and equipment they need to ensure their project is successful…
»Read the complete article here
---
Project Profile: Casitas Vera Cruz
This 133-home development in Bakersfield, California has been awarded "Best Residential Development 2006" by the judges at the ICF Builder Awards.
Judges cited the speed with which the project took place, as well as the attention the project attracted, as major factors in the decision. They also noted that the developers did a fantastic job in providing an energy-efficient home at an extremely affordable price point.
One way the developer was able to control costs was by minimizing cycle time. Walls were pre-assembled in a controlled factory environment and delivered to the jobsite in numbered, panelized sections. A four man crew could to erect, align, and pour all exterior walls in as little as a day and a half.
Production was so impressive than representatives from Pulte Homes and Lennar Homes, two of the nation's largest homebuilders, visited the project to investigate ICF technology…
»Read the complete article with photos here
Wall Finishes for Commercial Construction
It's no secret that commercial construction is currently the fastest growing—and most lucrative—sector of the ICF industry.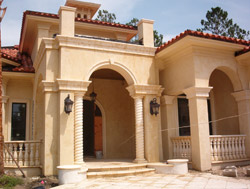 Commercial projects require exterior coatings that are durable, maintenance free, relatively cheap, easy to apply, and versatile enough to create a wide range of styles. Fortunately, exterior finish manufacturers have recently developed a number of innovative coatings specifically formulated for ICFs that meet these requirements…
»Read the complete article here
---
Underslab Moisture Barriers
"Moisture barriers are one of the single most neglected materials we see in the building trade in general," says Juan Garcia, a noted energy and building consultant. "People pay close attention to vapor proofing and housewraps above grade, but they often completely ignore below grade aspects, especially under the slab, which is very unfortunate."
Here's a look at why its important —and what the options are…
»Read the complete article here
---
Getting it Right the First Time
Regardless of which brand of ICF block you use, it's absolutely essential that the job be done right, because observers don't differentiate between contractor errors and the technology itself.
"If you have a job that's done poorly—with walls that aren't straight, or true, for instance—instead of saying 'well, it was an improper installation job,' observers will usually generalize and think, 'those foam forms don't work.' One improperly done job affects the entire industry." says Rich Barker, a distributor for American PolySteel…
»Read the complete article here
---

ICF Builder Magazine