Airlite Plastics Acquires Formtech
Airlite Plastics Co., an Omaha-based EPS molder has acquired Formtech Corp. The takeover, finalized in early January, is the first for Airlite,which is best known in this industry for its Fox Blocks brand of ICF.
With Formtech, Airlite can now offer a knock-down panel ICF to complement its existing line of forms with a fixed tie design.
"Our customers count on Fox Blocks for low-cost, construction-friendly, full-block ICF products," says Brad Crosby, Airlite Plastics Co. president. "Now with Formtech, we can offer them those same benefits in a knock-down panelized ICF system."
The new product line will operate as an independent company under the name Formtech LLC.
Formtech was founded in 1996 as a private company by Frank Bentley, and was one of the first dozen companies on the market. Formtech found a niche with a system that ships flat, offers multiple-width cavity sizes, and provides the assurance that comes with certified resins in both EPS and plastic components.

Arxx Rebrands Product Lines
In an effort to integrate the PolySteel and Eco-Block product lines more fully, Arxx Corp. has rebranded its entire line-up of ICFs.
Since acquiring the two companies in the summer of 2008, Arxx has been struggling to maximize the synergies of the purchase.
The old PolySteel form will now be called Arxx Steel, and the knock-down Eco-Block is now Arxx Edge. The well-known exposed-tie Arxx block is Arxx Classic.
The company, under a new management team, is retreating from the model of being a one-stop-shop for all green building materials, and is focusing instead on its core strength of selling ICFs through the established distributor networks. Uniscaffold and Apex Block, once part of the company, have been spun off or sold.
With the new trade names of Arxx Steel, Arxx Edge, and Arxx Classic, this venerable ICF brand hopes to take its place among the industry leaders.
Hubert Max Leaves Quad-Lock
Hubert Max Kustermann, a leading ICF executive who has shaped this industry for more than a decade, has stepped down as president of Quad-Lock.
The company states that Mr. Kustermann has decided to return to Germany with his family and pursue other business interests.
"We are most thankful for his commitment to the long-term success of Quad-Lock Building Systems and the ICF industry as a whole," reads a brief release. "His leadership over the last 10 years has positioned Quad-Lock and the industry for growth. We wish him and his family continued success, health, and happiness."
Until a permanent replacement is found, Hubert Max will be replaced by his brother, Georg Kustermann, effective immediately.
During his tenure at Quad-Lock, Hubert Max created a national distributor network and several significant product innovations, such as the R-ETRO system, the Plus Panel, and the full-height furring strip.
In addition to his work at Quad-Lock, he has played an integral role in the Insulating Concrete Forms Association, spending more than a decade on the board, and serving as its chairman from 2003-2005. His current seat on the ICFA board will remain unfilled.
This magazine, along with the rest of the industry, extends thanks to Kustermann for all he has done to take ICFs into the mainstream, and wishes him health, success, and happiness as he embarks on the next phase of his career.
Thompson Named Director at PCA
Donn Thompson, has been named the director of low-rise buildings at the Portland Cement Association (PCA). With this promotion, he will encourage the use of cement-based products in both residential and low-rise commercial construction, as well as coordinate the efforts of other allied associations.
Thompson will continue his active role in the National Association of Home Builders Concrete Home Building Council.
Thompson has more than 20 years of design and construction experience, and is a licenced architect and has LEED-AP credentials as well. Prior to working at the Portland Cement Association, he worked at Reward Wall Systems.
---

ICF Builder Magazine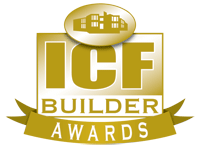 2009 ICF Builder Award Winners
The 2009 ICF Builder Awards were the most successful industry-wide competition in history.
ICF installers continue to set new benchmarks in sustainability, energy efficiency, and speed of construction for the entire construction industry, and nowhere is this more evident than in the projects presented below. These are the winners of the 2009 ICF Builder Awards, a worldwide competition that showcases the projects that have advanced the entire industry.
This year we received more than 50 entries from three continents, with 15 different types of Insulated Concrete Form represented. Every single entry we received was noteworthy and impressive. The winners, profiled on the following pages, represent the best-of-the-best, the very finest ICF buildings on the planet.
A panel of judges selected a winner and two runners-up in each category based on the criteria below. Complexity, creativity, site challenges, and media exposure, were all factored in determining which projects had done the most to advance the industry.
"The common denominator with all the winning projects was their exceptional quality," says Clark Ricks, one of the contest judges.
The 2009 ICF Builder Awards were sponsored by Giraffe Bracing, Hambro, Tajima Tools and this magazine. The 2010 contest will be announced in June.

Winners
Heavy Commercial:
Ironwood Hall, Crestwood Elementary and Emma Ward Elementary

Light Commercial:
River Oaks Center, Bluegrass Eye Center, and Boys and Girls Club

MultiFamily: Shershni Community, Central Ave. Villas and Carleton College Dorms

Small Residential: Casa Del Sol, Primrose at Landfall, and Rigby Residence

Large Residential: Mare Haven, Spring Haven, and Home-A-Rama

Unlimited Residential: Carrell Home, Hegdahl Home, and Kostatos Residence
---

ICF Builder Magazine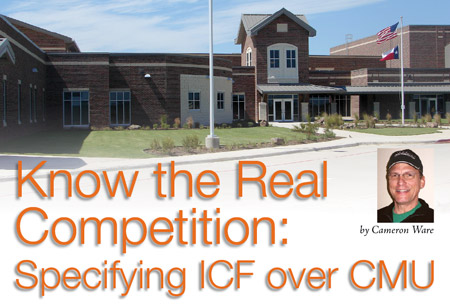 By Cameron Ware
For 40 years the concrete masonry unit (CMU) has enjoyed a significant share of the commercial construction market. Depending on which region on the country you live in, CMU may also be called cinder block, concrete block, cement block, or foundation block. Based on ICF marketing trends in this magazine and elsewhere, many of us are a little confused about who the competition really is. It is not about whether my ICF is better than your ICF; the fact is that our blocks are better than CMU.
ICF is more flexible than CMU, installs much faster than CMU, and is significantly stronger and more energy efficient than CMU. The relatively small market share of ICFs is because of the common perception among architects, engineers and general contractors that CMU is less expensive that ICF.
You might be surprised to learn that ICF is also usually less expensive than CMU—even without the energy cost payback data figured in…
---

By Randy Wilkerson
I remember when I started my first business almost thirty years ago. I heard associates and friends—along with the self help gurus on television—talking about in order a business plan. It was supposed to be a blueprint or map of how to navigate the waters to success and financial independence.
I had grown up through the ranks as a field technician and never really looked at a formula for a successful business. I thought a business plan took too much valuable time to write….I just didn't have the time or the organizational skill to write something as complicated as a business plan.
I soon learned that if I didn't set some goals for myself and my business I would run down endless rabbit trails and lose focus on what's important. A personal growth plan, along with a sound business plan, is the easiest way that I know to stay focused on what's most important and how to achieve it. It also provides a tool by which you can benchmark your performance…
» Read the Complete Story Here
---

Contractor's Corner: Myths vs. Reality
By Ian Geisler
This industry has propagated a few myths, exaggerations and misstatements for many years. These inaccuracies that some of us promote as "facts" are a leading reason why many in the building community still look at ICF as an immature or radical product.
In an effort to improve the reputation of ICFs, it's time to move truth and accuracy to the forefront. ICF Builder Magazine is producing an "ICF Facts" page on our website that will dispel many of the false claims that have been made about our product with the hopes that it becomes a learning tool for members of our industry, and those beyond it…
» Read the Complete Story Here