ICF News Roundup
Buildblock gets ICC Approval
BuildBlock Building Systems LLC, has announced that their insulating concrete forms have been approved by the ICC Evaluation Service (ICC-ES)

"This is the most significant development to date in regard to the advancement of our company," said BuildBlock CEO Mike Garrett. "This opens the entire field for commercial applications with our products."
The ICC report No. 1911 can be viewed online at www.icc-es.org. BuildBlock also recently received CCMC approval (Report No. 13283-R) confirming Canadian code compliance as well as MEA 293-07-M stating product acceptance by the City of New York.

Greenblock Launches New Online Order System
Greenblock Worldwide Corporation has launched a new online ordering system that allows customers to view, price, and order Greenblock ICFs 24 hours a day.

"Greenblock Online was created for the convenience of our customers," says Steve Reiter, vice president of marketing. "They can just go to our website and with a few easy steps they can get pricing, configure their truckload and place their order online, without having to speak with anyone or wait for a freight quote", he continues.

Greenblock customers can go to www.greenblock.com and follow the "Online Store" link.
IntegraSpec Adds Two Plants
IntegraSpec ICF has signed agreements with two EPS manufacturing plants in the United States to begin molding their patented insulating concrete forms. The plants, located near Reno, Nev. and Decatur, Ala. brings the number of IntegraSpec manufacturing facilities to six.

Molding in Alabama will be done by Expanded Foam Products Corp. (EFP). The Nevada facility is operated by ACH Foam Technologies.
Reward Adds Plant, AutoCAD
In October, Reward Wall Systems began manufacturing their iForm product line at a new facility in Orlando Fla.
The partnership with Cellofoam will reduce shipping costs in Florida as well as much of the Gulf Coast, including Alabama, Mississippi and Louisiana.
"Utilizing Cellofoam to produce the iForm means a significant expansion in our capacity," said Kevin Jones, vice president of manufacturing operations for Reward. "We are excited about our new location and look forward to providing economic and efficient solutions to the region."
The company has also created a new AutoCAD program that enables designers to view each iForm block from all directions and to stack them. Once stacked, the library creates an overall view of the wall, which can be viewed from any angle. This feature can help building designers create

"This library will make it easier for architects and designers to draw plans using Reward ICFs," said Kelvin Doerr, vice president of engineering and technical services. The AutoCAD Dynamic Block Product Library is available on the company's website, under the Product Manual Tab.
New Quad-Lock Fire Rating
Quad-Lock Building Systems Ltd. has received a formal fire ratings for its ICF products from the UL/ULC laboratories.
A wall with a nominal 6-inch concrete core was burned at 2000°F (1100°C), under full load (30,000lbs/lineal foot) for 3 hours, and met all requirements. UL/ULC extrapolated ratings give Quad-Lock's nominal 4-inch wall a 2-hour rating and a nominal 8-inch or greater wall a 4-hour rating.
Fox Blocks Has Accessories Lineup
Fox Blocks, a division of Omaha-based Airlite Plastics Company, is now marketing a complete line of construction accessories designed specifically for use with Fox Blocks ICFs.
The new lineup includes Reechcraft's Panel Jack Bracing & Scaffold System, Lite-Deck ICF Flooring System, Dur-o-Wal Truss Wire for wall straightening, V-Buck Vinyl Buck Systems, and Wind-Lock products like Foam2Foam, glue guns, foam fabricator kit, and nylon zip ties.


---

ICF Builder Magazine





ICFA Fall Meeting
The Insulating Concrete Forms Association (ICFA) Fall Meeting and Expo, held in the St. Louis in the latter part of September, was the most successful to date.
Not only were attendance figures up significantly, but the focus of the event seemed to swing—finally—toward the contractor members who make up the majority of the membership.
The show attracted 58 exhibitors and 380 attendees, about 40% more than last year's show in Milwaukee. (The Wisconsin show had 40 booths and about 280 attendees.)
"The facilities were fabulous, and the amount of interest among attendees was great. I was extremely pleased with it, " says Bruce Anderson at Vinyl Technologies. Anderson was one of a handful of exhibitors at the first shows a decade ago. "I remember the show in Ft. Worth, which was held at on the top floor of this hotel," he says. "We literally had bats flying around the room. It's great to see how far we've come in a few short years."
Next year, the ICFA will hold its Fall Meeting and Expo Sept. 29-Oct. 1, 2008 in Portland, Oregon.

» Subscribe Now For the Full Story!
---
An Interview with Steve Heller

Steve Heller was hired to lead the Insulating Concrete Form Association (ICFA) in August of 2007. The new executive director has plans to professionalize the organization and the experience to make it happen.
He talks about his vision for the association and his plans to reach out to the contractor members.
» Read the complete story here
---
World of Concrete Preview
There's a lot for ICF professionals to see a the largest concrete-related trade show, including the ICF Builder Awards, a special evening event for everyone in the industry.
World of Concrete 2008, held in Las Vegas, Nev., Jan. 21-25 is expected to draw more than 90,000+ attendees from around the world. The event will have more than 1,700 exhibits spread over 900,000 sq. ft. More that 100 of the booths are directly related to the ICF industry, including at least a dozen of the largest form manufacturers. ICF bracing, window bucking, exterior finishing, waterproofing, and other ancillary products will also be on display.
The NAHB "Insulating Concrete Forms Installation Class" will be taught Thursday, January 24 from 8 am - 11 am. Other classes cover mix design, extreme weather, pumping, and so forth.
Several of the largest ICF manufacturers will be holding their annual distributor meeting in conjunction with the show.
Perhaps the biggest event, though, will be the presentation of the ICF Builder Awards. Due to the popularity of the contest, the awards ceremony will take place after show hours, just outside the North Hall Exhibit Area in Room N263C, on the second floor.
"It became clear, just from the number of entries we received, that the level of interest in these awards is huge," says Clark Ricks, organizer of the event. "We wanted to make it convenient, comfortable, and enjoyable for everyone who wants to attend."
The room will be open shortly after 5 p.m. The awards presentation will take place at 5:45.
"We recognize that everyone has a busy schedule," says Ricks. "We also recognize the need for a WOC-related event for everyone in the industry. When the show floor closes Thursday evening, we hope you'll stop by to unwind, network, and learn about a few of the amazing projects that have been built with ICFs, before continuing with your evening. We'll have drinks and some light refreshments, but will conclude the presentation in plenty of time for you to take your client—or the new business contact you just made—out to dinner."
The ICF Builder Awards, now in their third year, are sponsored by ICF Builder magazine and Cosella Dorken. Invitations are available at the ICF Builder Booth, N467 and Cosella Dorken Booths, #S12119, #O30732 & #SG10.

Or print your invitation here. (available soon)

» Subscribe Now For the Full Story!
---
The Newest Reality TV Star
The ease and speed of ICF construction is becoming well-known. Two segments of Extreme Makeover: Home Edition feature the technology.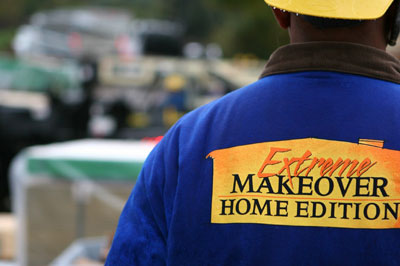 » Read the complete story here «
Download the article Here »

---
Code Compliance: Who Has It, Who Doesn't
Code certification is one key to better acceptance by building officials. In the United States and Canada, there are several building codes; the vast majority of new construction is based either the National Building Code of Canada (NBC) or the International Code Council (ICC). Several states have their own codes, usually based on the ICC, and modified to fit their regional needs.
Specifically as it relates to ICFs, code officials are primarily concerned about three things: fire resistance, structural integrity, and insulation value. An evaluation report, issued by ICC-ES, CCMC or other qualified body, makes this task much easier. So while certification isn't absolutely necessary, it is very useful for determining whether the material meets the minimum requirements. This chart summarizes manufacturers' claims regarding their code approvals.
ICC evaluation reports are valid only for the specific products and manufacturing facilities tested, a fact which a few companies in this industry have tried to gloss over. Last year ICC Evaluation Service, Inc. published a public notice to set the record straight.
"ICC-ES is aware that, currently, there are many ICF manufacturers producing product in plants not recognized in their evaluations reports," states the report. "These manufacturers cannot, under ICC-ES rules, use their ICC-ES evaluation reports in conjunction with such product. If a manufacturing plant is not 'listed' in a report, its product is not recognized by ICC-ES as being in compliance with applicable codes. It is important that code officials and building professionals be aware of this fact, and be on the lookout for false or misleading claims of 'code compliance' for non-recognized products."
The complete text of the ICC-ES public notice is available at:
http://www.icc-es.org/News/ICF_public_notice.pdf

Download the Chart Here »

» Subscribe Now For the Full Story!
---
Comparison Chart and Explanation
Newly updated and packed with information, the industry comparison chart is back again, introduced by a concise, illustrated guide to help determine which form is best.

Download the Chart Here »

---
The Greenest ICFs Might be Gray
Composite ICFs, made from EPS and Portland cement, offer many environmental benefits traditional foam blocks can't match. They offer construction advantages, too.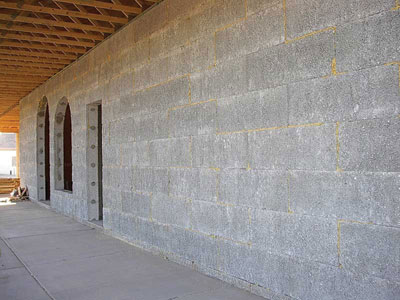 » Read the Complete Story

Download the Chart Here »

---
2008 Industry Forecast
Record oil prices, increasing mandates for sustainable construction, and a housing slump that keeps dragging on will all have a significant effect on the industry.

» Read the Complete Story
---
Project Profile: New Southern Home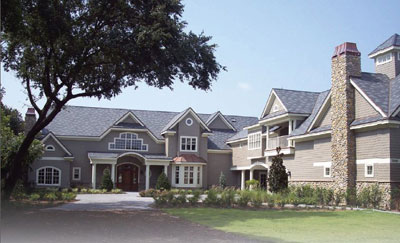 The 2007 New Southern Home is designed to showcase the building technologies of the future, available today.
Roland "Jim" Krantz, owner of James M. Krantz Construction Corp. and builder of the home, also wanted to demonstrate sustainable construction techniques.
"One of the main goals for the house was to be as environmentally friendly, or 'green,' as possible," says Krantz.
Insulating concrete forms, which were used to form the exterior walls of the house, helped him meet both goals.
» View the Details

» Subscribe Now For the Full Story!
---
Contractors' Biggest Problems


There are also problems unique to ICFs, problems that frame and concrete block builders don't grapple with. So what are the biggest? We interviewed over forty ICF contractors across the U.S. to ask the biggest challenges they faced.
Over half of the "problems" ICF contractors named stem in one way or another from people's lack of knowledge or appreciation of ICFs. This affliction extends to every relevant group in the construction industry.
This puts a greater burden on the ICF contractor to educate the public. Matt Zetlmeisl of ICF Constructors in Texas said "Educating people is our biggest challenge. Everybody knows what framing is. More people would be interested if they knew what ICFs are, how they work, the costs associated with it."
Many also stated that the biggest selling point of ICFs—their energy efficiency—is something most buyers do not appreciate. So they require education on this, too. At least half the group felt that even after the public is informed and educated, they may still not buy because of the higher cost of ICFs versus light frame.

The group was almost unanimous that actually building walls is not much of an issue any more. But many did complain about a few other problems in running their operation. One was finding good installers. Just as many cited the difficulty of holding on to good people. The subcontractor trades were also often a challenge. Several contractors noted that it could be challenging to find electricians, plumbers, carpenters, and mechanical subs that did a good job working with ICFs.
Despite the lack of knowledge of buyers and other building professionals, contractor after contractor commented that familiarity with ICFs is much greater than it was a few years ago.
That these challenges exist does not indicate that anything is wrong. But how well the industry handles them will likely determine its long-range success.

» Subscribe Now For the Full Story!
---

ICF Builder Magazine


---