Trade Show Preview
The World of Concrete will return to the Las Vegas Convention Center in 2007 for the largest concrete industry event of the year.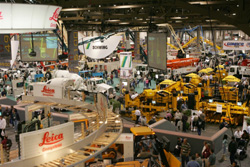 Running from January 23-26, 2007; the show features seminars, three cavernous halls of exhibits, outdoor competitions and demonstrations and more.
Most of the ICF-related booths are in the North hall between rows 4 and 8. There are also pavilions dedicated to removable forms, concrete mixing and pumping trucks, decorative stamping and staining, as well as earth-moving, repair, and demolition equipment.
The International Builder's Show will once again be held in Orlando, Fla. running Feb. 7-10, 2007, three weeks after WOC. As in years past, the Portland Cement Association (PCA) has sponsored a "Concrete Pavilion" in South Exhibit Hall A, where many in the ICF industry are located. IBS is the largest annual light construction show in the world with more than 1.5 million sq. ft. of exhibit space.
» Subscribe Now For the Full Story!
HVAC Sizing Software
Several computer programs are available to allow contractors and homeowners compare home energy costs and the savings ICFs can offer.
Juan Garcia, a respected energy consultant familiar with ICFs, recommends the free energy calculator available here. Sponsored by the U.S. Department of Energy, it allows users to calculate energy use for frame, steel stud, masonry, and SIP wall systems. ICF manufacturers are invited to submit insulation values for their forms to the Oak Ridge National Laboratory for inclusion.
The Portland Cement Association, has developed more sophisticated software that takes into account the home's size, thermostat settings, geographic location, and unique properties of concrete to determine energy savings and HVAC needs. The Excel-based program can be purchased by clicking on this link.
Energy consulting firms can perform energy analysis as well. Energy Wise, for instance, has developed estimating software that calculates estimated utility costs based on the furnace and air conditioner type. The software is so accurate that they offer a monthly utility cost guarantee to the builder or owner.
How To: Brick and Stone Facades
Brick, stone, and manufactured stone are a perfect complement for ICFs. While just about any exterior finish can be applied to ICF walls, brick, stone and siding are extremely popular, especially in residential construction. They harmonize well with textured acrylic finish systems (TAFS), and as an added benefit, it's usually easier and cheaper to apply these finishes over a foam substrate than a conventional wood-framed wall.
Read the complete article here…
» Subscribe Now For the Full Story!
---

ICF Builder Magazine


Cold Weather Concreting
Usually, most concrete work comes to a stop when temperatures dive below freezing, but because of the insulating properties of ICFs, you don't have to stop pouring if the right precautions are taken.
ACI 306 defines cold weather as "more than 3 successive days the average daily air temperature drops below 5°C (40°F) and stays below 10°C (50°F) for more than one-half of any 24 hour period."
Cold weather slows down the hydration (hardening) process. It takes longer for the concrete to reach strength, and if the water freezes, no hydration can take place at all.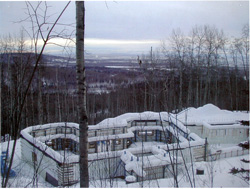 Still, concrete can be successfully poured in cold weather. Experienced ICF contractors say they can pour in single-digit temperatures if a few simple precautions are taken.
Phil Summers, an Arxx distributor in Fairbanks, Alaska, says he stuck a temperature probe through the foam sidewall to monitor the heat of the concrete during one winter pour. The batch plant used hot water, so the mix was poured at 95o. Temperatures were well below freezing, but the foam sidewalls and fiberglass batt topper held the heat incredibly well. At the end of seven days, it was -10o at the jobsite, but the temperature inside the forms never dropped below 80-85o, he says.
ACI guidelines indicate that the key issue is to protect the concrete from freezing until it has reached a minimum strength of 500 psi, which typically happens within the first 24 hours.
Cement hydration is an exothermic process, which means the mixture creates heat as it hardens. If you can keep that heat from escaping the system, that may be all that is required for good concrete quality.
Summers taped R-11 fiberglass batt insulation on the top of the forms to keep the heat in. He insulated the window and door openings as well. He says fiberglass insulation works better than bulky curing blankets and is easily fastened to the forms with strapping tape.
"We've done temperature probes, we've strength- tested core samples, and they all indicate that the walls are just fine," says Summers. "The biggest issue is the safety factor of keeping the crew warm. Also, bracing and scaffolding can get icy, which creates additional safety concerns during the pour."
» Subscribe Now For the Full Story!
2007 ICF Industry Forecast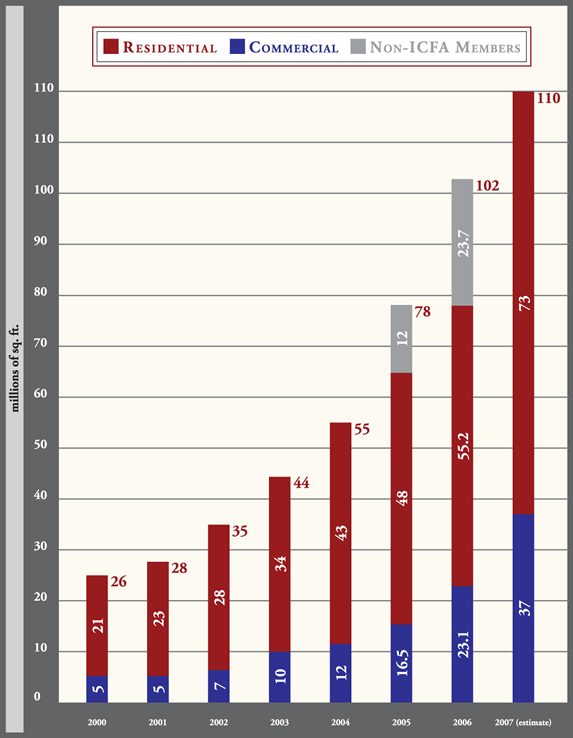 Five years from now, 2007 may well be remembered as the year the industry began to mature. External forces—such as energy costs, the green building movement, and concerns about durability—are creating new opportunities at the same time that major internal changes are transforming the industry.
Because of these factors, overall industry growth will be modest compared to previous years. Certain geographic regions and sectors, however, will see growth rates far above average.
Commercial construction is one area where manufacturers reported substantial gains in 2006. They're forecasting similar growth in 2007.
"The commercial sector is a huge growth area," confirms Eric Williams, national sales director for BuildBlock Building Systems. "We're seeing accelerating growth, especially as hotels, medical facilities, and schools begin to see ICFs as a viable construction method."
Best estimates are that commercial ICF use will reach 30 million sq. ft. in 2007, a 25% increase over 2006. By the end of 2007, 35% of all ICFs will be installed on commercial jobs.
Residential growth will be much more modest, especially in the Midwest and Northeast. Of the five states with the highest ICF use, four—Minnesota, Wisconsin, Iowa, and New York—have been hit hard by the housing slowdown.
That said, the majority of the residential ICF market is custom homebuilding, which has not seen much of a decline at all. "I don't see any slowdown on that end of the market," says Stu Oates, at Builders Wholesale. "[Residential ICF construction] will continue to grow even when housing rolls off. I have no doubt about that."
In any case, with the severest part of the correction past, most areas of the country can expect at least modest growth in 2007.
In the western U.S. and Canada, ICFs will continue to see strong growth.
The Gulf Coast region is also picking up. A full year after Hurricane Katrina devastated the region, money is beginning to flow into the region.
"Our business down there [on the gulf coast] is exceptionally good," says Patrick Murphy, president of American PolySteel. "People are starting get their money. In 2007, they're going to start building in earnest. In 2008, it will be really running."
"ICFs are a perfect solution for some of the problems that exist down there," says V-buck's Anderson. "They're durable, they're energy efficient, and they resist mold, rot and termites."
In another sign of industry maturity, it's now easier than ever to find qualified installers. The ICFA recently announced an "ICF Specialist" designation, and this magazine has created www.ICFList.com, which allows users to find local contractors and form distributors.
All of these factors, added up, produce the following numbers: Commercial growth will be solid across the country, averaging about 25% for the year. Residential ICF use will vary regionally, but will end up averaging 7% in the U.S. and 15% in Canada, resulting in an overall industry growth of 9-10%.
» Subscribe Now For the Full Story!
---

ICF Builder Magazine


Factory-Direct, For Better or For Worse
The move toward factory-direct sales is accelerating, and industry insiders are split on whether on not the trend is in the industry's best interest.
Factory-direct sales certainly could make ICFs more cost competitive. For instance, Airlite Plastic recently launched their own brand, Fox Blocks, which is sold direct to the end-user, eliminating the price mark-ups of both the manufacturer and the distributor.
The concern is that companies with factory-direct business models won't be able to provide adequate customer service and training. Stu Oates, with Builders Wholesale, says contractors probably prefer the convenience of a local distributor as well. "If a builder runs short on material, it's going to be a lot quicker to drive up the road and get it [locally] than it will to place an order," he says. "Contractors are used to dealing with a local yard, and they're going to want someone that can take returns."
Many claim that the greatest problem with factory-direct sales is the lack of training. "These companies who sell to any buyer regardless of experience are moving the industry backwards," said one executive on condition of anonymity. When a project goes poorly due to improper installation, they fear that the technology will be blamed instead of the shoddy installation. "We can't afford a black eye like that," he says. "They're going to be a headache for the whole industry."
A few, however, support the factory-direct distribution model. "With any strong industry, you're going to see a number of business models," says Hank Pfeiffer, COO at Reward Walls. "Certain business models will win the largest share of the market, but I think there are multiple models that can be successful in this industry."
» Subscribe Now For the Full Story!
---

ICF Builder Magazine



End of a Fragmented Industry?
Anyone who can come up with a new tie design and interlock system can market a new ICF. Because of this, the industry has seen an average of six to eight new ICF brands every year since the mid 1990s. Today, there are more than eighty different blocks.
But the barrier to entry was raised substantially in 2006, and it appears that the days of the small, regional molder may be numbered. This year, two major events—which have gone largely unnoticed—will likely alter the course of this industry for decades to come.
First, all three of the nation's largest insulation companies now have ICF products. Certainteed is marketing ThermEZE, a pseudo-ICF that requires removable forms. Owens-Corning has Fold-Form, and Knauf USA recently launched their screen-grid WebLok.
"These are behemoth companies whose sales are in the billions of dollars," notes Bruce Anderson of Vinyl Technologies. "It doesn't matter if the products are the most technologically advanced; what matters is that they are marketing giants."
Anderson points to several instances where sheer marketing muscle was used to dominate a market. "The writing is on the wall," he says. "Once these companies start promoting their products, industry consolidation is inevitable."
Secondly, most major EPS molders now have their own, in-house ICF brands. These large molders now have a significant disincentive to make blocks for the competition. Smaller ICF companies may find it hard to get their blocks made at all. There is excess molding capacity in North America, but the big molders will enjoy significantly lower production costs.
"The in-house block is always going to be cheaper," explains Stu Oates. "If the mom-and-pop operation tries to match the price, they won't make enough to be able to market it properly."
» Subscribe Now For the Full Story!
---

ICF Builder Magazine



Advantages of Composite ICFs
Blocks made of cement-EPS blends, for instance offer many advantages to those made from regular EPS.
"This product is completely fireproof," says Claudette Sumerall, marketing manager at Amazon Forms. "You can put a blowtorch on our product and it will not melt or burn."
Most cement-EPS composite blocks have fire ratings in excess of 4 hours, and additional sheathing isn't required to meet fire code. Stuccos and plasters can be applied directly to the block without mesh and without sheetrock and still meet code. As an additional green benefit, many are made with 100% recycled foam.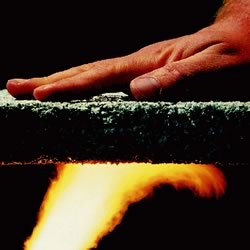 Because of their density and weight, walls up to 10 feet high can be poured without bracing. The screen grid (post-and-beam) design means a cubic yard of concrete will fill almost 100 sq. ft. of wall, nearly double most ICFs, and the blocks will tolerate high-slump concrete, so getting the mix into the horizontal beams isn't a problem.
As part of the curing process, the concrete penetrates into the porous block and locks into place. Because of their density, nails and screws hold wherever they are driven, making interior and exterior finishes much easier to apply.
The disadvantage is that the blocks are heavy. Rastra's 10-foot long planks weight between 150 and 250 lbs. Amazon's Grid-Wall is the size of a conventional ICF block, 48"x16" and weighs a more manageable 25 to 40 lbs., depending on wall thickness.
Blocks are easily cut and shaped with carpenter's wood tools. Utility chases can be cut with a saw or router, but not a hot-knife.
The technology has a proven track record, stretching back more than 30 years, when Karl Holik patented Rastra, the first block of this kind, back in 1972. Holik notes, "More general contractors and subcontractors have built their own homes with Rastra than any other alternative building material."
» Subscribe Now For the Full Story!