ICF News Roundup
LEED v3 Debuts
The updated LEED rating system has now completely replaced the previous system.
Leadership in Energy and Environmental Design Version 3 (LEEDv3) was finalized in April; the previous system (Version 2.2) was phased out completely by June. The new LEEDv3 places even more emphasis on energy efficiency and CO2 emissions than the previous system. It also marks the launch of a more reliable and faster LEED Online.

The new LEED Accredited Professional (LEED-AP) materials provide specialized training for specific market segments. Training for LEED AP Homes and LEED AP O & M (Operations and Maintenance) credentialing has also begun.
ICFA Under New Management, Show Postponed
The Insulating Concrete Forms Association (ICFA) has closed its headquarters near Chicago and hired a management team in Maryland to oversee day-to-day operations.

Vera Novak, former technical and marketing director, and Steve Heller, former executive director are no longer with the ICFA.

The association is now being managed by a professional association management group, the same group of individual that manages the EPS Molders Association (EPSMA) and the Alliance of Foam Packaging Recyclers (AFPR). A letter sent out earlier this summer states, "ICFA already has tremendous synergies with both EPSMA and AFPR including complementary purpose, membership and target audiences" and says the move could reduce ICFA's annual operating expense by up to $30,000.

Because of the transition, the ICFA Expo, formerly scheduled for the last week in September, has been postponed. The trade show will now be held Nov. 4-6. For more information on the show, visit the ICFA website
As part of the reorganization, the ICFA has formed a Primary Member Leadership Council (PMLC), comprised of the form manufacturers in the association, who are working to develop a mission statement for the association and develop ways to serve the different levels of membership.
Credit Markets Starting to Thaw
After almost a year in the deep freeze, American companies report that credit markets are beginning to thaw. Economists say it's a promising turn that could bolster the economy.

Large corporations, which are able to issue their own bonds, are doing so at a pace not seen since the spring of 2008. According to the Dealogic, new corporate debt worldwide was $82 billion last week. That's the highest since $103 billion last May, and nearly double the level seen right before the credit crisis in September.
The movement hasn't trickled down to small businesses though. Despite massive taxpayer-funded bailouts, bank lending remains at a trickle, partially because the banks are still suffering massive losses and partly because they've spent the bailout money on other items, like executive bonuses and payments to foreign banks.
Economic Recovery Likely to be Slow
The economic depression that has crippled the construction industry appears to be easing but likely has not yet begun to turn around.

The report from the National Association for Business Economics (NABE) "provides new evidence that the U.S. recession is abating, but provides few signs of an immediate recovery," said Sara Johnson, who helped compile the report.
More than half (55%) of respondents indicated the economy still hasn't bottomed out, with 14% projecting their companies will see their lowest sales in 2010 or beyond.
The current slowdown, which dates to December 2007, is the longest since the Great Depression and the deepest in decades. Most economists look for growth to return in the second half of the year, but they caution that the recovery is likely to be sluggish.

Portland Discusses "Feebate" Program
Officials in Portland, Ore., have proposed a green building incentive program that would be the first of its kind in the U.S.

According to a story in Building Design and Construction, the idea is to charge a fee for new construction if it's not built to LEED standards.

Specifically, new commercial buildings 20,000 sq. ft. or larger could be fined up to $3.46/sf if not built to LEED Silver standards. Buildings that certified at the silver level would pay no fee, and buildings that achieve LEED Gold or higher would get rebates of up to $17.30 per sq. ft. depending on certification level.

Architects Partner with Green Building Group
The Green Building Initiative (GBI) and the American Institute of Architects (AIA) now have a formal working relationship. The two groups signed a memorandum of understanding this spring, pledging to work together to promote the design and construction of energy-efficient and environmentally responsible buildings.
Ward Hubbell, president of GBI, says AIA's "support and expertise in the development of the Green Globes Standard has been invaluable."

Chris McEntee, executive vice president and CEO of the AIA credits "GBI's engagement in life cycle assessment and promotion of post-construction third party review," as reason for the MOU.

The move is anticipated to make the Green Globes program better known, and to compete with other green building standards, such as LEED (administered by the National Green Building Council) and the NAHB Green Standard (administered by National Association of Home Builders and the International Code Council (ICC).
Perma-Crete Offers AIA Course on Acrylic Surfacing
Perma-Crete now offers an online continuing education course (CEU) for architects, specifiers and engineers titled Polymer Concrete Surface Systems: A Green & Sustainable Solution.

The course is fully accredited, and available through the AEC Daily website
"Architects in America must have 18 hours of continuing education annually," explains George Henderson, president of the company that makes Perma-Crete. "The American Institute of Architects (AIA) now requires that all members take four hours of sustainable-design coursework each year in order to retain their membership. This course grants one credit-hour of towards this sustainable design requirement
Perma-Crete is an acrylic-polymer concrete product with over 6,000 psi compressive strength, and can be applied to concrete, foam, masonry, aggregate, and steel. Because of low volatile organic compound (VOC) emissions, it can help projects qualify for up to 8 LEED project points.
---

ICF Builder Magazine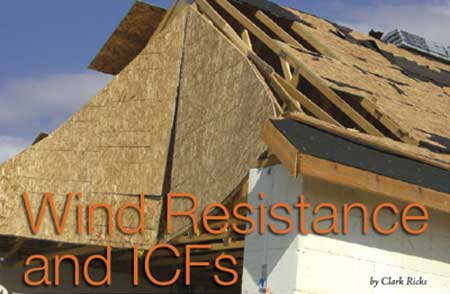 Wind Resistance and ICFs
If you're willing to live in a cave or bunker, perfect protection from high winds can be guaranteed. Most of us, however, value aesthetics and day-to-day convenience very highly, so protection becomes something of a trade-off.
Most of the damage and risk to life during hurricanes and tornados comes from flying debris.

Windows and doors are the most vulnerable, but tests at Texas Tech University show that 2x4 wood studs easily penetrate wood frame and even brick-veneer walls. (See the video.) The boards were shot at speeds up to 80 miles per hour—barely hurricane force.

Dozens of real-world examples prove solid concrete walls are virtually hurricane- and tornado-proof. Many experts believe ICFs are the most cost-effective—and aesthetically pleasing—way to protect occupants and their belongings from wind-related natural disasters....
Click Here for the Complete Story
Gulf Coast ICF Update
Four years ago, Hurricane Katrina devastated the U.S. Gulf Coast, leaving behind a trail of wreckage that stretched for hundreds of miles. Many within the ICF industry saw this as an opportunity to rebuild the region in a more responsible manner, using solid concrete and EPS foam to create buildings that could easily withstand the heat, termites, and occasional hurricane.

Recently, I spoke with half a dozen ICF distributors and contractors in the hardest hit areas to assess the rebuilding effort. The interviews reveal some progress—and also missed opportunities….
Click Here for the Complete Story
---

ICF Builder Magazine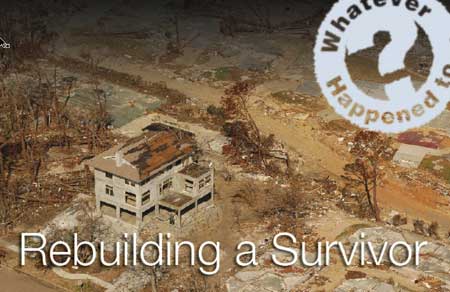 Whatever Happened To…
Perhaps the most famous image to come from the devastation of Katrina is the iconic image of a single home standing strong and structurally intact, while literally nothing was left for blocks around except bare concrete foundations.
The photo was taken by John Fleck, working for the Federal Emergency Management Agency (FEMA), flying over Pass Christian, Mississippi, just days after the disaster.
The home is an ICF home, owned by Scott Sundberg, an ICF enthusiast and professional engineer. "At the time the home was being built, it was just about the only ICF project in the region, and nobody knew much about them. Of course, now they're a lot more common."

In addition to his engineering work, Sundberg works as an ICF designer and architect, and has designed replacement homes for several of his neighbors, including one just across the street.

As for the famous house in the FEMA picture, it survived relatively well, and was able to be repaired. The shingles, blown away by 150 mph winds, have been replaced, as have the windows, which were hit with a 20-foot wall of water.
The exterior was completed last summer, and the interior shortly after. Sundberg says the repair work took longer than expected due to a lack of qualified contractors in the area, and he ended up doing much of the work himself. The family moved back into the home just over a year ago.

"I really look forward to these 'glamour shots' replacing our worst hour," he says. "Those FEMA pictures have made their way to Canada, England, and China."
"The real part of the story to be told is… the quality of the rebuilding effort," he continues. "We have a chance to fill our clean slate—there's a swath of 99.9% destruction from Claremont Harbor to Pascagoula—with strong safe homes that deserve low insurance rates. It's a 'golden opportunity' if we somehow succeed, and the death of the mitigation movement if we build poorly designed, poorly built buildings that fail."
---

ICF Builder Magazine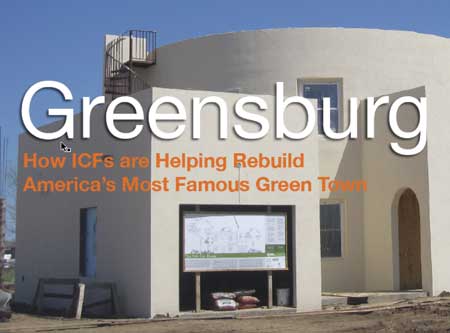 Rebuilding Greensburg
Two years ago, Greensburg, Kansas, was literally wiped off the map by one of the most powerful tornados in U.S. history. The F5 twister, with winds in excess of 200 mph, caused brick homes to collapse and frame houses to explode. Automobiles became missiles, hurled more than 100 yards away. More than 95% of the town was completely destroyed, with the remaining 5% being heavily damaged.
With a population of only 1,700, reporters openly speculated that the town was finished. But within a few days, town residents met and decided to rebuild; they would turn Greensburg into a model green community.

ICFs are understandably a major part of the rebuilding effort. "You don't experience a storm like this and come out of it with an attitude of complacency," said Daniel Wallach, executive director of Greensburg GreenTown….
Click Here for the Complete Story



Taking Advantage of the Stimulus
The long-awaited stimulus money has finally begun to trickle down into the construction industry.

This funding, though very small in most regions, may actually help a few localized construction projects. Look carefully and we can find hidden opportunities for the ICF industry….
Click Here for the Complete Story