Fox Block Joins ICFMA
In February, Fox Blocks ICF, a division of Omaha-based Airlite Plastics announced that they had joined the ICF Manufacturers' Association (ICFMA), a North American non-profit trade association for manufacturers of insulated concrete forms. Founded in 2014, the association is dedicated to improving the quality and acceptance of ICF construction.
Mike Kennaw, vice president of the Fox Blocks, EPS Division of Airlite Plastics says, "[We] value the opportunity to join the ICFMA as its newest manufacturer partner. We feel the ICF industry is on the verge of significant market share growth and have plans to leverage our 70-plus years of manufacturing and 20-plus years of ICF experience to participate strategically in the growth that lies ahead. The collaborative partnership within the ICFMA will allow the sharing of resources to accomplish mutual goals."
Andy Lennox, Chair of the ICFMA says, "We are very pleased to welcome Mike Kennaw and his Fox Blocks team to the fold… Our industry has a great story to tell, and the ICFMA has had great success since our inception in representing and growing the ICF industry in an energetic and professional manner. Having Fox Blocks on the team will only make our organization stronger and more effective as we move forward."
XPS with New Flame Retardant Available in Canada
Dow Building Solutions announced in November that all Extruded Polystyrene (XPS) insulation sold in Canada will be made with polymeric flame retardant.
This chemical was invented by Dow in 2004 as a replacement for hexa-bromo-cyclo-dodecane (HBCD), due to environmental and health concerns. HBCD is still the most common flame retardant in EPS and XPS, and is added to nearly all rigid foam building materials—including ICF.
Dow has already converted its Japanese and European XPS foam plants to the new flame retardant. Tim Lacey, global business director for Dow Building Solutions, says the company will convert the remaining foam plants to polymeric flame retardant as soon as it is practically and commercially feasible. "This phased approach allows for a controlled conversion process that meets the business's quality requirements in every region and, at the same time, ensures product availability meeting market demands across regions," he says.
ICFs Featured on Cable TV
Following up on appearances on Extreme Makeover: Home Edition and House of Bryan, ICFs are again starring in a reality TV series this year. This time, it's Meet the Putmans, a new show on cable channel TLC. The series follows a large multi-generation family—25 people in total— living under one roof. The extended family works as commercial and residential general contractors, and the first season revolves around the construction of their new home, which they built with ICFs.
The first episode premiered Jan. 16.
Laurie Smithers, marketing manager at Fox Blocks, reports that the home is massive— three stories tall and using more than 3,000 ICF block—and that some of the episodes will include quality footage of the ICF construction. "[Regional manager] David Morris has been involved with this project since the very beginning and our leadership team has also spent time with this family and at the site," she says.
For more information about the show and when it airs in local markets, visit
www.tlc.com/tv-shows/tlc-presents/meet-the-putmans/
Trade Show Report
Mid-winter is tradeshow season, and this year was no different, with the industry's two biggest shows held back-to-back on opposite sides of the country.
On Jan. 13, the International Builders' Show (IBS) wrapped up a three-day run in Orlando, Fla. According to the National Association of Home Builders (NAHB), which sponsors the event, about 80,000 home builders, remodelers, developers, and designers attended the show. That's a significant increase from the 60,000 that attended last year's show in Las Vegas.
"The home building industry turned out in force for this event," said Geoff Cassidy, NAHB senior vice president of exhibitions and meetings. At least five ICF manufacturers had booths there, and reported significant booth traffic and
solid leads.
As part of the educational seminars, NAHB economists and design teams presented their research on the direction of the residential building industry. Among their findings were that the average home size decreased in 2016, "a sign that the homebuilding industry is preparing for the coming wave of first-time buyers as millennials begin to dip their toes into
the market."
Economists predicted that single-family home construction "will continue on a gradual, upward trajectory" in 2017, fueled by a solid economic growth, ongoing job creation, rising wages and favorable demographics. However, they also forecast a shortage of the "three Ls"—lots, labor and lending—in some markets.
The International Builders' Show will stay in Orlando next year, running Jan. 9-11, 2018.
World of Concrete, which is usually held in early February, was moved up several weeks on the calendar this year, so three days after IBS wrapped up in Florida, World of Concrete 2017 kicked off in Las Vegas. The logistics of exhibiting at both shows proved daunting, and several ICF companies chose to concentrate on a single event. Amvic, Logix, and Quad-Lock exhibited only at IBS. Fox Blocks, IntegraSpec, LiteForm, and Superform focused on WOC. BuildBlock and NUDURA were the only ICF brands with booths at both shows.
With just more than 50,000 attendees, traffic at World of Concrete was lower than last year, but organizers called it a success and report that of the 1,455 exhibiting companies 73% have already booked their booth space for next year.
The ICF-specific events were particularly successful. The ICF Builder Award presentation attracted guests from as far away as Australia. The three-day ICF Summit was also well attended. Hosted by ICF Builder Group and the ICFMA, the Tuesday morning Intro to ICFs class filled the room with more than 50 students, and many stayed afterwards with questions for the presenters. The Wednesday morning class focused on how to market ICF's disaster resistance. The final speaker, Mike Garrett of BuildBlock Building System, laid out a step-by-step plan on how to build a successful ICF business from the ground up. The final class on midrise ICF construction was the best attended of the Summit, and generated a lively discussion on how to ensure ICF subcontractors are both qualified and compensated for
their work.
Jackie James, director of the show, says, "Exhibitors and attendees seemed very pleased with WOC 2017 from the show floor to the educational opportunities. Although the show was earlier than in past years, the industry showed up in force to see new products, network with their peers, and prepare for business.
World of Concrete 2018 will take place January 23-26, 2018 at the Las Vegas Convention Center.

Trump Buoys Construction Hopes
While the U.S. remains deeply divided over the new president, the latest data suggests the administration will be favorable for the construction industry.
Financial markets have pushed stock prices to record highs, reflecting in part enthusiasm over the stimulus program being pushed by President Donald Trump. In addition to tax cuts and deregulations, Trump has pledged to boost spending on the nation's aging infrastructure. While details are scarce, the commitment to update bridges, roads, and buildings promises to boost construction. In his first few days in office, he relaunched two massive oil and gas pipelines, and is moving swiftly to undo regulations that impact project development and job growth.
The building industry is already seeing strong gains. The U.S. Dept. of Labor reports that the nation added 227,000 jobs in January—far more than the 174,000 predicted—and construction was one of the sectors with the strongest growth.
Lawrence Yun, chief economist for the National Association of Realtors said in a statement, "One thing of note is the solid increase of 36,000 in construction jobs. With 170,000 construction jobs added over the last 12 months, builders are increasing capacity which should help to resolve the low housing inventory in much of the country."
---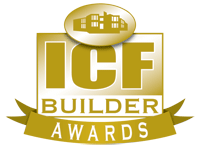 The winners of the 2017 ICF Builder Awards were announced last month in Las Vegas, Nev., at an evening award presentation held in conjunction with the World of Concrete trade show. The annual project-of-the-year competition is widely regarded as the biggest event in the ICF industry, and the best opportunity to come together and celebrate the advances that have been made.
» Click Here for the Complete Story
---
UPDATED Comparison Charts
The charts on the following pages are intended to help architects, builders and homeowners understand some of the basic features of every ICF currently on the market.
It is not intended to fully describe every feature of every product line, but it does contain a significant amount of information—more than any other chart available.
We recommend that it be used to make a short list of forms that meet your criteria: form size, cavity shape, tie design, and energy performance. Then visit the manufacturer's website or call their toll-free number for more information.
In the end, your decision will probably be determined by block features, price, reputation, and level of manufacturer support.

Insulating Concrete Forms
EPS Decking Forms
Alternative Stay-in-Place Forms

ICF Builder Magazine
2017 ICF Builder Awards HOSPITALITY WINNER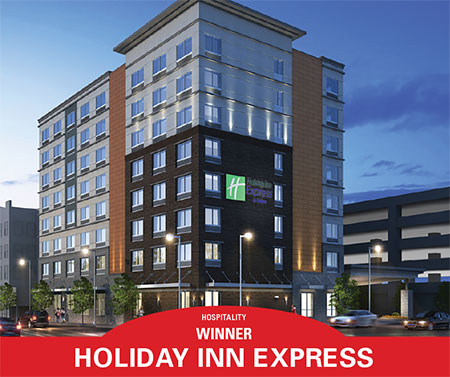 The new eight-story Holiday Inn Express in downtown Louisville, Ky., is a landmark project. Standing about 100 feet tall from footer to parapet, it's the tallest building in the area. But it's also a landmark for the ICF industry.
» Click Here for the Complete Profile


ICF Builder Magazine
2017 ICF Builder Awards UNLIMITED RESIDENTIAL Winner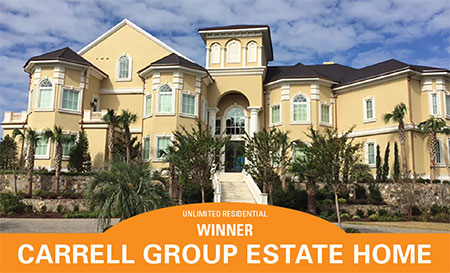 This estate-class home, built by the Carrell Group, is one of the most remarkable ICF homes in North America. Finished in September of 2016, the massive 30,000-sq.-ft.-plus residence was built over a period of five years in a small seaside community on the state line separating the Carolinas.
» Click Here for the Complete Profile
---
2017 ICF Builder Awards SMALL RESIDENTIAL Winner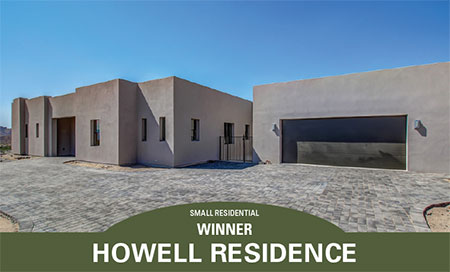 Built on a hilltop in a prestigious neighborhood overlooking Phoenix, Ariz., the Howell Residence is a masterpiece. The Southwest-style home features clean lines, an open floor plan and a functional layout.
» Click Here for the Complete Profile
---