Guest Editorial: Speed Matters
Sometimes we get so consumed with the nuts and bolts of our profession
we forget that not everyone knows what we know.
I was talking with a contractor the other day. He's the head of the local office for a regional construction firm. I commented to him that I had seen his guys working on a new retail building project. The walls consisted of two concrete block walls with insulation between them, and an insulated stud wall on the inside.
That's a pretty complicated and labor-intensive wall. I explained to him that he could use the Polycrete Big Block ICF wall system to accomplish all that in one step, that he would only have to use one subcontractor, and it would save him a ton of time.
He said to me, "Construction speed is not that big a deal to us."
Over the years, hard lessons have taught me to suppress my sarcasm reflex— particularly here in the south where it's easy to hurt someone's feelings and they make you pay for it a long time. I let the comment pass, but couldn't get it out of my head.
I'm a trained accountant, and spent a bunch of years doing finance and accounting in job-shop manufacturing companies. I'm intimately familiar with job costing and profit/overhead allocations.
Maybe this guy didn't know anything about accounting because he had an engineering or architectural background. Maybe he started out swinging a hammer and advanced to management because he was terrific at running a crew and getting the best out of his people.
I realized there might be a lot of other folks out there who don't instinctively know how important construction speed is to the profitability of their project.
In manufacturing, we call it "throughput." It's the amount of raw materials and labor you can turn into finished products in a given amount of time.
For a contractor, when you have fixed overhead costs like office rent, insurance, telephones, salaried workers, and payments for machinery and equipment, throughput is critical. When you're the developer paying interest on a construction loan, throughput is just as serious.
For example, let's say your overhead (regular monthly expenses like office rent, salaried workers, etc.) amounts to $25,000 per month. You're bidding a job and figure it will take six months to complete. You build in $150,000 of overhead into your bid. You also decide you want to make $60,000 profit.
What happens if you increase your throughput and finish a month early? For starts, you turn your profit rate into $12,000 per month instead of $10,000.
You also save $25,000 of overhead so your $60,000 profit has now become $85,000 and your total monthly profit is now $17,000 ($85,000÷5 months) instead of the $10,000 you originally planned on – 70% higher.
Run that out for an entire year and you're talking about making $204,000 rather than $120,000.
When you're the developer and you're paying on a $25 million construction loan, what's the interest savings if your building is delivered a month early? $90,000? $100,000? More? That doesn't even include the cash advantages of getting leased up and cash flowing a month sooner.
You can also see very quickly that getting behind schedule can kill you in no time at all. But that's a story for another day.
These examples are simplified, but they illustrate that speed of construction is a critical factor in the success of your business and you need to look for every advantage.
The market sets the price that you can get paid for a job, and you can't do much to control that. What you can control is your costs, and they are not limited to what you pay for a 2x4.
Bruce Anderson is owner of Polycrete USA, the Virginia-based ICF maker of Big Block ICFs. He can be reached at www.PolycreteUSA.com. This column is reprinted with permission from that site.
ICFs at World of Concrete
The World of Concrete trade show will run Jan. 17-20, 2017 at the Las Vegas Convention Center. It's expected to draw nearly 60,000 attendees.
The upcoming show offers an unprecedented number of ICF-related educational courses and events. In addition, nearly all the major ICF brands will be exhibiting, along with numerous bracing, exterior finish, floor system and waterproofing companies. Most ICF-related booths are located in the North Hall.
Last year's highly successful ICF Summit has been expanded to a three-day series. The Tuesday morning class is an introduction to ICFs for builders new to the technology. Wednesday morning, the 90-minute class will educate contractors on how to market ICF's disaster resistance. The final class on Thursday will be a builder-to-builder advanced installation panel focused primarily on overcoming the challenges presented by midrise ICF construction. ICF Builder Group is the primary sponsor of this series. To register, visit the World of Concrete website http://www.worldofconcrete.com/Attendee/Home/Events/LuncheonsandForums.
In addition, Fox Blocks and Helix are sponsoring an invitation-only Builders Forum, to discuss
current building trends and challenges, ICF construction innovations, and opportunities in the market. After a brief presentation, a facilitated open forum will follow, exploring topics that will foster growth and advancement of ICFs and help to build strong partnerships within the industry.
On Wednesday evening, the biggest ICF event of the year will take place. The 12th annual ICF Builder Awards will honor the best ICF professionals and recognizes the milestone projects that have advanced the industry. As in past years, the presentation will take place in room N256, and begins shortly after the show floor closes Wednesday. (The VIP reception begins at 4:30; doors open to guests at 5 p.m.) Many say it is, hands down, the best networking opportunity available. Complimentary drinks and hor d'oeuvres will be served.
For more information about World of Concrete 2017, visit www.worldofconcrete.com.
---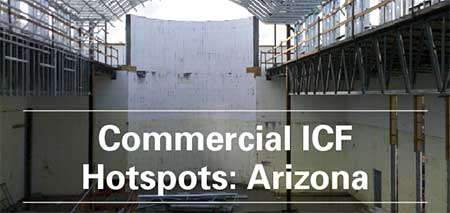 In the Nov. 2014 issue, this magazine detailed how ICF use came to dominate the midrise market in Kitchener/Waterloo, Ontario. This article, the second in the series, outlines how ICFs gained popularity in Arizona's commercial sector.
» Click Here for the Complete Story

ICF Builder Magazine
2016 ICF Builder Awards LIGHT Commercial Winner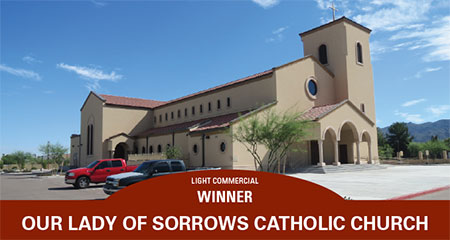 ICF use is well-established in Arizona, and church construction played an early role in driving commercial market growth in the area, with more than a dozen ICF religious buildings completed in the region.
» Click Here for the Complete Profile


ICF Builder Magazine
2016 ICF Builder Awards Multi-Family 1st Runner Up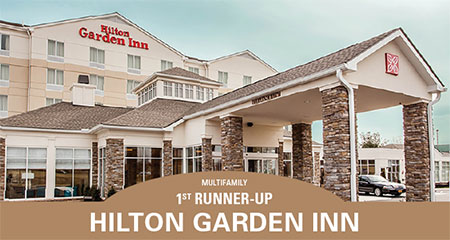 The Hilton Garden Inn completed last year in Uniontown, Penn., is a compelling example of ICF mid-rise construction. It's notable not only for innovative construction materials, but also for the value-engineering that went into the design phase.
» Click Here for the Complete Profile

ICF Builder Magazine
---
2016 ICF Builder Awards Light Commercial 2nd Runner Up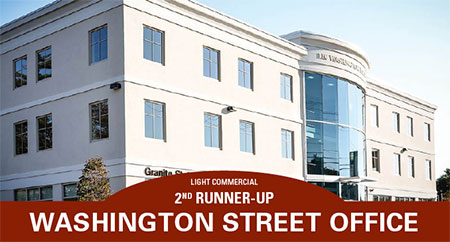 New England is notoriously resistant to change, but a three-story office building recently completed in New Hampshire is one indication that ICFs may be gaining respect in the region.
» Click Here for the Complete Profile

ICF Builder Magazine
---
2016 ICF Builder Awards HEAVY Commercial 2nd Runner Up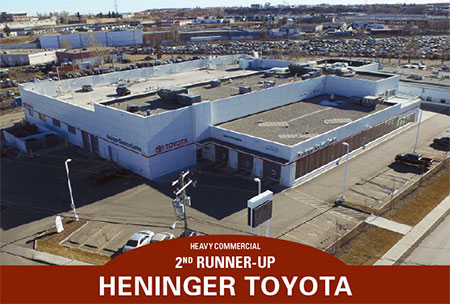 Heninger Toyota is a state-of-the-art automobile dealership built in the heart of Calgary, Alberta, Canada. Opened to the public last fall, the service department features a drive-in sensor track, which X-rays the incoming vehicles, automatically performs diagnostic tests and then generates a summary of that information on the computer monitor of the technician.
» Click Here for the Complete Profile