NRMCA Promotion Yielding Results
In January, this magazine announced that the National Ready Mixed Concrete Association (NRMCA) was beginning a multi-million-dollar marketing effort for the next five years aimed at increasing concrete use in light commercial construction. ICFs are a major component of the campaign, which has been dubbed Build with Strength. (NRMCA president Robert Garbini explains what this marketing effort means for the ICF industry in a feature article beginning on p.12.)
The campaign is already yielding positive results. New research from the Massachusetts Institute of Technology (MIT) confirms that using durable and resilient construction materials such as concrete saves money over the life of the building.
Using a new tool known as BEMP (Break Even Mitigation Percent), the study found a $10 million wood building is expected to face more than half a million dollars in hazard-related damages over 50 years. A $10 million engineered concrete building is expected to face only $165,000 over the same period.
In July, the Build With Strength campaign released two short videos on the benefits of using insulated concrete forms (ICF), demonstrating that it is the safest, most durable, and resilient construction method and material for the Seattle, Wash., area. To drive their point home, Build with Strength published several case studies of ICFs construction that highlight these attributes, particularly in comparison to cross-laminated timber (CLT) construction.
"ICF is faster than building with wood, [and] concrete doesn't combust as wood does, that's the truth," said Eric Coleman, a developer with EYC Companies, in the video. "When you stack foam against concrete, it's the most insulated envelope… it's a far better product for an exterior envelope of a building than any wood wall."
The video and the case studies highlight the durable and resilient qualities of concrete, but also the speed and ease of ICFs. The materials also mention that ICF construction can continue in the winter at lower temperatures without the need for insulating blankets or a heating source; that it is inherently resistant to tornados, hurricanes, fire, rot, and rusting; and also has noise-canceling properties.
"There's no denying that concrete delivers strength and durability," said Kevin Lawlor of Build with Strength. "The video and case studies released today show that speed and ease of use can now also be associated with concrete construction."
NRMCA is also providing developers and their design consultants with preliminary designs and construction and operating cost estimates, and has earmarked sizeable sums for communications, education and codes advocacy. More information is available online at www.buildwithstrength.com.
Dow Opens New Foam Molding Facility
In July, the Dow Chemical Company announced construction of a new polystyrene manufacturing facility in Burley, Idaho. The facility will use a next-generation flame retardant that will allow rigid foam to meet global energy efficiency goals as well as sustainable building objectives.
The new factory is expected to produce Styrofoam-brand Extruded polystyrene (XPS) with Polymeric Flame Retardant Technology, a new chemical that is expected to replace HBCD, which is being phased out over the coming years due to environmental concerns.
Tim Lacey, global business director for Dow Building Solutions says, "This strengthens our ability to deliver sustainable insulation solutions to customers, especially in Western Canada and the United States." He continues, "The strong collaboration with the city of Burley has been critical to reach this agreement and we look forward to continuing that exemplary collaboration together into the future."
Groundbreaking on the 60,000 square feet project is expected to occur in 2016 with project completion targeted for the latter portion of 2017. Manufacturing is expected to begin in early 2018. Construction will employ about 80 workers, and create 21 full-time manufacturing jobs at the height of operation.
Construction Sector Slows
The latest construction figures from the U.S. Government showed mixed signals on whether growth might continue. The data, jointly announced by Census Bureau and the Department of Housing and Urban Development (HUD) reflected construction statistics from June 2016.
Residential construction stood at 1.15 million, which is more than the month previous, but down 2% from 12 months earlier, mostly because of a decline in multifamily construction. Single-family starts are up 4.4% from the prior month and up 13.4% from June 2015.
Robert Dietz, the chief economist for the National Association of Home Builders, expects the single-family market to continue to show the strongest growth, as existing home sales are at the highest level since before the financial crisis, and up 25% compared to last year.
Others were more pessimistic. "This maybe is an important milestone for the housing recovery, but historically, it is well short of what should be normal," said Lawrence Yun, chief economist for the National Association of Realtors. Considering population and job growth, he says new home sales should be around 800,000 or 900,000 a year, rather than the actual 550,000 reported by the Census Bureau.
The housing market is still dealing with tight credit, low inventories and affordability issues because wage growth hasn't kept pace with house price appreciation.
Yun expects the housing market will continue its slow recovery over the next two years. But there is a chance the recovery could become much stronger, he said.
Commercial construction fell 1.1% on a year-over-year basis, for the first time since July 2013. Anirban Basu, chief economist for the Associated General Contractors, says public agencies have cut back on construction, corporate profits remain stagnant and business investment remains underwhelming.
"The only significant driver of economic growth in America presently is consumer spending," he says.
Deadline for ICF Builder Awards Nears
The ICF Builder Award competition is held annually to recognize the best in insulated concrete construction, and the deadline for this year's contest is just weeks away.
The contest showcases the innovation, quality, and craftsmanship possible with ICFs, and is the most prestigious award offered to ICF professionals.
A new category, "Specialty Applications," has been added to this year's contest, and a few minor adjustments to the rules and judging criteria clarify areas that may have caused confusion in the past. The 2017 Entry Notebook has been updated to reflect these changes, and is available for download now at www.icfmag.com/awards in PDF and Microsoft Word format. The webpage also contains downloadable copies of the judging criteria, official rules, sample score sheet, and video tutorial.
The deadline for this year's contest is Friday, October 14, 2016.
Bracing Contributes to Speedy Foundation
Two years ago, Shawn McDaniel of SED Construction Ltd. made the switch from plywood to ICFs. Now, he's setting new benchmarks for speed and accuracy.
Joey Fearn, marketing manager at Fab-Form, reports, "On June 16, his five man crew began stacking blocks at 8 a.m. and had the 14'-high ICF foundation completed in 12 hours." The crew was placing concrete the following day at 1 p.m.
McDaniel used Zont bracing by Fab-Form to secure and align the walls. Fearn says, "Shawn is a huge fan of Zont bracing, and often has three to five jobs braced at a time. This is something he simply couldn't afford with traditional ICF bracing."
A timelapse video of the build and pour is available through the Fab-Form website.
---

For the concrete industry, 2016 will be known as the year that we started fighting back. It will be remembered as the year that we set the record straight, and the year that we collectively stood behind the strength and durability of all concrete products in a proud and very public way. This year will be remembered as the year we launched Build with Strength, a multi-million-dollar coordinated industry campaign to better educate design/build and code communities throughout the country about the benefits of all forms of concrete construction, including insulating concrete forms (ICFs).
» Click Here for the Complete Story
---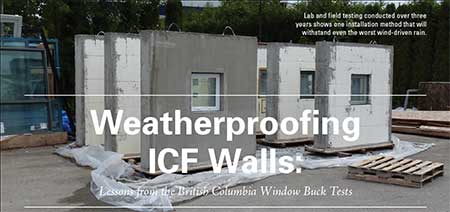 Many different methods (and even more opinions) exist on the issue of weatherproofing ICF walls. Only recently has the industry had solid evidence upon which to base "best practices" for window and door openings. A report issued this year by the Homeowners Protection Office titled "ICF Field Testing Report" offers a range of acceptable solutions under U.S. and Canadian building codes that address the widest possible range of building types, from single-family homes to high-rise commercial buildings.
» Click Here for the Complete Story

ICF Builder Magazine
2016 ICF Builder Awards Heavy Commercial Winner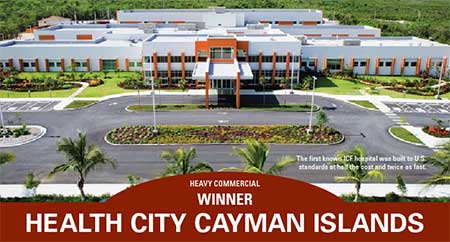 Health City is a 107,000-sq.-ft. hospital built on Grand Cayman Island in the Caribbean. It is one of the first ICF hospitals in the world, and is just the first phase of a massive development that is anticipated to eventually include more than three million sq. ft. of medical, retirement, residential, commercial, retail, and mixed-use facilities.
» Click Here for the Complete Profile


ICF Builder Magazine
2016 ICF Builder Awards Small Residential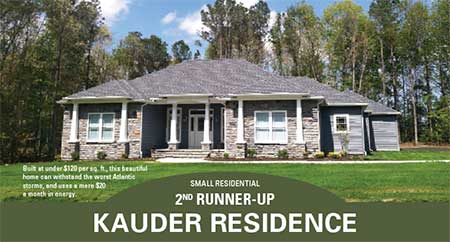 The Delaware coast is a frequent target of strong storms and hurricanes, most recently when Superstorm Sandy roared ashore in 2012. When that storm came ashore, the Kauder family was planning their new home in Milton. Understandably strength was near the top of their list. Aesthetics and efficiency were also top priorities, but the budget was tight.
» Click Here for the Complete Profile

ICF Builder Magazine
---
2016 ICF Builder Awards Unlimited Residential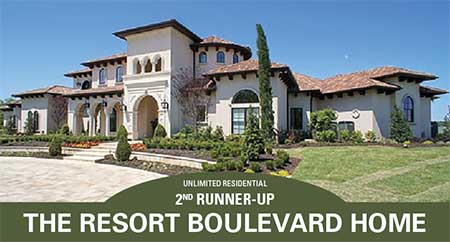 Modeled after the estates found along the French and Spanish Riviera, the Resort Boulevard home has an aura of grace and elegance that will stand the test of time.
» Click Here for the Complete Profile