Industry Promotion Efforts Announced
Various members of the ICF industry have a number of promotional efforts underway with industry partners. The Council of ICF Industries (CICFI), an association of five leading ICF brands, is playing a major role in coordinating these efforts.
CICFI is working closely with the National Ready Mix Concrete Association (NRMCA) to support and help execute their Build With Strength campaign that encourages low and mid-rise buildings to be built with concrete. ICFs are, after all, a natural fit for low and mid-rise construction. Visit www.BuildWithStrength.com to learn more.
ICFs will be the subject of two seminars presented at the Energy & Environmental Building Alliance (EEBA) conference held in Dallas, September 27-29. The topics are ICFs as an Integral Component of High Performance Homes and ICF Mid-Rise Buildings. For more information, visit conference.eeba.org.
ICF Builder Group is partnering again with the Portland Cement Association and CICFI to host the ICF Summit at the 2017 World of Concrete Show in Las Vegas. The second annual event has been expanded from one day to three, with presentations geared to beginning, intermediate, and experienced ICF builders.
BuildBlock Joins CICFI
In May, BuildBlock Building Systems announced that they had joined the Council of ICF Industries, a North American non-profit trade association for manufacturers of insulated concrete forms. Founded in 2014, the association is dedicated to improving the quality and acceptance of ICF construction.
"Our industry has a great story to tell and we look forward to representing and growing the ICF industry in an energetic and professional manner," says Andy Lennox, Vice President of CICFI.
Mike Garrett, CEO of BuildBlock Building Systems, says, "We are proud to join the Council of ICF Industries and work with other manufacturers and suppliers in the market to collectively promote disaster resistant, energy-efficient, and sustainable housing and buildings that will last for centuries."
ICF Buck Study Concludes
A new research report to be published this summer details the best way to construct water-resistant window and door bucks in ICF walls.
Douglas Bennion, chair of the ICF technical committee says, "The whole premise of the testing effort was to test the efficacy of different buck-out methods in terms of their ability to carry the watertight plane from the concrete core across to the window. Many failed, but some were extraordinary."
The research project was jointly funded by the British Columbia Homeowners Protection Office (BCHPO) and a consortium of leading ICF manufacturers. The study has been underway for three years; this magazine published a summary of preliminary findings from Phase II testing in the May 2014 issue. Now that the final Phase III testing has been concluded, the data will be incorporated in The British Columbia government's Building Envelope Guide which is slated for release this year. It is anticipated that these details will also make their way into U.S. and Canadian code standards in the coming years.
Bennion says, "The report addresses solutions for installation of doors and windows across a broad range of ICF building types, ranging from single-family homes through high-rise construction [and] differentiates between installation options that may be used in a variety of climate conditions, including wind speed, moisture and exposure variables, with the expectation of satisfactory performance."
He continues, "The report offers a high degree of credibility, coming from a recognized group of third-party experts in building science who used recognized ASTM testing standards to garner data."
A fuller review of the report findings will be included in the next (Sept./Oct. 2016) issue of this magazine.
HercuTech Partners With Cement Giant
HercuTech, the Phoenix-based manufacturer of a post-and-beam ICF system, has formed a strategic alliance with LafargeHolcim, the largest supplier of construction materials in North America. LafargeHolcim is best known for its portland cement products; Lafarge and Holcim merged last year.
The agreement between HercuTech and the North American division of the cement giant is a strategic alliance to market the HercuWall insulated concrete wall system throughout North America. It hopes to combine LafargeHolcim's concrete mix designs, technical expertise and market know-how with HercuTech's panelized ICF system.
Unlike most ICFs, HercuWall has horizontal concrete beams only at the top and bottom of the wall, with vertical columns connecting the bond beams at regular intervals. The remainder of the wall is EPS foam. ShearStrip technology eliminates the need for vertical rebar. It is panelized at the factory and quickly assembled on the jobsite. Meritage Homes, the seventh largest U.S. homebuilder, has used the system extensively.
Maik Strecker, head of growth and innovation for LafargeHolcim in North America, says, "This agreement perfectly aligns with our mission to provide production homebuilders with demonstrated forward-looking technology they need,"
Michael Niemann, chairman and chief executive officer of HercuTech, says of LafargeHolcim, "Their extensive infrastructure to service the market, customer relationships, reputation for quality and consistency, and record of commercializing breakthrough technologies [will] expand the reach of our advanced insulated concrete wall systems in North America."
---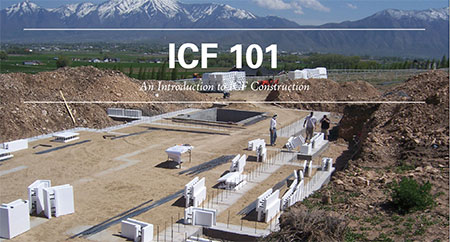 As Insulated Concrete Forms (ICFs) become more common, a growing number of builders and concrete contractors are considering adding this skill set to their business. Additionally, do-it-yourself owner/builders are frequently attracted to ICF construction, as it provides a structure of exceptional quality at a reasonable price.
» Click Here for the Complete Story

ICF Builder Magazine
2016 ICF Builder Awards Large Residential Winner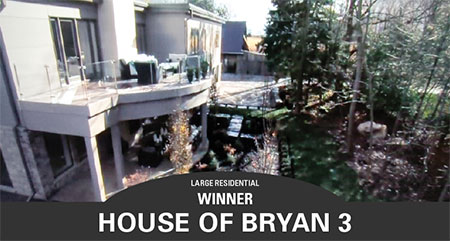 The House of Bryan is perhaps the best known residential ICF project yet built. "Bryan" refers to Bryan Baeumler, host of one of the most popular shows on Canadian cable TV. In each season, the series follows the construction of a new home built for Bryan's family. He is a home improvement celebrity similar to Bob Vila from "This Old House" or Ty Pennington on "Extreme Makeover Home Edition."
» Click Here for the Complete Profile


ICF Builder Magazine
2016 ICF Builder Awards Unlimited Residential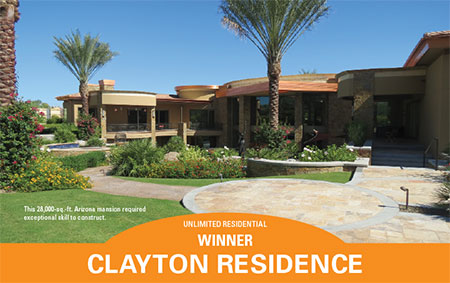 The Clayton Residence is one of the largest and most remarkable homes built in the U.S. recently. Completed last year in an affluent suburb northeast of Phoenix, Ariz., the home has more than 28,000 sq. ft.
» Click Here for the Complete Profile

ICF Builder Magazine
---



ICF Product Directory
This special advertorial section includes listings for leading ICFs and accessory products, organized by category and containing company contact information.
» Download the Product Directory