NRMCA to Promote ICFs
The National Ready Mixed Concrete Association has announced a five-year, multi-million dollar marketing effort to increase concrete use in light commercial construction.
The effort comes on the heels of a survey reporting that wood-frame continues to gain market share in the low-and mid-rise construction market (two- to six-story). Earlier this year, an ICF industry spokesman met with NRMCA executives and presented a case for using ICFs to regain that lost market share, based on similar success in the Toronto suburbs of Kitchener/Waterloo.
For much of the previous five years, NRMCA has focused on promoting concrete pavement. They report those efforts have yielded a success rate of over 50% in favor of concrete. However, the attention on pavement came at the expense of the mid-rise market, with some suggesting that concrete use in that sector has fallen from 35% to the mid-20% range.
In September, the NRMCA board of directors approved a plan to regain that lost market share. The plan builds on existing strategies that have demonstrated success in other markets, including the Design Assistance Program (DAP) that worked so well for parking lots and streets, as well as the expertise of Canadian concrete producers involved with ICF promotion in Canada.
Under the new plan, NRMCA will provide developers and their design consultants with preliminary designs, cost estimates and operating cost benefits with the purpose of influencing them to use concrete framing for their projects. Other strategies include communications, education and codes advocacy.
"To tell the ready mixed concrete story effectively, experience has shown the benefit of promotion groups working together," the NRMCA press release states, specifically singling out "strong support" for commercial ICFs.
Promotional literature also lists dollar figures through 2020: roughly $1.5 million annually for promotions/communication; approx. $500,000 for direct project conversion, and $350K for advocacy.
To view the full NRMCA Low/Mid-Rise Promotion Plan, visit http://www.nrmca.org.
Nudura Webcasts Highlight ICF Benefits
Nudura Corp., the Barrie, Ontario-based ICF manufacturer, has released another series of web-based audio broadcasts. Led by technical services manager Keven Rector, each episode offers design professionals, architects, homeowners and contractors an in-depth look at the benefits of ICF technology. Episodes also focus on the rising popularity of ICFs in the residential and commercial sectors.
The initial series of three podcasts were released in early October, and focus on the history and wide variety of uses for the forms. Rector also discusses installation best practices, changes in code requirements, and specific case histories, including the first LEED-certified net zero school in the U.S.
The second series was released in November, and offers an in-depth look at a range of topics including: how ICFs stood up against Hurricane Katrina in 2005, protecting from termite intrusion, cost savings, thermal mass benefits, and ICF use in smaller applications including safe rooms and elevator shafts.
Listeners can subscribe to the podcast series by finding the Nudura Channel on iTunes, or by going online to http://nudura.podbean.com.
New York Green Builders Meet
In mid-October, the Northeast's oldest community of green builders, architects, engineers, and developers met in midtown Manhattan for a one-day conference focused on high performance building in New York City.
The event, called BuildingEnergy NYC, was organized by the Northeast Sustainable Energy Association (NESEA), and focused on resolving sustainability, resilience, and code compliance challenges.
BuildingEnergy NYC began in 2012 as a small multifamily building efficiency conference and has expanded to meet the demand of the greater NYC building and energy community.
At the conference, NESEA unveiled its new High Performance Buildings Database, a joint project with the Net Zero Energy Coalition. The database showcases projects that—either through third-party certification or by providing actual energy use data—achieve zero net energy on an annual basis, plus or minus 10%. Each case study in the filterable database covers more than 150 data points, and has been peer-reviewed by a net zero expert. Submissions are encouraged.
Learn more at: www.nesea.org/benyc.
Logix Promotes ICF Midrise Construction
Logix ICF, a consortium of ICF manufacturers, reports great success in increasing the visibility of insulated concrete forms (ICF) in the four- to six-story building market.
Andy Lennox, marking director, published a seven-page article in Construct Canada magazine (viewable online at www.constructioncanada.net/icfs-wood-and-the-changing-face-of-mid-rises) explaining why ICFs are a better choice than wood for mid-rise construction.
Logix has also produced a video series titled "Building Better Mid-Rise Multi-Family Buildings with Insulated Concrete Forms. The six-module presentation is approved as an AIA continuing education course, and will familiarize viewers with how ICFs can meet the challenges of most concrete construction demands and design conditions today.
NRMCA Report on Concrete Mix
In October, the National Ready Mixed Concrete Association (NRMCA) completed a research project titled Optimizing Concrete Mixtures for Performance and Sustainability. The findings examine whether cement ratios can be decreased for eco-friendliness without affecting concrete strength and performance. The work leading to the report's publication was conducted at NRMCA's research laboratory.
The primary findings of the study are: At a fixed water-to-cementitious materials ratio (w/cm), increasing cementitious materials (CM) content also increases the volume of paste, which lead to shrinkage and permeability problems. However, changing the quantity of cementitious materials did not affect compressive strength.
The results of this research study indicate that the inclusion of minimum cementitious materials content in specifications is questionable and even counterproductive to the performance of concrete.
The NRMCA report recommends that rather than basing CM amounts on desired strength, instead use a paste-to-void ratio to achieve concrete with required strength, improved durability and lower shrinkage with optimized use of cementitious materials. The study also found that the use of high-range water reducing admixtures was effective in reducing the paste-to-void ratio while maintaining workability.
This research was funded by the RMC Research & Education Foundation. The complete report can be downloaded from the NRMCA website www.nrmca.org.
Trade Unions Urge Streamlined Federal Permitting
The federal permitting process is notorious for lack of coordination, transparency, and liability safeguards. To remedy that, a bill is currently
under discussion in the U.S. Senate to streamline that process. Sponsored by senators Rob Portman (R-OH) and Claire McCaskill (D-MO), the Federal Permitting Improvement Act is intended to expedite projects that will improve the state of the nation's infrastructure and provide much-needed jobs in the construction industry,
Sean McGarvey, president of North America's building trades unions, which represents over three million skilled tradesmen in the United States and Canada, is enthusiastic about the bill.
"The current level of uncertainty," he says, "has [prevented] new construction projects from moving forward, and has had the effect of making investments less attractive, both of which endanger
job creation."
The Portman-McCaskill bill would improve the permitting process in three significant ways: 1) better coordination and deadline setting; 2) enhanced transparency; and 3) sensible solutions to litigation delays.
Comparison Charts
The charts on the following pages are intended to help architects, builders and homeowners understand some of the basic features of every ICF currently on the market.
It is not intended to fully describe every feature of every product line, but it does contain a significant amount of information—more than any other chart available.
We recommend that it be used to make a short list of forms that meet your criteria: form size, cavity shape, tie design, and energy performance. Then visit the manufacturer's website or call their toll-free number for more information.
In the end, your decision will probably be determined by block features, price, reputation, and level of manufacturer support.

Insulating Concrete Forms
EPS Decking Forms
Alternative Stay-in-Place Forms

ICF Builder Magazine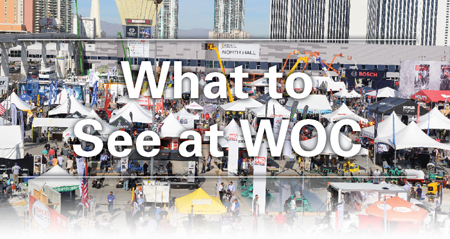 World of Concrete 2016 will run Feb. 2-5 at the Las Vegas Convention Center. The concrete industry trade show is expected to draw nearly 60,000 attendees and 1,500 exhibits. (Last year's show had 55,000 registered professionals, up from 48,000 in 2014, and was the largest World of Concrete in six years.)
» Click here to read the complete story.

ICF Builder Magazine

The ICF industry has seen significant growth in the last 12 months. According
to some reports, sales are stronger than they've been at any time in the past five years. Additionally, the continuing construction recovery and several new marketing efforts underway indicate continued growth in 2016.
» Click here to read the complete story.
---
2014 ICF Builder Awards Multi Family 2nd Runner-Up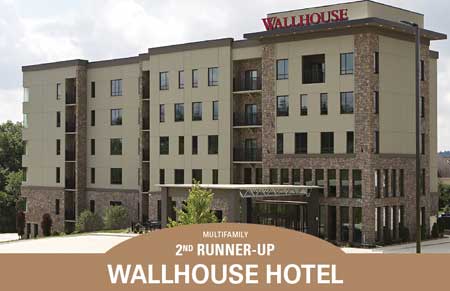 Wallhouse Hotel is a 63-room European boutique-style hotel set in the rolling hills and woodlands of rural Ohio. At five stories high, it's the tallest building in Holmes County, Ohio and attracts considerable attention. Despite the pastoral feel of the countryside, the area draws a significant number of business travelers, as well as tourists who have come to visit the heart of Amish country.
» Click Here for the Complete Profile


ICF Builder Magazine
2014 ICF Builder Awards Heavy Commercial Winner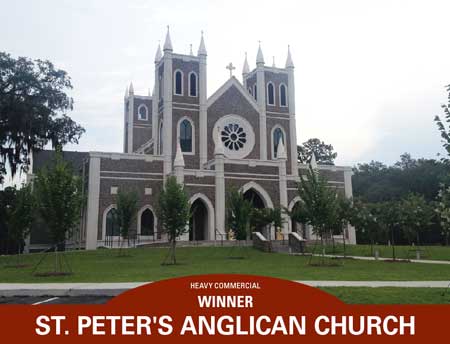 St. Peter's Anglican Church is a landmark, both for the ICF industry as a whole and in the city of Tallahassee, Fla., where it is located.
» Click Here for the Complete Profile

ICF Builder Magazine
---
2014 ICF Builder Awards Large Residential 1st Runner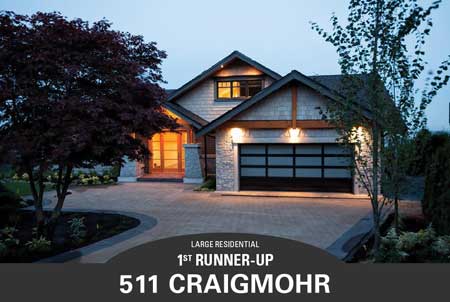 The residence at 511 Craigmohr in West Vancouver, B.C., Canada, is an excellent
example of ICF and timber frame hybrid construction.
» Click Here for the Complete Profile
---



The Impace of Marketing
The majority of the ICF industry does not attend either of these shows; most are probably not consumed by who meets who there or even what is said. They are out there on the streets, marketing to their own clientele. Their focus is how they can make their personal market grow. A builder in Atlanta probably doesn't really care about what is happening in Boise. Isn't that the job of the manufacturers and distributors in that area?
» Click here to read the complete story