Home Sales Rise in August
In late September, HUD and the U.S. Census Bureau revealed that new single family home construction continues to rise.
In August, the number of newly built, single-family homes rose 5.7% over the previous month to a seasonally adjusted annual rate of 552,000 units.
"We continue to hear from our members that more serious home buyers are returning to the market," said Tom Woods, chairman of the National Association of Home Builders (NAHB) and a home builder from Blue Springs, Mo. "Builders are gradually adding inventory to meet future demand as they handle shortages of lots and labor."
NAHB chief economist David Crowe adds, "This report indicates the release of pent-up housing demand as the overall economy strengthens, consumer confidence grows and mortgage interest rates remain low. The housing market should continue to move forward at a modest but more persistent pace throughout the rest of 2015."
Sales in the Northeast showed the greatest improvement, up 24.1%. The Midwest registered a 9.1% decline. Other regions showed increases within a percentage point of the national average.
ICF Basements Cost-Competitive with Plywood
According to one ICF expert, new building codes may allow ICF basements to be built for less cost than those poured with plywood forms.
Joey Fearn, sales manager at Fab-Form, says, "With many new building codes requiring insulation equivalent to R-22 on all foundation walls, ICFs are now 35% less expensive than plywood-formed foundations insulated with a 2x6 stud wall."
To educate builders, designers, and homeowners of this, the company has produced a video and cost analysis comparing plywood forms to ICFs, using Fab-Forms's Zont bracing and Helix steel fiber additive as a rebar supplement. The video can be viewed online at www.fab-form.com/zontBracing/plywoodVsIcf.php.
Bruce Anderson, president of Polycrete USA, says that while Helix is a huge time saver, rebar is still required for lintels, at wall/footing transitions, and possibly other locations as well.
Radiant Heat Panel Has Website
Radiant floor heating continues to gain in popularity. To service this demand, Heat-Sheet, a radiant floor panel by Logix, has a new and updated website. The site includes brochures and technical information on the entire product line, as well as installation overviews and photographs. For additional information, visit
www.Heat-Sheet.com.
ICF Mid-Rise Boom Sparks Fire Code Debate
As ICFs gain market share in the mid-rise sector (buildings three to six stories tall), it has sparked a renewed conversation about fire code requirements for multi-story buildings.
The code was developed by the National Fire Protection Association (NFPA) in the mid-1980s as EPS foam was gaining popularity as a building material. The current version, NFPA 285, was adopted in 1998 based on Flame Spread Testing conducted at independent laboratories. NFPA 285 is included in the current ICC and IBC specifications, and applies to Type I, II, III or IV construction that is greater than 40 feet in height above grade.
ICFs that have a current ICC-ES certificate comply with the acceptance criteria of NFPA, and can be used in multi-story buildings taller than 40 feet.

Nudura Publishes Resilience Infographic
To promote awareness and safety during hurricane season, Nudura Corp. has published a excellent infographic promoting the disaster resilience of insulated concrete forms (ICFs).
"Not only do ICFs allow concrete homes and commercial buildings to withstand high winds, heat, and prevent rot, but they also provide more energy efficiency, comfort and environmental friendliness," says Evan Boyer, who handles public relations for the company.
BuildBlock Updates Installer Manual
BuildBlock Building Systems, the Oklahoma-based ICF manufacturer, has updated and expanded their installation and technical manual. Print copies are expected to be available in early November; the digital version, available online, had been downloaded more than 13,000 times in the month following its release.
The 119-page book covers ICF construction from start to finish using BuildBlock, BuildLock Knockdown, and GlobalBlock ICFs. A separate manual covers the BuildDeck EPS decking system.
"Updates include new methods and examples of ICF construction, technical specifications, CAD details, new product information and more," says Brian Corder, director of sales and marketing at BuildBlock. "The BuildBlock Installation & Technical Manual is the most comprehensive resource available to our customers when working with BuildBlock ICFs. The manual provides best practices when building ICF projects of all shapes and sizes."
Mike Garrett, president of BuildBlock adds, "Our technical staff started the revision process more than a year ago in the summer of 2014. We identified product changes, additional information, graphics and illustrations, techniques, and new products to make BuildBlock ICF projects easier." He continues, "We standardized the format of our manuals for all our products which reduced the space required by 40%. The extra room allowed us to add even more content, essentially more than doubling the size of the previous manuals."
Government Agency Updates Safe Room Guildelines
The Federal Emergency Management Agency (FEMA) has updated the publication FEMA P-320, Taking Shelter from the Storm: Building a Safe Room for Your Home or Small Business. The latest updates, made in the closing months of 2014, incorporated data from the devastating tornadoes that hit Moore, Okla. Among the changes in the updated guide is the exclusion of waffle-grid ICFs from the list of approved materials. Interestingly, wood roofs continue to be acceptable.
This is the definitive guide on safe rooms, and includes design options for new construction inside and outside of a new home or small business, as well as how to add a safe room in an existing space that will provide "near-absolute protection" in extreme weather events.
The safe rooms discussed in FEMA P-320 are designed for private residences and business with up to 16 employees. Larger structures are considered community saferooms, which are covered in FEMA P-361, Guidance for Community and Residential Safe Rooms.
Either publication can be downloaded free of charge from the FEMA website
(www.fema.gov/media-library) or ordered as a hard copy or interactive CD.

ICFs are known to save on heating and cooling costs. But in order to fully realize this benefit, the mechanical systems—heating, cooling and ventilation—must be properly sized. Additionally, non-traditional systems such as in-floor hydronic heat, geothermal HVAC, and mini A/C units are often more efficient than common methods such as forced air.
» Click here to read the complete story.

ICF Builder Magazine

Across the construction industry, sustainability continues to be a hot topic. This is especially true in the ICF industry, as the foam-and-concrete building method is particularly well suited for green building due to being more energy-efficient and durable compared to more common building technologies.
» Click here to read the complete story.

ICF Builder Magazine
2014 ICF Builder Awards Multi Family Winner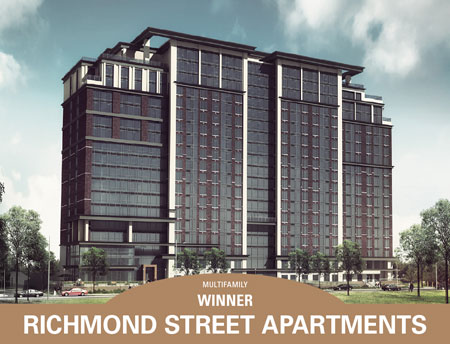 London, Ontario—located midway between Toronto and Detroit—is the largest city in the southwestern part of the province and home to the University of Western Ontario.
» Click Here for the Complete Profile


ICF Builder Magazine
2014 ICF Builder Awards Heavy Commercial 1st Runner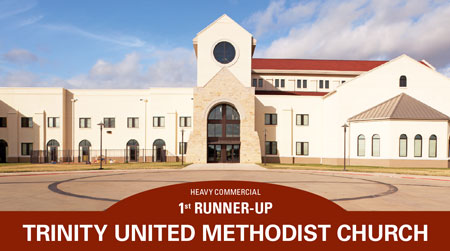 Trinity United Methodist Church is a milestone ICF project. Located midway between Dallas and Fort Worth, Texas, the 75,000 sq. ft. building dominates the landscape. Weight-bearing ICF walls soar to 70 feet above grade without intermediate floors. Dozens of large windows punctuate the walls. Perhaps most importantly for the future of the industry, it was visited by teams of designers and contractors that are opening the ICF public school market in Texas so they could study ICF installation approach and methodology.
» Click Here for the Complete Profile

ICF Builder Magazine
---
2014 ICF Builder Awards Heavy Commercial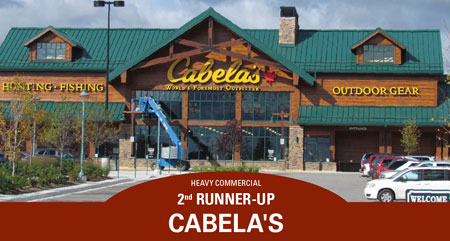 Cabela's is a sporting goods store in the original sense of the word. Catering to hunting, fishing, and other outdoor pursuits, it sees itself as "the world's foremost outfitter," dedicated to providing products of exceptional quality to their customers.
» Click Here for the Complete Profile
---



TOOLS FOR ICF PROFESSIONALS
The right tool makes any job easier. From hand tools to estimating programs, the professional ICF installer recognizes that good tools will save money, time, and hassles on the jobsite.
» Click here to read the complete story