Portland ICF Building Aims for LEED Platinum
In May, Portland, Oregon-based design/build firm SolTerra broke ground on a LEED Platinum-designed office building intended to serve as the company's Portland headquarters.
SolTerra's mission statement is focused on reconnecting people with nature, so the goal of LEED-Platinum fit well. "We are creating cost-effective work and living spaces for people who care about sustainability," says Brian Heather, co-founder of SolTerra. "Our Portland headquarters will be one of the healthiest office environments in the city. SolTerra is demonstrating that renewable energy and sustainable construction are both feasible and beneficial."
The five-story headquarters will include 35,000 sq. ft. of retail, office and warehouse space, topped by a 6,000-sq.-ft. green roof and the canopy of a large tree growing up through the atrium in the center of the building. The design also includes solar panels, living walls, and a host of other sustainable/green features, including energy-efficient ICFs in all exterior walls.
The SolTerra building is expected to be completed by early 2016 and SolTerra will occupy the top floors, with retail on the first level.
PCA Publishes Mix Design Manual
The Portland Cement Association has published an updated and expanded version of their standard reference work Design and Control of Concrete Mixtures.
This book has been the cement and concrete industry's primary reference on concrete technology since the first U.S. edition came off the presses in the
early 1920s.
The publication also serves as a textbook for the concrete mix design course of the same name. The current series of classes is a fast-paced, 3.5-day program, combining classroom instruction, lab demonstrations, and hands-on training to help ready-mix employees meet customer needs.
The course includes in-depth coverage of the properties of concrete, mix design, placement and testing, and includes first-hand knowledge of how chemical admixtures and supplementary cement materials (SCMs) are used to enhance concrete properties.
For additional information, including a detailed course agenda, visit the PCA website www.cement.org. The class will run October 5-8, 2015 at the PCA Campus in Skokie, Illinois, a suburb of Chicago.
Fab-Form Brace Sales Reach Milestone
In June, Fab-Form announced that sales of their unique Zont Brace continue at a brisk pace.
"We recently sold our 50,000th Zont Brace," says Joey Fearn, sales manager at the company. Unlike most ICF braces, the metal components for an entire basement would fit in a pair of five-gallon buckets. The remainder is dimensioned lumber provided by the builder. Fearn says the portability and low cost of the system account for its popularity. The Zont website features a photo gallery of walls up to 16 feet high being poured with the system.

ICF walls have a well-established track record of surviving natural disasters. However, in "big wind" events—such as tornadoes and hurricanes—roofs have proven to be a significant weak point.
» Click here to read the complete story.

ICF Builder Magazine
2014 ICF Builder Awards Unlimited Residential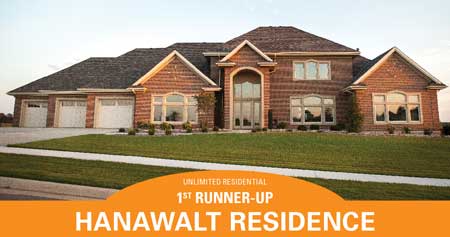 The Hanawalt family of Waverley, Iowa, wanted a high quality, energy-efficient home. They also wanted it to be safe and comfortable, as the area is prone to fires, high winds, floods, hot summer heat, and extreme cold.
» Click Here for the Complete Profile


ICF Builder Magazine
2014 ICF Builder Awards LARGE Residential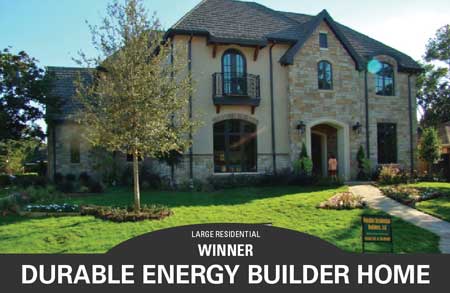 With just less than 6,000 sq. ft. of floor space and a typical brick-and-stucco finish, this Houston-area home looks unassuming.
» Click Here for the Complete Profile

ICF Builder Magazine
---
2014 ICF Builder Awards LIGHT COMMERCIAL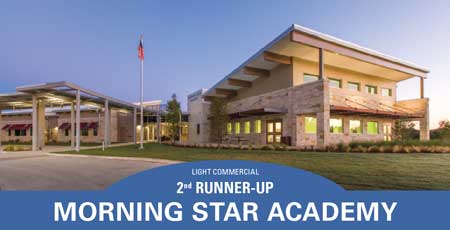 Morning Star Academy is a non-denominational Christian school located in Bonham, Texas, just a few miles south of the Oklahoma border.
» Click Here for the Complete Profile
---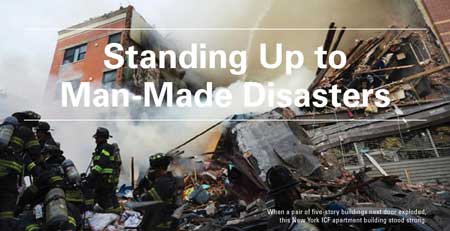 Standing Up to Man-Made Disasters
With a solid core of steel-reinforced concrete sandwiched between two layers of shock-absorbing foam, ICF walls can stand up to all types of disasters. In addition to natural disasters, ICFs also have a remarkable track record standing up to man-made calamities.
» Click here to read the complete story