ICF Builder Awards Deadline Approaches
The deadline for the ICF Builder Awards is rapidly approaching. Contractors, distributors, and ICF manufacturers are encouraged to submit projects for consideration.
The annual project-of-the-year competition is being held for the 12th consecutive year.
Clark Ricks, organizer of the competition, says, "We recognize that submitting projects can sometimes be a time-consuming process, and encourage those who are considering entering to get an early start on the process."
Categories and judging criteria are unchanged from last year, with three residential and three commercial divisions. The entry materials, judging criteria, sample score sheet and explanatory video, will be online at www.builderawards.com beginning July 1. To request hard copy of the entry materials, call 877-229-9174.
Entry Deadline is October 16, 2015.
Rastra Under New Ownership in U.S.
Rastra, the original EPS-and-concrete composite ICF, has new owners. In the U.S., day-to-day management will be handled by Rastra Inc. of Orlando, Fla. Russell Ferry is now serving as president of the company, with Kim Connor as national sales director.
Karl Holik, who originally developed the technology and founded the company in 1972, is retiring and returning to his native Austria, although he will still be involved with the U.S. company as an advisor.
U.S. Residential Construction Highest Since '05
The U.S. Commerce Department reported in May that new home construction is the highest since 2005, before the recession officially began. Multifamily construction is especially strong, and some builders are beginning to report labor shortages.
U.S. housing starts rose 9.2% in April (compared to a year earlier) to a seasonally adjusted annual rate of 1.135 million. Applications for new building permits increased 10%. When compared to the month previous, single-family units climbed 16.7%, and multifamily units, including apartments and condominiums, rose 27%.
"I don't think I have ever seen multifamily construction at this pace," says Mitch Permuy, CEO of Power Design, Inc., one of the largest full-service electrical contractors in the United States.
The Wall Street Journal reports that the first quarter of the year, taken as a whole, represents a "steady but not spectacular start to 2015."
Hurricane Conference Features Concrete Houses
In 2014, the National Hurricane Conference included an in-depth seminar on insulated concrete homes. Based on the success of that experience, a revised version of the presentation was offered at the 2015 NHC. The class focused on the ease with which insulated disaster-resistant concrete single-family dwellings can be built, and was presented by Kenneth Luttrell, a licensed professional engineer, and Joe Warnes, who pioneered the reinforced concrete shell design in Guam. The presentation also was set to include a discussion of the structural design requirements for elevated structures recommended by FEMA.
ICF Builder Group Operational
In May, a professional trade association was formed to meet the needs of the ICF professional. Called the ICF Builder Group, it is set to become the leading voice for the insulated concrete form industry, serving as an information resource, driving demand and raising awareness.
A pre-launch announcement took place several months ago at the World of Concrete trade show, and now ICF-BG is accepting members.
"The formation of ICF-BG is long overdue," says Clark Ricks, who is currently acting as executive director. "This is an organization that will advocate for the industry, allow ICF professionals to differentiate themselves from the amateur, and take advantage of opportunities that individual contractors lack the resources to capitalize on."
ICF-BG has the support and encouragement of the corresponding manufacturer association, the Council of ICF Industries (CICFI). "The CICFI thinks we can have great synergy working together," says Ross Monsour, director of marketing at RMCAO.
The response from the industry has been enthusiastic, and within weeks, Builder Group already had more than two dozen members. In addition to supporting the industry, the association also provides valuable tools to members.
A few of the benefits available immediately include: a members-only forum; marketing tools such as downloadable brochures; and discounted access to various expos, including World of Concrete.
"If you have a passion for ICFs and a commitment to build for the future, this is where you need to be," says Ricks. "This is an opportunity for the industry to come together as a group of proven, competent ICF professionals with a unified industry voice to share our message effectively."
www.icfbuildergroup.com
Follow uson twitter: @ICFBuilderGroup.
---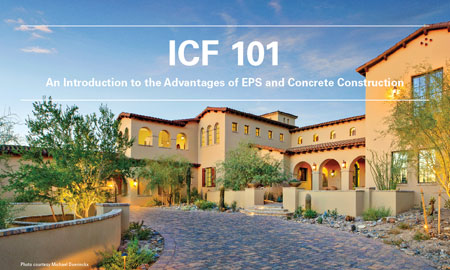 Insulated Concrete Forms (ICFs) are gaining popularity as an alternative building material. They offer a host of benefits, such as faster construction times, lower insurance rates, and quieter interiors, but the two primary reasons behind their growth is their remarkable durability and energy efficiency.
» Click Here for the Complete Story

ICF Builder Magazine
2014 ICF Builder Awards Multi Family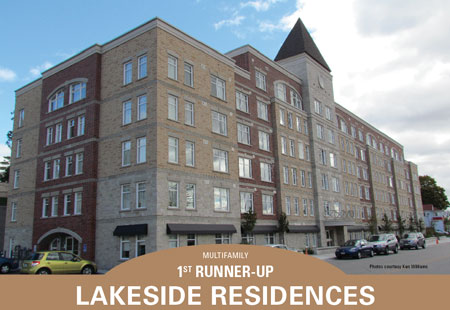 The town of Keswick, Ontario, about forty miles north of Toronto, was facing a shortage of affordable housing. The waiting list of singles, seniors and families needing housing assistance in this town was years-long, reportedly topping 1,500 individuals a few years ago.
» Click Here for the Complete Profile


ICF Builder Magazine
2014 ICF Builder Awards Unlimited Residential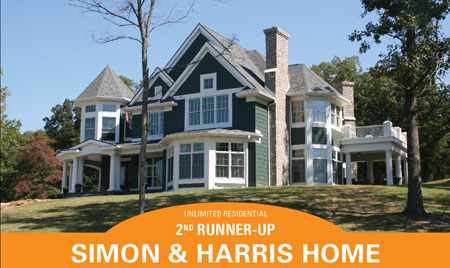 The design of this beautiful Indiana home was inspired by the stately Victorian summer homes on the Northeastern coast of the U.S. The multiple wrap-around porches—oriented for optimum lake views—turrets, and bay windows provide visual interest while reflecting the proportions and aesthetics of the owner.
» Click Here for the Complete Profile

ICF Builder Magazine
---
2014 ICF Builder Awards Small Residential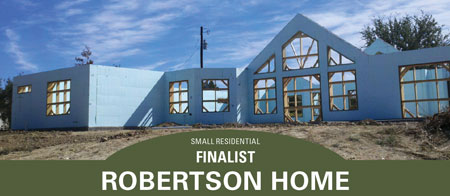 When Guy and Heather Robertson discussed building their dream home in rural Texas, two priorities consistently rose to the top: energy efficiency and tornado resistance. These factors are understandable, considering the extreme Texas heat and the fact that North Texas in recent years has become a part of "tornado alley." But aesthetics were also important. Fortunately, ICFs can easily meet all three criteria.
» Click Here for the Complete Profile
---



ICF Product Directory
This special advertorial section includes listings for leading ICFs and accessory products, organized by category and containing company contact information.
» Download the Product Directory