Vbuck Available Again
Gorilla Buck Inc. is pleased to announce the acquisition of Vinyl Technologies Inc.
In January, Vbuck, the vinyl window and door buck trusted by ICF installers for more than 17 years, became available again.
Vbuck was the first alternative to wooden window bucks, and for years set the benchmark that all ICF bucking products are measured against. It is especially popular for arched, round, and other non-rectangular openings.
It has numerous certifications and approvals that back its performance. Vbuck's ASTM and TAS approvals include cyclic wind pressure loading, missile impact, as well as smoke, fire and toxicity tests (FL5428).
With Architectural Testing Inc.'s stamp of approval, the Vbuck system meets the standards for nearly all ICF applications, and is available in widths to match every major ICF on the market.
Bob Johnson, owner of Gorilla Buck, says, "The addition of Vbuck and Vbuck for Shaped Openings to the Gorilla Buck line sets the stage for the combined product lines to provide a complete array of window and door buck solutions for every ICF customer."
Bruce Anderson and Steve Borgeson, experts on the Vbuck line of products, will stay with the combined company to assist with sales, installer training, and
quality assurance.
Johnson says, "The combined teams of Gorilla Buck and Vbuck look
forward to serving all past, present and future customers."
For additional information, visit
www.gorillabuck.com.
Tax Credit Lowers Cost of ICFs in U.S.
In December, the U.S. Congress overwhelmingly passed the Tax Extenders Bill (HR.5771), which extends the tax provisions which expired in 2013 through the end of 2014.
For the ICF industry, the bill means a tax deduction of up to $1.80 per square foot may be available.
Basically, if you built or renovated commercial or public space in 2014, and that building's energy performance exceeds a benchmark set in 2005, you may be able to claim this federal income tax deduction, which should be known to your accountant as the Federal 179D tax deduction.
Under 179D, building owners who spend money to render new or renovated commercial buildings more energy efficient will again be eligible for an immediate, one-time federal tax deduction. The bill looks at three components that measure a building's performance—lighting, HVAC systems, and the building envelope—that are each available for a deduction of up to 60 cents per square foot if the building meets the designated criteria in each category, meaning the building's total deduction would max out at $1.80 per square foot. The extension also permits public building owners to allocate the deduction to the architect of the energy-efficient property.
There is no word yet on whether the legislation will be extended for 2015, although the American Institute of Architects is already lobbying for that. AIA president Elizabeth Chu Richter, stated in a press release. "The AIA looks forward to continuing to work with Congress to improve 179D, and make it permanent within the context of comprehensive tax reform.
Best Year for U.S. Housing Since '07
Data released by the U.S. Commerce Department in late January indicate that the U.S. housing market is well on its way to recovery.
The number of new home starts in 2014 finally rose above the million mark, the best showing since 2007. The 1.06 million new housing unit figure is 8.8% higher than the 924,900 new homes started in 2013.
For most of the year, multifamily housing was the fastest growing segment, but December's numbers were unexpectedly high, and come on the strength of single-family housing.
New home sales are being assisted by mortgage rates, which remain near historic lows. Economists predict an improving job market will boost sales further in 2015 if lending rates remain at current levels.
To access the latest U.S. residential construction figures, visit www.census.gov/construction/nrc/pdf/startsan.pdf
Logix Featured on Canadian TV
Logix ICF is co-starring in a television series in Canada.
Bryan Baeumler, star of the hit HGTV franchise House Of Bryan, is building his new home with Logix Platinum Series ICF. The construction process will be chronicled in the third season of House Of Bryan "In The Sticks". The 16-episode series premiered on HGTV Canada in December. It's being broadcast with back-to-back episodes every Sunday night, so the series should stretch into mid February before being re-broadcast throughout the year, as well as being featured in "marathons" and other special events.
In Canada, episodes that have already aired are available for viewing online at www.hgtv.ca/houseofbryan/. In the U.S., online viewing is not available until after the series airs on an American channel, which has not yet
been announced.
Logix has been featured prominently in the episodes shown so far, and even featured an on-screen appearance by Logix VP Kurtis Chapman.
EnergyEdge Regains Marketing Independence
EnergyEdge, LLC, makers of the vinyl-and-foam system that forms and insulates the edge of slab-on-grade foundations, is available throughout
North America.
The system, which is popular with ICF contractors because of its ability to improve the efficiency of the building envelope, was formerly available as part of CertainTeed's products.
In January, company president Casey Barbour announced that EnergyEdge, LLC "will once again be responsible for the promotion, sales, and distribution of our products."
For additional information, visit
www.EnergyEdgeForm.com.
ACI 318 Revised, Industry Gears for Change
The American Concrete Institute (ACI)has recently published a new edition of ACI 318, which is the structural engineering resource for all concrete construction, including ICFs.
Titled "Building Code Requirements for Structural Concrete (ACI 318-14)," this edition represents the biggest changes in the code since it was first written more than 40 years ago. It has also been completely reorganized from a designer's perspective.
In order to help designers, builders, and others within the ICF industry understand these changes, seminars are being scheduled across the U.S. in the coming months.
For instance, in the Phoenix area, the AIC is hosting a one-day seminar on March 3rd presented by Lawrence C. Novak, director of structural engineering for the Portland Cement Association) and ACI 318 committee member, and ACI staff engineer Robert M. Howell. The seminar promises to "help you get acquainted with the new organization and various technical changes to the code as quickly as possible and demonstrate how you can ensure that your design fully complies with the new code." Structural engineers, specifiers, building officials, contractors, architects, and inspectors are especially encouraged
to attend.
This course is available nationally, and is accredited by the American Institute of Architects (G115; 31814), as well as the Florida Board of Professional Engineers (Provider #0003855), Louisiana Professional Engineering and Land Surveying Board, and North Carolina Board of Examiners for Engineers
and Surveyors.
For more detailed information on specific items covered by this course, available instructors, and when the class may be offered in your region, go to
www.concreteseminars.com.

ICF Builder Magazine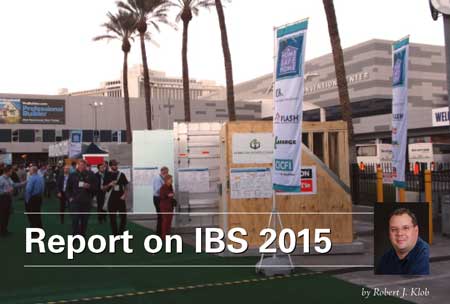 Report on IBS 2015
The ICF industry was well represented at this year's International Builders Show in Las Vegas. Amvic, BuildBlock, Fox Blocks, Logix and Nudura all had significant exhibits. These manufacturers reported steady traffic, along with quality leads by many builders specifically looking to either build with ICFs or expand their offerings to include ICFs.
Another nice showcase for the ICF industry was the FEMA display in the IBS Show Village. The Show Village is an area of the convention center parking lot where several homes are built and open for tours. It had some of the best walking traffic promotion I saw at the show. Opposite the sidewalk where all the attendees got on and off the hotel shuttle busses, there was a large banner that read "Tornado Safe Rooms."
This display had six different safe room structures. Half used primarily wood and steel components, but three were concrete based. One cast-in-place with removable forms, one was masonry and the third ICF. Each display had a plan and detail sheet that showed compliance with the new FEMA standard P-320 For Safe Rooms. There was a member of the PCA or FEMA there to discuss with attendees the advantages of each one.
FEMA (fema.gov), Federal Alliance for Safe Homes or FLASH (flash.org) and the PCA (cement.org) teamed up on the display and had a press conference the first morning of the show. They outlined the direction and dedication of the partnership of these three organizations to create awareness and support for those affected by natural disasters.
Educational tracts were as popular as ever. As expected, there were quite a few seminars that discussed energy efficiency and ICFs were part of those discussions. Another popular topic was disaster-resistant building and rebuilding. ICFs were a strong recommendation by several presenters.
The NAHB has maintained its "Building Systems Councils," one of which is the "Concrete Building System". In their 2015 Resource Guide and Directory there is a nice one-page description of several concrete-based systems. Unfortunately, there are no listings for any concrete companies or support companies in that directory. Their big promotional push appears to be log and timber systems. It's great to see that the ICF industry is maintaining their support during these NAHB events, even when the support is not reciprocated.
I was surprised at the level of support for ICFs among ancillary construction products. I saw several ICF-related tools on display. I also saw products on display from Simpson Strong-Tie and other bracing and hanger systems. Door and window companies talked about their technology and installation with ICFs. And there were a few SIP manufacturers that actually promoted the combined use of ICF walls with SIP roof systems.
For the design professionals, Softplan (softplan.com), an architectural design software, has included a generic ICF wall style in its program. This wall style can be easily modified to adjust for any core thickness, sidewall and web dimensions. Using it, designers can make a true wall assembly with exterior and interior finishes. This will allow design professionals to design with "real world" scenarios and utilize the unique aspects of each ICF brand on their drawings. These materials can be easily integrated to include material, concrete, rebar and labor costs for exporting a take-off list from within the program.
It was also announced that the NAHB will relaunch the "The New American Home" when IBS returns to Orlando, Florida in 2017. This is a showcase home that is toured by thousands of attendees to the show. For many years TNAH was constructed with ICFs. However, the last three have been wood-frame construction, perhaps because organizers instituted a new policy during the construction slowdown to require TNAH to have a purchaser lined up prior to breaking ground. It would be nice if the new Orlando design from Phil Keane Design Group could again feature ICFs.
ICFs and support products were on display more than any IBS that I have attended. It was exciting to see more people excited to start using ICFs.

ICF Builder Magazine