In Memoriam – Superform Founder Passes Away
Merle Unruh, president and founder of Superform ICF, passed away Sept. 21 after a short but intense battle with pneumonia. He was 51.
His wife, Lorraine Unruh, says, "He loved life. He loved the outdoors. He loved to work, and easily made many friends with all his associates."
Unruh was born near Pincher Creek, Alberta, Canada, and grew up in various towns in southern Alberta and British Columbia. He eventually settled back in his hometown, where in 1998 he founded Superform Products Limited with his brother-in-law Jeff Dejax. Unruh says, "Merle put his all into that business until the day that he died."
The flat-wall ICF system is easily distinguished from others by its bright red webs. Spaced 6" on center, these webs combine with thicker-than-average sidewalls (2 ¾") to make it one of the strongest forms on the market.
Unruh was known for his promotion of not only his company, but the entire ICF industry in general. He exhibited at many of the major industry trade shows, participated in technical and marketing groups, and took a leading role last year in the formation of the new ICF manufacturers' association, CICFI.
"It was my pleasure to spend some time with Merle a few years ago during an industry fishing trip on the west coast," says Andy Lennox, executive director of CICFI. "It was my pleasure again to work with the Superform team over the last year as we all worked together to create the CICFI. It will always be known that Merle and his organization stepped up and demonstrated leadership to the entire ICF industry at a time when it really mattered."
With his father's passing, Jason Unruh now serves as president of Superform. Max Isaac remains director of sales and technical support.
Jason says, "I am dedicated to continuing to provide exceptional products and services to our customers. On behalf of my family and our Superform team, please accept our deepest gratitude and appreciation for your patience and kind expressions of sympathy."
Ecospan Has New Website
Ecospan, a steel-pan pourover decking system popular with ICF contractors, has a new website. Located at www.ecospan-usa.com, the site is designed to assist architects, builders and engineers in making well-informed decisions in less than three clicks. The new design also features user-friendly dropdown menus.
Creators have also added a significant amount of new content, including how-to videos and an extensive photo gallery highlighting Ecospan projects, including dormitories at the University of Delaware, office buildings in Texas, and senior living communities in Myrtle Beach, South Carolina.
Ecospan is constructed with 99% recycled steel materials for joists and more than 70% recycled steel decking. It's made by Vulcraft, a division of Nucor Corporation, which is the leading producer of steel joists and decking in the United States. For more information, please visit: www.vulcraft.com.
Steel Fiber Encourages Panelization
An increasing number of ICF contractors across the U.S. and Canada are using steel fibers in place of traditional reinforcing steel.
Dave Hall, marketing director at LiteForm Technologies, reports that the product has performed flawlessly in installations ranging from parking slabs to insulated tilt-up panels.
Joey Fearn, located in Delta, British Columbia, Canada, says the use of micro rebar has dramatically changed his company's method of ICF wall construction. Fearn's employer, Fab-Form, makes FastFoot fabric footings and has become a distributor for Helix micro rebar.
He says, "In the past we manufactured ICF panels horizontally: twelve feet long and two blocks high. This enabled us to progressively install horizontal steel as the components were built up on site. But with Helix, the ready-mix company supplies and installs the reinforcing. This allows us to manufacture panels sized for optimum installation on site without regard to traditional rebar installation. We now manufacture panels 8' long and approximately 10' high, which increases contractor efficiency dramatically."
A video of Fearn's panelization method is available online at www.fab-form.com.
Insulated Slabs Gain Popularity
Energy codes across North America are requiring more insulation than ever before. Frequently, slab-on-grade construction can be made more efficient by insulating the edges of the concrete foundation. EnergyEdge, a perimeter insulation system, has released a two-minute video explaining how the system works.
"Concrete has very little R-value, and it's easy to document the energy exchange from the exterior when you can see snow melting or take FLIR images of the energy escaping through an exposed edge," the narrator says. "However, there is also a thermal exchange taking place inside the structure. Thermal exchange between the exterior environment and conditioned space can reach up to ten feet inside your home, office, or building via the exposed edge."

ICF Builder Magazine
Trade Show Report and Preview
Greenbuild 2014
The annual Greenbuild trade show took place Oct. 20-22, in New Orleans, Louisiana.
The show location filled a promise the U.S. Green Building Council made years ago—shortly after hurricanes Katrina and Rita pounded the Gulf Coast in 2005—to help rebuild the area by bringing the show to town. Held at the city's Morial Convention Center, many exhibitors and attendees commented that this year's Greenbuild was noticeably quieter than last year's event in Philadelphia.
Attendance within the ICF industry has been trending lower for a few years now. Nudura and Amvic were the only ICF brands that exhibited in New Orleans. The Portland Cement Association also had a presence.
Next year's event is scheduled for mid-November in Washington D.C.
Construct Canada
Canada's largest construction trade show was held in Toronto, Canada,
Dec. 3-5. This year, the show was combined with Construct International and IIDEXCanada—a prestigious architectural design show—to create one of the largest construction-related trade shows in North America. Most of the major ICF manufacturers were represented (Amvic, Fox Blocks, Logix, Nudura, Plasti-Fab, and Quad-Lock) as well as makers of related products (Fab-Form, Cosella, Soprema, etc.) In addition, the ICF manufacturers association, the Council of ICF Industries, shared booth space with the Ready Mix Concrete Association of Ontario.
In total, the show had more than 1,600 exhibitors (up from 1,050 last year) and featured 350 seminars (compared to 200 in 2013). Attendance was well over the 25,000 that attended last years' show.
IBS Preview
The National Association of Home Builders' (NAHB) International Builders' Show is back in Nevada for 2015, running Jan. 20-22 at the Las Vegas Convention Center. This show is geared toward residential construction, catering to large tract builders and those specializing in high-end custom homes. Usually a half-dozen of the largest ICF companies exhibit, and this year is no exception. Amvic, BuildBlock, Fox Blocks, Logix, and Nudura have all reserved space.
For more information, visit http://buildersshow.com.
World of Concrete Preview
World of Concrete 2015 will run Feb. 3-6 at the Las Vegas Convention Center, opening just ten days after IBS wraps up in the same location. WOC marks its 40th anniversary this year, featuring 1,300 exhibitors, 80+ speakers, and is expected to attract about 50,000 attendees. (The first show in 1975 had just 70 exhibitors and 1,100 attendees.)
Nearly all the major ICF brands will be represented, and several bracing, buck, exterior finish and waterproofing companies will exhibit at the show as well. Most ICF-related booths are located in the North Hall, including this magazine, located at N1519.
WOC offers a number of ICF-related educational courses and events. The biggest, of course, will be the ICF Builder Award presentation, which attracts over 300 of the most influential personalities in the industry. Many of them claim it's the best networking opportunity of the year (see story on page 23).
For more information about
World of Concrete 2015, visit
www.worldofconcrete.com.
For more information about the ICF Builder Awards, the biggest ICF-related event at WOC will be the presentation of the ICF Builder Awards.

ICF Builder Magazine
2014 ICF Market Report and 2015 Industry Forecast
The past year was one of the most eventful the ICF industry has seen. Several brands that were formerly major players merged or folded, and a new trade association for manufacturers was formalized. In addition to these internal factors, larger trends such as stricter energy and building codes, a construction recovery, and evolving green building standards are affecting the industry as well.
» Click Here for the Complete Story


ICF Builder Magazine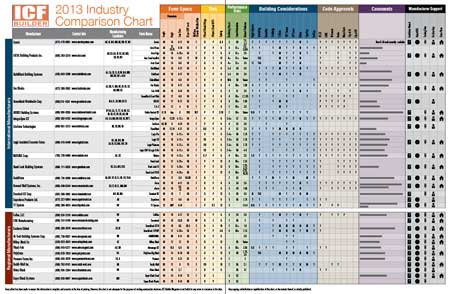 Comparison Charts
The charts on the following pages are intended to help architects, builders and homeowners understand some of the basic features of every ICF currently on the market.
It is not intended to fully describe every feature of every product line, but it does contain a significant amount of information—more than any other chart available.
We recommend that it be used to make a short list of forms that meet your criteria: form size, cavity shape, tie design, and energy performance. Then visit the manufacturer's website or call their toll-free number for more information.
In the end, your decision will probably be determined by block features, price, reputation, and level of manufacturer support.

Insulating Concrete Forms
EPS Decking Forms
Alternative Stay-in-Place Forms

ICF Builder Magazine
Project Profiles: The Unlimited Residential Winners
These amazing custom homes—each with more than 6,000 sq. ft. of living space—are beautiful, functional and extremely energy efficient.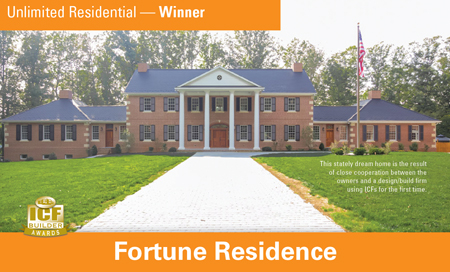 Fortune Residence
The Georgian-style façade of this home was inspired by Chatham Manor, a nearby historic estate dating to revolutionary times. In fact, the owner calls his residence "Chatham II." Its stately lines, bricked walks and endless lawns are a throwback to more formal times.
» Click Here for the Complete Story
---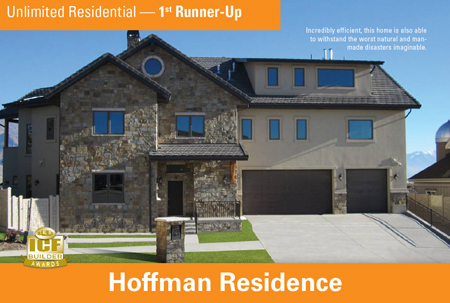 Hoffmann Residence
ICFs are often chosen by homeowners who value energy efficiency and disaster resistance. This home, located about an hour south of Salt Lake City, Utah, maximizes both of these attributes. It nearly qualifies as a Net-Zero home, while also designed to withstand the worst natural and man-made disasters imaginable.
» Click Here for the Complete Story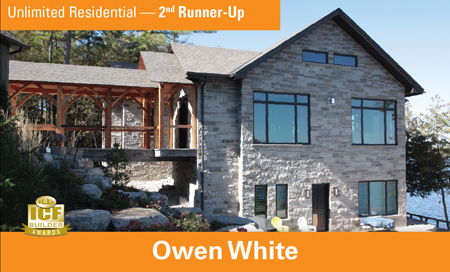 Owen White
This project began when the owners of a lakeside cottage wanted an addition, but the structural engineer said the walls and footings weren't strong enough. On one visit to the property, they noticed that in spite of harsh winds and weather, the 60-year-old decorative concrete fence still looked like it could have been built yesterday.
» Click Here for the Complete Story

ICF Builder Magazine