V-Buck Ends Manufacturing
Vinyl Technologies Inc., makers of V-Buck, have closed their business. The company got its start making window bucks for the removable forms industry, and pioneered the concept of vinyl window bucks for ICFs. Prior to this, the only material available was lumber, and the lightweight, easy-to-assemble, no-hassle V-Buck revolutionized the industry when it came to market in the mid-1990s. It offered a termite-proof, rot-proof, no-warp material.
Over the years, VTI constantly updated and improved their product as the industry evolved. By the early 2000s, they offered bucks for pre-formed arch, gothic arch, and eyebrow windows—which had been extremely costly to build with other methods— and enough widths to match every product line of every major manufacturer.
As ICFs moved into the mainstream, other companies began offering their own bucking systems made of EPS foam, engineered lumber, and heavy-gauge steel. The triple punch of a devastating construction slowdown, increased competition, and an extremely delayed recovery pushed VTI onto a trajectory it could not recover from.
VTI president Bruce Anderson says, "We'd like to thank all
of our loyal customers and distributors through the years who made V-Buck the standard of excellence for ICF projects across North America."
Amvic Begins Manufacturing in Calgary
In September, Amvic Building System announced the grand opening of its newest manufacturing facility, located near Calgary, Alberta, Canada.
The quality-oriented ICF company insists that all manufacturing be done by in-house molders, so this new plant represents a significant investment.
In conjunction with the plant opening, the company announced the hiring of Elmehdi Lembaid who will serve as plant manager and oversee Calgary operations. Victor Amend, president and CEO, says Lembaid has exceptional manufacturing production and maintenance experience.
Amend continues, "These are exciting times for Amvic. In 2008, the company created a strategic five-year plan with two primary goals: diversifying the product line and enlarging manufacturing capability. Today, we have re-tooled our Toronto manufacturing facility with world-class manufacturing equipment and secured our new manufacturing facility in Calgary. In addition we have introduced a wide range of innovative products including Silver Board, Amvic Plus ICF, Amdry family of insulated subfloor and insulated wall panel solutions, Ecoair, and most recently the Amvic insulated radiant PEX panel."
For more information, please visit www.amvicsystem.com.

ICF Castle Architect Featured on "Extreme Home Makeover"
Leigh Overland, lead architect at Leigh Overland Architect in Danbury, Conn., is an outspoken proponent of ICFs—and castles.
Featured on ABC's Extreme Makeover: Home Edition television series, he has introduced Connecticut to ICF, and drawn extensive publicity to the technology. "Any design is possible with ICF – the only limitations are in someone's imagination," he says in one article. "ICF-created buildings have designs from contemporary homes to a grand Scottish castle, all while superbly withstanding the most severe weather and giving energy efficiency, and this is achieved at almost no extra construction costs."
The firm's latest ICF project is a Scottish-style castle in New Canaan that blends ancient Scottish architectural design with modern construction techniques. Illustrating the versatility of ICF construction, it contains a magnificent recreation of a great hall and a turret library.
For additional information and photos, visit http://ldoverland.com/?page_id=2549.
Intertek Expands Evaluation Expertise
Intertek, a company best known to the ICF industry for providing ICC evaluation services, has broadened it's expertise.
Recently, they engaged three leading engineering experts to work with their building products division. In December 2013, Intertek's acquired Architectural Testing, Inc. (ATI) and recently introduced the Code Compliance Research Report by Intertek (CCRR) which offers a more timely and cost-effective option for code compliance and product acceptance.
The three who have joined Intertek in recent months are: Daniel Cheney, who brings 25 years of experience in testing, product acceptance, codes and standards to the Certification Services group; Barry Badders, with 15 years of experience in mechanical and fire engineering and will be expanding Intertek's fire testing capabilities; and Steven Marquiss, who is responsible for product evaluation and certification, with an emphasis on Code Compliance Research Report projects. Marquiss has more than 30 years of experience in civil and structural engineering.
"These three individuals are well-respected professionals who sit on the pivotal codes and standards committees that are key to the industries we serve," noted Gavin Campbell, Intertek's global senior vice president, building products."
Whether the goal is a listing or a code compliance research report, we will guide the project through the test plan, testing, plant inspection, evaluation and follow-up inspection phases so as to provide an efficient and cost-effective experience."
For more information, visit http://www.intertek.com/building.
ICFs Covered In Fire Station Publication
ICFs were recently featured in a magazine article geared to improving the safety and effectiveness of America's fire stations.
The seven-page article, which appeared in the August 2014 issue of Firehouse magazine, was titled "Best Practices in Fire Station Design, and included an extensive interview with Louis Baker. Baker is the Las Vegas-based architect who has designed a number of fire stations with ICFs, including Las Vegas Firehouse #107, which was awarded one of 2013's best light commercial ICF projects and was featured in the March 2013 issue of this magazine.
The article reads, "Vegas has made it a goal to be awarded [LEED] Gold certification for future fire stations. Baker said the exterior walls of Las Vegas fire stations feature foam-insulated poured concrete. The concept is like coffee in an insulated cup."

ICF Builder Magazine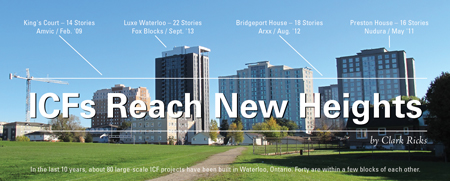 Over the last decade, the city of Waterloo, Ontario, Canada has been transformed by ICF technology. Although the city only has about 100,000 people, approximately 80 major ICF projects have been built there in recent years. Forty of them have been built within an area less than one square mile.
» Click Here for the Complete Story

ICF Builder Magazine

Fly ash, a byproduct of coal combustion, has been used for decades as a concrete additive. It is considered an eco-friendly alternative to portland cement, adding strength and workability to concrete. That designation was jeopardized 2009 when the EPA threatened to classify it as a hazardous material.
» Click Here for the Complete Story

ICF Builder Magazine
2013 ICF Builder Awards Small RESIDENTIAL Winners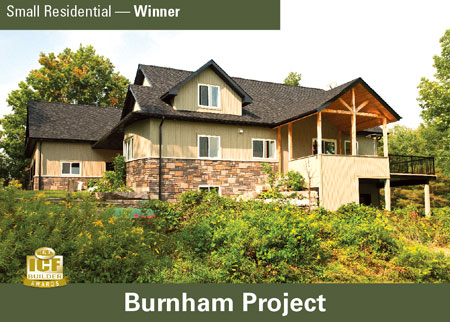 Located in Otonobee Township, near Peterborough, Ontario about 50 miles east of Toronto, this home shows that ICFs are just as well-suited for smaller spec homes as they are for large custom residences.
» Click Here for the Complete Profile


ICF Builder Magazine
This striking home in Sedona, Arizona marries Frank Lloyd Wright's Prairie School architecture with the local southwestern architectural aesthetic, creating a residence that offers excellent views, an open floor plan, and unmatched
sustainability.
» Click Here for the Complete Profile

ICF Builder Magazine
---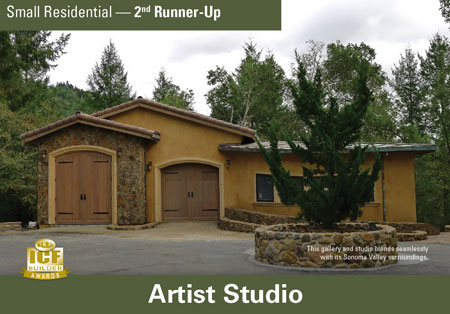 This cozy building adjacent to the owner's home in Santa Rosa, California, was built as an artist studio, sculpture gallery, and performance space.
» Click Here for the Complete Profile
---