ICFs on Fox News Channel
In response to the seasonal wildfires that decimate California regularly, the nation's top-rated cable channel, Fox News, recently informed viewers about ICF. The two-minute segment explaining how ICFs could help homeowners prevent tragedy aired on the Fox News Channel June 20. It was also fed to the hundreds of Fox affiliates in the country and available online as well.
Fox News senior correspondent Adam Housley put together the story after contacting this magazine for information, which supplied the requested data and connected him with several ICF experts in his area.
Glen Klassen, technical manager at Fox Blocks, praised the segment for both the accuracy and depth of coverage, "To think they covered [not only] fire and energy efficiency, but also costs. Amazing."
ICF builder Mike Evans, featured in the report, says that many who have lost their homes in the recent California wildfires "are already rebuilding with ICFs."
The segment created a measurable spike in interest. Troy Gibson, Fox Blocks' marketing manager reports their website experienced a 25% spike in website traffic in the hour it was broadcast.
The video can be viewed online via a link on the ICF Builder magazine website.
NRMCA Seeks Proposals
The National Ready Mixed Concrete Association is seeking proposals for presentations at the 2015 International Concrete Sustainability Conference. The conference is scheduled for May 11-13 in Miami, Fla.
Proposals for papers and/or presentations are specifically encouraged on the following ICF-related topics: Resilience– Designing and specifying concrete for high-performance buildings, fortified building codes and disaster resistance and adaptive reuse. Life Cycle Assessment– Assessing carbon footprint, embodied energy and other environmental impacts for buildings, infrastructure, and cement and concrete manufacturing. Material Science– Performance-based specifications to foster sustainability. Alternative materials, including aggregates, water, cementitious materials and fuels.
Lionel Lemay says, "As in the past, all topics will be considered. However, since the conference is in Miami, one of the largest cities in North America that will be affected by climate change, the emphasis will be placed on proposals that address disaster resilience and durability as a way to help mitigate the devastating effects of natural and man-made hazards, including hurricanes, tornadoes, floods, fires, earthquakes and blast."
Proposals can be submitted online at www.ConcreteSustainabilityConference.org by November 14, 2014.
Quad-Lock Test Affirms Fire Rating
Quad-Lock products passed a series of tests to demonstrate their fire-resistance under both the NFPA 286 and ISO 9705 standards.
The National Fire Protection Association (NFPA) 286-11 is the latest iteration of the "15-minute room corner fire test" for many North American jurisdictions. The Insurance Service Office (ISO) standard 9705:1993 is the equivalent for most of the rest of the world.
These tests demonstrated that, when finished with regular ½" gypsum board as recommended, Quad-Lock products should provide building occupants enough time to evacuate in the event of a fire.
The test was conducted using Quad-Lock Plus Panels (4" of foam per sidewall), as they represent the thickest panel and highest available fuel-load. The ceiling used 12.5"-thick Quad-Deck panels. A burner in the corner of the room fired for 15 minutes and measurements of room temperature and smoke release were taken. Most critically, the gypsum board on the walls and ceiling remained attached.
10,000-Home ICF Development in Africa Planned
VariantHaus, makers of an all-foam, screen-grid ICF based in Germany, has announced plans to build 10,000 ICF homes in West Africa. The homes will be "social houses," or public affordable housing.
While VariantHaus no longer has a presence in North America, they are experiencing considerable success in taking ICF technology to Africa, Russia, and the Middle East.
The West Africa project will involve setting up local manufacturing using the company's ICF mini-plants, using VariantHaus' German-made tooling.
New Website for ConForms
Construction Forms, Inc., which makes concrete pump truck reducing hoses, has a new website (www.conforms.com). In addition to a design update and new page layouts, additional features have been implemented to improve usability and appeal.
The new features include a product catalog with in-depth product details and downloadable spec sheets for each product, and a support page with a downloads library that will be consistently updated with product information.
Fox Blocks Adds Midwest Manufacturing In June, Fox Blocks announced another expansion in manufacturing capabilities, licensing production facilities in Keller, Texas and Nixa, Mo. This follows on the heels of the plants opening in Minnesota and Pennsylvania, and brings the total number of manufacturing plants to 14 in the U.S., with four more across Canada.
"Adding these two plants reinforces our ability to service large scale, heavy commercial jobs, as well as allowing the residential client to gain better access to Fox Blocks ICF," says Mike Kennaw, vice president of sales.
The Texas plant, operated by Foam Fabricators, is located in a suburb of the Dallas-Ft. Worth area, and Kennaw says the market potential in the region is "enormous."
"We are currently the only ICF company manufacturing there," he says, describing it as "Fox Blocks products right in the heart of Texas, made by Texans for Texans."
The Nixa, Mo., plant, near Springfield in southwestern Missouri, is operated by Diversified Plastics.
Both plants were expected to be producing forms by mid-July after undergoing rigorous pre-production and quality assurance testing.
Sto has Finish Warranty
Sto Corp., a maker of acrylic finish systems, has partnered with Oldcastle's Amerimix cement stucco division. The joint marketing agreement will allow contractors to combine Sto's Powerwall stucco finishes with select Amerimix products under a single warranty.
The terms of the new warranty are the same as the StoPowerwall warranties (up to 12 years). The joint warranty program covers the following Amerimix stucco products: AMX 750 FBC, AMX 755 FBC, AMX 745 FSB, and AMX 740 FSB.
NRMCA Publication: Improving Concrete Quality
The National Ready Mixed Concrete Association has a new publication (co-published with CRC Press) called Improving Concrete Quality. The book discusses how to measure concrete quality as well as the benefits high-quality concrete offers.
"Interestingly, while there are many books on concrete technology, finding one that focuses strictly on the subject of improving concrete quality is difficult," says Karthik Obla. "This new NRMCA publication will benefit ready-mix executives in a number of key ways, including how to improve performance, reduce time and costs, and lower the environmental footprint of concrete."
The book can be pre-ordered from the NRMCA website at a special introductory price.
Disaster-Resistant Housing Gains Awareness
At a recent summit in New York's financial district, the news was pay now or pay more later. Speaker after speaker pointed to the increased number of natural disasters, and the enormous costs that these storms, such as Hurricanes Katrina and Sandy, incur. While the conference was not ICF-centric, it created awareness of many of the issues ICF technology can solve.
Hosting the New York summit, Bill Golden of the National Institute for Coastal and Harbor Infrastructure, said, "Large coastal communities need to take Sandy as a warning call."
Val Marmillion managing director of America's Wetland Foundation (AWF), warned attendees that "Gulf Coast states would be hard-pressed to keep up with the loss of critical infrastructure due to long-lasting, larger-footprint storms like to Sandy and Isaac."
Many of the speakers called for government funding to create more resilient buildings. "We must cobble together bipartisan leadership nationwide to secure our coastal resources and cities or every American will pay the price," Golden said.
Sidney Coffee, senior advisor to AWF, adds, "It is not a matter of if, but when Gulf cities will have another storm-related disaster," Coffee said.
Army Reserve Center Built with ICFs
The Las Vegas Army Reserve Center benefitted from faster schedules and fewer labor costs, thanks to ICF.
The Las Vegas Army Reserve Center Phase 2 consists of three buildings totaling approximately 62,500 sq. ft., including a 37,000-square-foot training building, and a 21,000-square-foot Area Maintenance Support Activity (AMSA)/Organizational Maintenance Shop (OMS). The buildings were designed to meet critical military standards as well as stringent Leadership in Energy and Environment Design (LEED) guidelines.
Nibbelink Masonry did the ICF install. "The speed and ease of using Fox Blocks ICF on this project allowed our company to perform this job beyond our expectations," said Troy Nibbelink, president. "We completed 9,000 sq. ft. of wall in just five days with only five men. With normal masonry, it would have taken double the man power."
Bart Jones, the local Fox Blocks distributor says, "The value of Insulated Concrete Forms in our extreme desert climate is becoming more important and obvious to all aspects of the building industry."
A video slideshow of this project is available on YouTube via the ICF Builder magazine website.
---

From the very earliest days of the ICF industry, most of the forms have been sold through specialty dealer/distributors.
Much of the success the industry now enjoys is due to the dedication of this relatively small group of individuals. They exhibit at local homebuilding shows, spend hours teaching seminars, educate architects, and guide first-time builders through the process. In addition, they often rent or sell specialty equipment such as turnbuckle bracing, window bucking, and fasteners.
» Click Here for the Complete Story

ICF Builder Magazine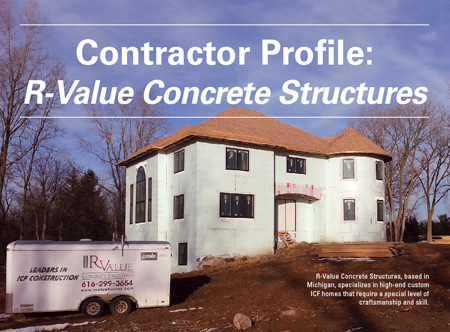 R-Value Concrete Structures, an ICF installation contractor based in Grand Rapids, Michigan, recently marked its 10th anniversary. The company specializes in high-end custom homes, and over the years has been involved with several notable projects, including the Onekama hybrid home, one of the first LEED-Platinum-certified homes in the country and a benchmark achievement that brought ICFs to the attention of the green building industry.
» Click Here for the Complete Story

ICF Builder Magazine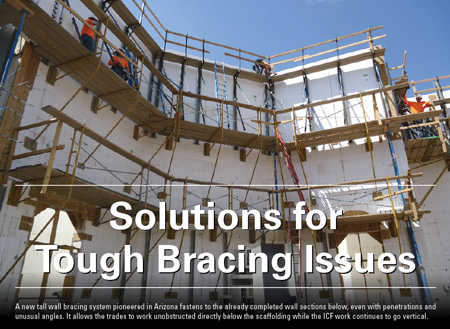 Big, complex ICF projects are becoming increasingly common.
These jobs frequently feature tall walls with multiple penetrations, wall heights, and corners that can challenge the skills of the most experienced ICF installer. Additionally, safety standards and inspections on these large heavy commercial projects are far more stringent than on residential jobs. Finally, many jobsites have little room for staging material, and extremely tight schedules.
» Click Here for the Complete Story

ICF Builder Magazine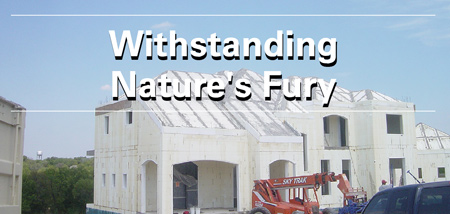 The January 2014 issue of this magazine reported that the concrete industry has been largely absent from discussions
on how to build more hurricane-resistant structures. That situation changed this year when three leading ICF experts were selected to present a three-hour class at the 2014 National Hurricane Conference.
» Click Here for the Complete Story
---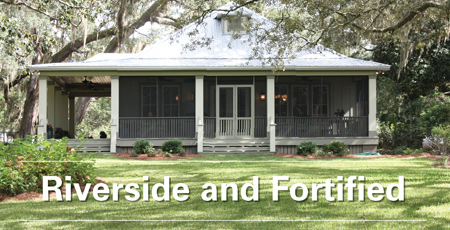 For Safety and Peace of Mind, Homeowners Turn To an ICF Home
Dave Miller and Maureen Fitzgerald wanted to build a new home on beloved family land overlooking the Fish River in southern Alabama.
The wrath of Hurricane Katrina made it clear that stronger homes were necessary to weather the storms that lash the Gulf Coast on a regular basis. But they wanted the new house to be energy efficient, too. Most importantly, the home had to look like it belonged on the two acres that includes waterfront on the scenic Fish River.
» Click Here for the Complete Story

ICF Builder Magazine
2013 ICF Builder Awards LARGE RESIDENTIAL Winners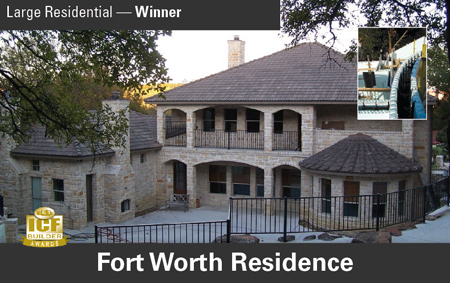 This high-end custom home on the outskirts of the Dallas-Ft. Worth metroplex has dozens of unique ICF features. In fact, this was one of the reasons behind its construction.
» Click Here for the Complete Profile


ICF Builder Magazine
Curly House, located in West Sussex near England's southern shore, used ICF construction to solve a number of vexing problems. The owner wanted to build an affordable, low-energy building in a region with relatively cold winters and hot summers. But the original plan for a two-story home on the site had already been turned down, as the lot was in a formally designated "Area of Outstanding Natural Beauty" with numerous building restrictions.
» Click Here for the Complete Profile

ICF Builder Magazine
---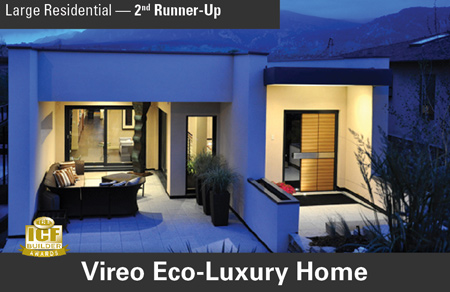 The 5,200-square-foot, three-
story house was constructed on a sloped lot with a 30 foot elevation drop. To complicate matters further, the site contained swelling soils, which required a drilled pier foundation. Finally, the entire construction timeline was compressed to a mere three months. The 6,400 sq. ft of ICF walls and 1,200 sq. ft of Quad-Deck ICF floor system needed to be installed quickly and flawlessly.
» Click Here for the Complete Profile
---