BuildBlock expands into Western Canada
BuildBlock Insulating Concrete Forms are now being manufactured in Western Canada.
In March, BuildBlock Building Systems announced a partnership with Polycore Canada to mold its line of ICF products at Polycore's Ponoka, Alberta facility.
BuildBlock has been selling and supporting ICF projects throughout Canada for nearly a decade, and BuildBlock executives indicate that demand in western Canada has maintained levels that warranted a local production facility.
Mike Garrett, BuildBlock president and CEO says, "Polycore Canada is an outstanding ICF molder with a long history delivering quality and customer service… Last year, BuildBlock saw more than a 15% growth in our Canadian sales alone. Moving into a Canadian manufacturing facility made financial sense and lets us better service our growing customer base."
One of 13 manufacturing locations, the Ponoka plant will produce the 6-inch and 8-inch straight blocks as well as some accessories.
BuildBlock continues to add new customers and distributors throughout Canada, North America and around the world. Andrew Laub, director of sales, says "Creating products that fully integrate with each other and cost-effectively solve the needs of our customers is what drives us. We were excited for our outstanding 2013 growth and 2014 looks to be even better."
2014 Home Starts May Break Million Mark
According to new data released by the U.S. Census Bureau, single family home starts in the U.S. may break the one-million mark for the first time since 2007.
Despite poor numbers in the first few months of the year—attributed to an unusually cold winter in the eastern half of the country—the residential construction sector appears poised to regain its upward momentum.
"A healthy construction sector is a prerequisite to a healthy economy in the long run," says Bill Wood, economics editor for Plastics News. "Once America is reliably and predictably building things once again, the confidence levels for both consumers and businesses will rise and the economy will be on much better footing."
Last year, single family home starts showed remarkable improvement, up 18% over the 2012 figures. But economists worried when the first quarter of 2014 indicated a modest decline in housing starts. In addition to the bad weather, some regions experienced a shortages of skilled labor and difficulty getting banks to lend.
The data on the number of building permits issued for new houses indicates that these issues are mostly behind us. This figure is up 7% from year- ago levels.
Now, the latest forecast predicts just over one million single family homes will be built in 2014, an 8% increase over last year.
Woods is optimistic the rate could rise even further. "In order to accommodate all of the new household formations and also replace the aging housing stock that is becoming obsolete or damaged beyond repair, we need to average a rate of more than 1.2 million new units started every year," he says.
Logix Survivor Home Featured in Video
A beachside ICF home that survived Superstorm Sandy is the star of a new internet campaign to encourage disaster
resistant housing.
The Hallett home, built in Union Beach New Jersey with Logix ICF, was featured in the Sept./Oct. 2013 issue of this magazine. Now, it's part of a disaster safety awareness video series produced by the Federal Alliance for Safe Homes (FLASH) and the Portland Cement Association (PCA).
The video promotes the use of concrete homes as a safe, resilient solution for disaster-prone areas. The video and related marketing campaign was timed to coincide with the one-year anniversary of Superstorm Sandy.
The five-minute video, available on YouTube, tells the story of Seth Sochaki and his family, who survived the storm by taking refuge in the ICF home he built for his mother-in-law. Safe in an ICF shelter, they watched as the storm destroyed their own wood-frame house next door.
The video is targeted specifically at homeowners in the New Jersey and downstate New York markets. FLASH hopes to create awareness of the durability, strength, and sustainable benefits of building with concrete.
Nudura builds Domed Tornado Shelter in Okla.
Sobered by the devastating tornadoes in Moore, Oklahoma, a nearby school recently completed construction of a storm shelter that marries ICF walls with a concrete dome.
The 28,000-sq.-ft. structure, located about 75 miles west of Oklahoma City in Hammon, is rated to withstand winds of more than 300 mph.
The footprint of the building is a perfect circle nearly 200 feet in diameter. Nudura ICFs were stacked 14 courses high (22 feet), which function basically as an enormous stemwall.
A circular, insulated concrete roof was installed by ABC Domes. Their method involved inflating a proprietary "air form" to create the dome shape, then applying a 4,000-psi shotcrete blend. Once cured, spray foam is applied to the underside of the roof.
The building's primary use will be as a 1,100-seat gymnasium and school cafeteria. But when dangerous storms threaten, it will act as a community tornado shelter.
The project was completed last fall for an undisclosed sum.
Sider-Crete Updates Website
Sider-Crete, makers of a popular line of exterior trowel-on finishes for ICF, have revamped their website.
Ivan Burgand, who oversees marketing for the company, says, "We have gathered some of the great projects our customers have done over the years….and we are proudly displaying them on our new website for all to appreciate."
In addition to the project profiles, the website includes technical information and application instructions for all their products, including Sider-Crete and PowerBase ICF as a vertical ICF finish, Sider-Proof for pools, and Sider-Deck for horizontal surfaces.
To visit the updated website, go to www.sider-crete.com.
Finnish ICF Celebrates 40 Years
An Insulated Concrete Form originating in Finland is celebrating 40 years of durable, energy efficient construction in 2014. Known as Palikka, the form holds several European patents, and has been used on projects from the frigid Scandanavia to the searing heat of the Australian Outback.
The metric-scaled product is approximately 125mm long and 25mm tall, with a tongue-and-groove interlock.
Company president Birger Wasenius reports that the company receives inquiries from time to time from the U.S. and Canada. Palikka currently has no North American distributors, but would be willing to set up a licensing agreement with a qualified partner.
For additional information, visit www.palikka.eu.
ICF Manufacturers Form New Association
Four major ICF manufacturers have formed a new trade association for insulated concrete forms.
Nudura, Logix, Quad-Lock and Superform, who cumulatively represent the majority of the ICF products manufactured in North America, are the founding members of the Council of ICF Industries (CICFI). Andy Lennox, vice-president of marketing for Logix was elected to be the chairman. Murray Snider, president and CEO of Nudura will serve as vice-chair.
"Our industry has a great story to tell and we look forward to representing and growing the ICF industry in an energetic and professional manner." says Lennox. "We've held a number of very productive meetings over the last few months during which we've identified our priorities and developed our initial action plans… This association is long overdue, we are excited to get started and we look forward to additional ICF manufacturers joining us as we move forward."
Arizona ICF Firm Fights Cancer Through Homebuilding
This past winter, ICFs were once again in the news. The American Concrete Institute (ACI) operates Concrete Cares!, an effort to promote breast cancer research and awareness by placing pink concrete in all 50 states.
Castle Rock Homes, a Phoenix-area ICF homebuilder, was selected; along with ready-mix supplier Drake Materials, Fleming and Sons Concrete Pumping, and Fox Blocks ICF.
As two local news crews filmed, the Castle Rock team pumped 50 yards of pink concrete into the walls of the Greenbrier 2 home in Glendale.
Portable ICF Plants Available
Earth Friendly Building Materials LLC, makers of an Insulated Concrete Block (ICB) composed of Recycled EPS foam and Portland cement, has developed a portable manufacturing plant. The mini-factory can be shipped to areas hit by natural disasters so that the region can rebuild quickly and cost-effectively with a durable, energy-efficient material.

The product, dubbed EF Block (for earth-friendly) is manufactured from recycled post-consumer and post-industrial EPS foam, which is then mixed with a binder. EF Block is 87% recycled material, which would otherwise end up in a landfill and never disintegrate. Full-scale plants are set up in La Paz, Baja California, Mexico as well as Tempe and Kingman, Arizona, which has led the company to become Arizona's largest foam recycler.
Wade Vernon, who is marketing the concept, says, "Our goal with the EF Block product is to develop, manufacture and build plants at millions less than similar concepts." He claims the EF Block concept has been used to build over 20,000 structures in the U.S. and Mexico.
Options include a 27-mold mini-plant that will produce a few dozen blocks per shift, or the larger 110-block operation listed at just less than $300,000. Additional details can be found at
www.efbm.com.
---

From the very earliest days of the ICF industry, most of the forms have been sold through specialty dealer/distributors.
Much of the success the industry now enjoys is due to the dedication of this relatively small group of individuals. They exhibit at local homebuilding shows, spend hours teaching seminars, educate architects, and guide first-time builders through the process. In addition, they often rent or sell specialty equipment such as turnbuckle bracing, window bucking, and fasteners.
» Click Here for the Complete Story

ICF Builder Magazine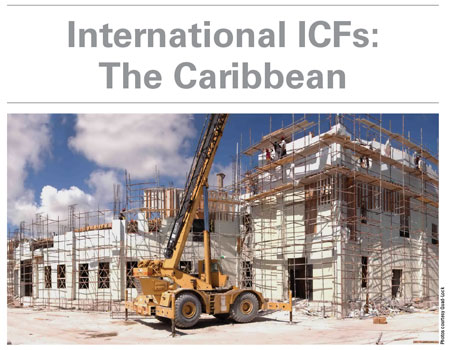 Insulating Concrete Forms (ICFs) are gaining market share not only in North America, but around the world. This fourth article in a series looks at the ICF industry in the Caribbean, where it already has some penetration.
» Click Here for the Complete Story

ICF Builder Magazine
2013 ICF Builder Awards HEAVY Commercial Winners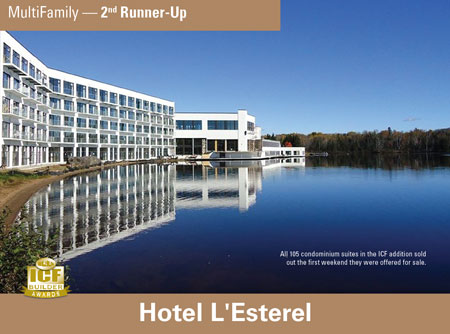 Estérel Resort is a luxury 4-star destination located in the Laurentide mountains about an hour northeast of Montreal, Quebec. Situated on a narrow peninsula between three lakes, and surrounded by nature, the property is rapidly gaining a reputation as the ideal setting for romantic getaways, weddings, conferences and corporate events.
» Click Here for the Complete Profile


ICF Builder Magazine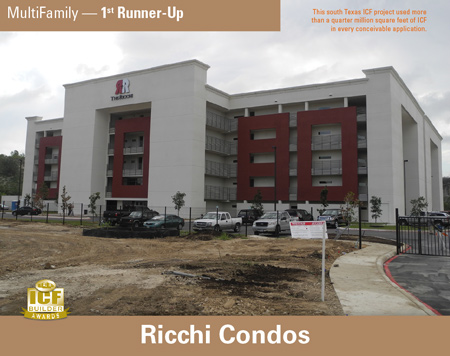 The Ricchi Condominiums in San Antonio, Texas, is a landmark accomplishment for the ICF industry in South Texas.
» Click Here for the Complete Profile

ICF Builder Magazine
---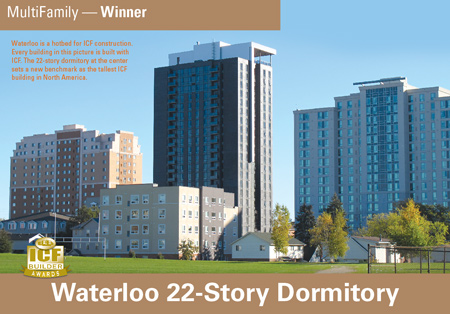 The city of Waterloo, Ontario, located just west of Toronto is a university town. It's also a hotbed for ICF construction, and the city has built a number of massive ICF student housing projects in recent years. The latest is a 22-story dormitory, with weight-bearing ICF walls. It sets a new benchmark as the tallest ICF building in North America, and also for the amount of 12"-core ICFs used in a single building.
This project has pioneered the use of ICFs in the high-rise market, and developed techniques that the entire industry will benefit from.
» Click Here for the Complete Profile
---



ICF Product Directory
This special advertorial section includes listings for leading ICFs and accessory products, organized by category and containing company contact information.
» Download the Product Directory