Fox Blocks Finalizes Purchases of Reward, Arxx
Airlite Plastics Co. has finalized the purchase of Arxx Building Products and Reward Wall Systems. Mike Kennaw, Fox Blocks vice president of sales and marketing, estimates that with the acquisitions Fox Blocks is now the third largest ICF producer in North America.
The Reward purchase was announced in November and finalized Feb. 18. Arxx entered sale negotiations with Airlite last fall, with a letter of intent to purchase signed on Nov. 12. It was the only bid submitted to Arxx's receiver, Duff & Phelps Canada Restructuring Inc., and the agreement was finalized Feb. 3.
As expected, the number of ICF product lines on the market will be significantly reduced in coming months. Kennaw stated in February that the iForm and eForm were already out of production and that both lines would be discontinued as soon as current inventory is depleted. The three products offered by Arxx—the original exposed tie Arxx-Edge, the knockdown Arxx-Panel, and steel-tie Arxx-Steel—are also discontinued.
However, several popular ancillary components will continue as part of the Fox Blocks lineup. Production of the tieKey ICF masonry anchor continues uninterrupted, and Airlite is redesigning the xLerator ledge reinforcement to fit Fox Blocks ledge and taper forms. According to Kennaw, the re-engineered version will still meet all ACI 318 and ledge reinforcement requirements.
"Fox Blocks is committed to the highest quality products," he says, "and by eliminating the similar products we can focus our resources on keeping costs competitive, staying committed to product innovation and continuing to offer quality support."
ICF Building Protects Occupants from Blast
On March 12, a gas explosion ripped through a pair of apartment buildings in New York City, reducing it to a heap of burning rubble. More than 8 lives were lost and two dozen critically injured, and citizens in the East Harlem neighborhood reported hearing the blast from as far as a mile away. Miraculously, the four-story building just inches away survived virtually unscathed.
While the investigation is still underway, preliminary
evidence gives much of the credit to the building's ICF walls, built with Reward Wall's iForm which has a solid 8" core of
reinforced concrete.
Steven Bluestone, the developer, reports that he hasn't yet been permitted to access to the building, but has been assured there is no structural damage.
Bluestone is a leading proponent of ICF in the city. Since 2010, his company has built five multi-family ICF projects exceeding six stories, and he's currently planning an 18-story ICF building containing 300 rental units with retail spaces on the ground level in Westchester County, NY.
A more complete report on this incident will be published in the September special issue of this magazine that focuses on disaster resistance.
NUDURA Expands Manufacturing to West Canada
NUDURA Corp. announced in late March that they are expanding their manufacturing operations, reaching an agreement with Polyform to manufacture their patented hinged-form ICF in Western Canada.
Todd Blyth, international marketing manager for the company, says, "With the growth of the ICF industry on the rise, and the awareness of high profile projects drawing attention to the industry, the future for ICF construction has never been brighter. With great confidence in the future of ICF, NUDURA is expanding on its manufacturing capabilities... and are proud to announce the construction of its newest, fully automated facility in Alberta."
He adds that NUDURA and its partners currently own and operate more than one million sq. ft. of manufacturing throughout Canada and the United States.
NUDURA President and CEO, Murray Snider, states: "We are extremely excited about the expansion of our manufacturing facilities into Western Canada."
The state-of-the-art production facility will be located in Coldale, Alberta, and is expected to begin production of NUDURA products in late fall 2014. At full capacity, the plant will be capable of producing up to 25 million sq.ft. of ICF annually.
"We're excited for the opportunity to supply Western Canada and the North Central and Western United States out of this technically advanced operation. This expansion will provide customers a more comprehensive service experience and is the next step to an exciting future for NUDURA," Snider said.
Neopor Meets ASTM Standards.
In January, BASF announced that the Neopor 5300 expanded polystyrene (EPS) has passed ASTM testing.
According to the statement, the material now meets American Society for Testing and Materials (ASTM) C578 Type I, II, VII and IX requirements for Rigid Thermal Insulation. This performance capability was certified by the International Code Council Evaluation Service (ICC-ES) in Report #2784.
Neopor contains special graphite particles that increase the insulation value. It is used by several ICF manufacturers, including Logix and Fox Blocks, to produce ICFs with 15% higher R-Values per inch when compared with regular white EPS.
Building officials, architects, specifiers, designers and others rely on ICC-ES Evaluation Reports to provide a basis for using or approving products, including those made with Neopor rigid thermal insulation, in construction projects under the International Building Code.
ICF Experts Present at ICC, Nat'l Hurricane Conference
The ICF industry is gaining visibility, with several industry experts presenting technical information at several high-profile conferences.
Last fall, Douglas Bennion, manager of Quad-Lock's training and technical services department, was invited to make a three-hour "feature presentation" at the International Code Council's (ICC) Annual Conference and Fall Convention in Atlantic City, New Jersey. This location is near the epicenter of damage stemming from Superstorm Sandy.
Titled Disaster Resistant Construction with Insulated Concrete Forms and Reinforced Concrete, the AIA-accredited class included a 90-minute session on elevated slab construction, followed immediately by a 90-minute hands-on demonstration building a small ICF structure right in the classroom, complete with
EPS decking.
In April, Bennion is teaming up with Joe Warnes and Ken Luttrell to present at the National Hurricane Conference. This 3 ½-hour presentation will explain how ICFs can be used to create structures that can resist hurricane-force winds.
"There is a major hole in our building codes that would be quite simple to fill if people would listen," says Bennion. "We are putting forth the idea of writing an optional disaster-resistance building standard into the residential code that was known to resist hurricanes and tornados, but was optional not mandatory. That way, the market would assess the value."
Year-End Construction Statistics
FMI, a well-known construction consulting firm, has released its year-end statistics for the construction industry.
Their research indicates that the residential market in 2013 experienced 18% growth. Multifamily construction has been particularly strong in the past two years with a 38% increase in 2013. With rents still high and household formations low, they expect multifamily construction to keep growing in 2014 In the commercial sector, most growth was in publicly-funded projects, such as military, education, and government. One privately-funded area that showed growth was hotel construction. After several years of sharp decline during the recession, lodging construction continues its solid comeback in 2013, growing nearly 20%. This sector is expected to grow another 10% in 2014.
A copy of the full report can be downloaded from
www.fminet.com.
---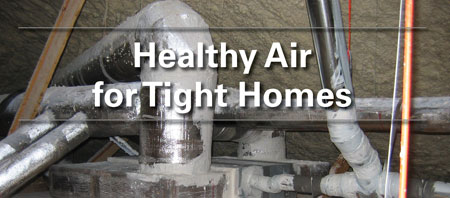 The superior energy efficiency of ICF walls is a major factor driving industry growth. This efficiency is due to three factors: the higher R-value of the foam, the thermal mass of the concrete core, and the airtightness of the walls. While airtight walls are positive from an energy standpoint, they can be detrimental to indoor air quality.
It's possible that an ICF structure may be so tight that levels of moisture, radon, carbon dioxide, pollen and allergens, etc. rise to unhealthy levels. This is especially true if the home includes an attached garage.
» Click Here for the Complete Story

ICF Builder Magazine

What's the best way to install a window buck in an ICF wall? Ask a dozen contractors, and you'll likely get a dozen answers, depending on their preferred buck system, ICF brand, and regional climate. This lack of consensus regarding best practices has sometimes hampered industry growth, but this challenge is nearly a thing of the past.
» Click Here for the Complete Story

ICF Builder Magazine
2013 ICF Builder Awards LIGHT Commercial Winners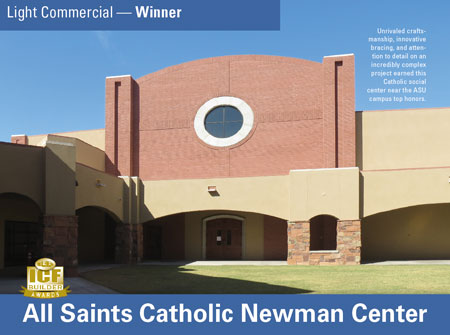 Winner of the Best Light Commercial Project for 2013, the All Saints Catholic Newman Center is a landmark on several levels.
It is located adjacent to the Arizona State University Campus on the corner of University Drive and College Avenue, purported to be the busiest sidewalk in the United States when school is in session. But the project is also a landmark for the ICF industry, setting several new benchmarks.
» Click Here for the Complete Profile


ICF Builder Magazine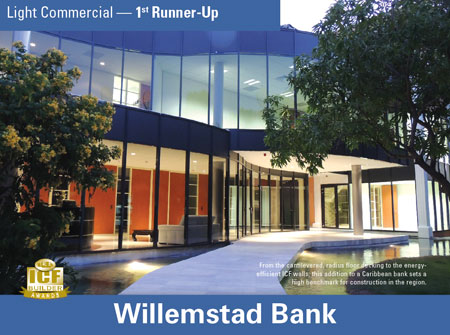 Located on the Caribbean island of Curaçao in the Dutch Antilles, this project began as an addition onto a colonial bank building originally built in 1778.
The addition needed to mimic the finish details of the original bank and also withstand the harsh tropical climate, which has high year-around temperatures, ocean salt-spray, and the threat of hurricanes. Finally, because of the climate, air conditioning is a must for commercial offices, but it comes at a very high cost for traditional block-constructed buildings.
» Click Here for the Complete Profile

ICF Builder Magazine
---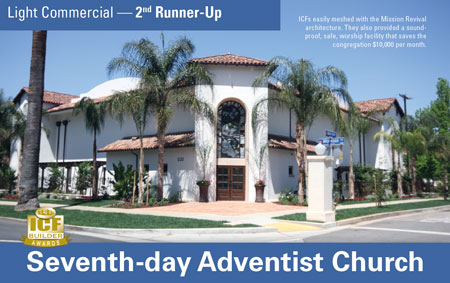 ICFs' green features and energy efficiency are strong selling points, especially when the developer is also the long-term owner. A Seventh-day Adventist congregation in Southern California discovered ICF construction would be a great choice for a new Worship and Multipurpose Center they had planned.
The 16,700-sq.-ft. building needed to match the architecture of the adjacent Mission Revival Sanctuary. This architectural style is historically and climatically appropriate for the region, but it's also exceptionally well suited to ICF. The thick walls, unadorned plaster surfaces and low-pitched clay tile roofs are perfect, as ICF walls are typically about a foot thick, and the foam blocks make a perfect substrate for stucco.
» Click Here for the Complete Profile
---

Since their invention nearly 15 years ago, EPS decking products have gained considerable popularity, especially in the ICF industry. Made from rigid foam and topped with steel-reinforced concrete, they offer many of the same advantages as ICF walls: strength, thermal mass, better insulation, sound attenuation, and protection from natural disasters.
» Click Here for the Complete Story