Arxx in Receivership
Arxx Building Products, which played a major pioneering role in introducing ICFs to the larger building community, has filed for receivership.
The company, originally known as AAB Bluemaxx, began in the early 1990s when the entire ICF industry was building less than 200 homes per year. Under the leadership of Ritchie Scott, the company became a market leader. It served as the training ground for literally tens of thousands of installers and dozens of today's top industry leaders.
In 2001, a series of lawsuits forced Bluemaxx to change its name to Arxx Building Products, changing nameplates yet again in 2008 to Arxx Corp. when it acquired American PolySteel (their main competitor in the 1990s) and ECO-Block (one of the first knock-down forms).
With Scott's death in 2004, the company's market share and visibility began to decline. Funded by venture capitalists, and led by industry outsiders, it experienced significant turmoil at the executive level, hiring (and ultimately firing) seven CEOs over the past twelve years.
On December 27, three Arxx-related companies filed bankruptcy in the US Bankruptcy Court for Delaware. The Canadian operations, headquartered in Cobourg, Ontario are operating under receivership, which is being managed by Duff and Phelps a law firm in nearby Toronto.
(See sidebar for additional details).
Croatian Home Program Partners with ICFs
Quad-Lock Building Systems GmbH and CEMEX Croatia have partnered to provide energy-efficient ICFs as part of a program to provide low-cost, high-performance housing.
CEMEX's innovative program is designed to be a "One-Stop-Shop," providing all the design support and materials needed to build super-energy-efficient homes up to a size of about 3,500 sq. ft. (400m3) at lower total costs of ownership than traditional construction.
The program offers a full-range of services including technical and financial advice, house design, obtaining permits, material supply, construction works and supervision, performance warranties, and discounts for furnishing.
Green Building Design Fees Rising Rapidly
Green building is the fastest-growing realm in the design and construction industries, and demand for green consulting services is driving prices upward.
Recently, a well-regarded survey company has compiled a clear, unbiased reference for what green consulting fees actually cost in various markets across the U.S. and Canada.
"These surveys provide authoritative facts and figures unavailable from any other source," says a spokesman at Guidelines. The company has been performing fee surveys of interest to architects and engineers for more than 20 years "More than ever, you need to know the top-, mid-range, and lowest fees being charged for all categories of green design, consulting, and certification services."
The information is available as a PDF download and as a spiral-bound manual available through a link on www.icfmag.com.

Australian ICF wins Construction Award
Every year, the leading construction association in Australia hosts the National Excellence in Building and Construction Awards. This year, for the first time, an ICF structure took top honors.
The awards are divided into a number of categories, and nominations are submitted through State and Territory Master Builders associations (similar to the local home building associations in the U.S.) The State and Territory Award winners become finalists for the National Awards and are judged accordingly.
Winners were announced at Parliament House, and an ICF project, built with a vertically-oriented ICF system from Australia called Econ Wall, was awarded the top prize in the Environment & Energy Efficiency category. It was the cover feature of Building Australia, a leading construction publication in that country.
Lubbock to Reach 150 ICF Homes
The City of Lubbock, Texas, has been a proponent of ICF construction for more than a decade, not only for high-end custom homes, but also low-income/affordable housing. The Texas city built its first ICF habitat for humanity house in 1999.
Brad Reed, the city employee who was a driving force behind the program transferred to a different department about a year ago, but reports that the program continues with 10+ homes being built per year, and the city is on track to complete its 150th affordable single-family ICF home this year. Reed was the recipient of the Portland Cement Association's Sustainable Leadership Award in 2008 for his efforts.
Other Texas cities including Midland/Odessa and Abilene have started similar programs, building low income ICF homes for deserving families with federal HUD Community Development money.

ICF Builder Magazine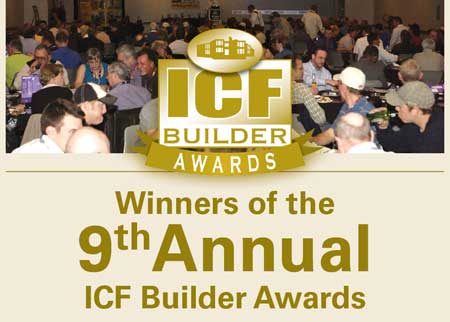 Winners of the 9th Annual Builder Awards
The 2013 ICF Builder Awards, an annual project-of-the-year competition, were announced last month at the World of Concrete trade show in Las Vegas. About 250 of the industry's leading figures attended the award presentation held Jan 22. 2014, including designers, installers, manufacturers, distributors, owners, and representatives of auxiliary ICF products. Attendees report it was an unparalleled opportunity to network, socialize, and meet new contacts.
The winning projects, listed on the following pages, were recognized for setting new industry benchmarks due to their significance and visibility.
Entries were broken down into three residential categories and three commercial divisions. A panel of judges selected a winner and two runners-up in each category. Complexity, creativity, site challenges and media exposure were all factored in determining which projects deserved top honors.
In addition to the listings on the following pages, the winners will be featured in a series of full-length profiles published in this magazine, beginning with the heavy commercial winners in this issue. Additional facts and dozens of outstanding photographs of the projects are available now on the award website
www.builderawards.com.
The 2014 contest will be announced in the May/June issue.
Entry Notebooks will be due in early October
Click BELOW to view project details.
Small Residential
LARGE Residential
Unlimited Residential
» Hoffman Residence 1st Runner Up
MultiFamily
Light Commercial
» Winner All Saints Catholic Newman Center

» Willemstad Bank 1st Runner Up

ICF Builder Magazine
2013 ICF Builder Awards Heavy Commercial Winners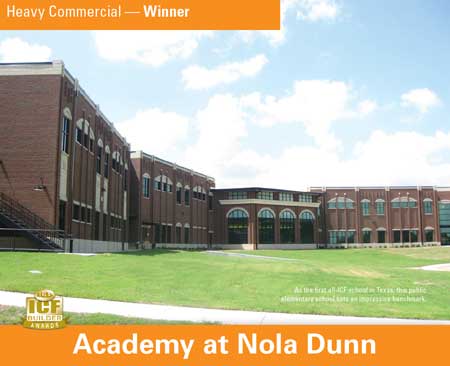 ICFs have proven to be extremely well-suited for projects in the education sector. This year's "Best Heavy Commercial" project sets another benchmark. While other Texas schools have incorporated ICF technology, primarily in their classroom wings, the Academy at Nola Dunn is the first all-ICF school in Texas. It's also a beautiful example of how ICFs can speed construction schedules, provide long-term savings, and be compatible with virtually any architectural style.
» Click Here for the Complete Profile


ICF Builder Magazine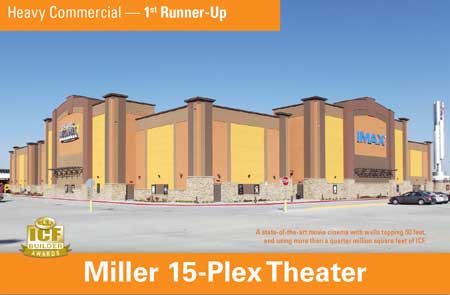 The Megaplex 15 Theaters at Valley Fair Mall in West Valley City, Utah, is one of the most innovative cinemas in the nation. Equipped with digital projectors and a state-of-the-art sound system, it gives movie-goers an unparalleled experience. It's one of the first in the world to be equipped with Dolby Atmos, a surround sound system that travels over, around and through the audience for a "pan-through" array of sounds.
» Click Here for the Complete Profile

ICF Builder Magazine
---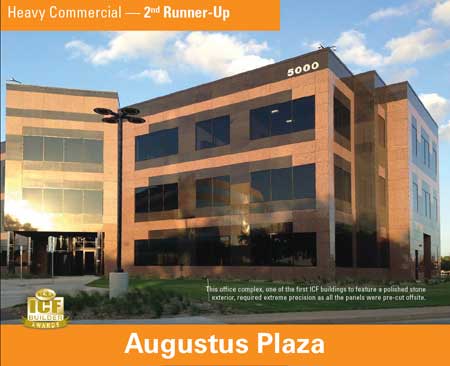 This three-story office complex in Fort Worth, Texas is notable for several different reasons. Not only were ICFs used for the exterior building envelope, but they were also used for columns and beams, certain interior wall frames, insulation, waterproofing and sheathing. In fact the square footage of ICFs used (47,800 sq. ft. exterior + 14,000 sq. ft interior) exceeds the square footage of the building footprint (61,300 sq. ft.).