Fox Blocks ICF to Acquire Reward Wall Systems
On November 15, Fox Blocks ICF—a division of Airlite Plastics Co.—announced that it has reached a deal to purchase "select assets" from Reward Wall Systems. The acquisition, which will be finalized in mid-February, merges two of North America's leading brands of insulated concrete forms. Terms were not disclosed.
Mike Kennaw, vice president of Fox Blocks says, "This acquisition reflects Fox Blocks' commitment to the ICF market. By gaining scale and volume, we hope to… expand our footprint in the North America market at the same time that we help expand the industry's footprint in the broader construction products market."
He adds that the company "pursued the acquisition opportunity as a way to expand customer access to innovative green building solutions."
Reward Wall Systems is a pioneer in the ICF industry, beginning operations in 1988. It was one of the first companies that promoted ICFs to the heavy commercial market, and has well established relationships with contractors, design professionals and owners. In the early years of this century, most of North America's biggest, tallest, and most demanding ICF projects were built with Reward.
Airlite Plastics and Reward Wall Systems, Inc. are both headquartered in Omaha, Nebraska where the companies have enjoyed a long-standing business relationship. In fact, Airlite Plastics was introduced to the ICF market as a contract molder for Reward. They produced forms from 1996 until 2008 when Airlite began molding their own Fox Blocks ICF product lineup.
"Reward has done an excellent job of growing the residential and commercial ICF market," explains Brad Crosby, president and CEO of Airlite Plastics Co. "We're excited about the opportunity to… combine the strength of two ICF innovators and leaders."
The acquisition gives Fox Blocks access to Reward's "strong network of ICF customers, developers, architects, general contractors, residential contractors, and construction supply distributors throughout the U.S. and Canada."
Ed Storm, who has served as president of Reward Wall System, Inc. for the past 15 years, says of the merger, "This is a perfect marriage. Airlite Plastics worked with Reward for years and is intimately familiar with the product line. Their expertise in ICF design and self-manufacture together with this expanded volume make for a potent synergy that should be great for existing and new ICF customers."
While the deal won't be formalized until mid-February 2014, the companies have started working together now to develop and implement a plan that ensures a seamless transition for customers and employees.
Until the deal closes, Reward Wall Systems will continue to exclusively handle the sales and service of Reward products.
ICF Retrofit Shows Ingenuity
Installing a new foundation under a home more than a century old is a daunting task, but Logix ICFs combined with fabric footings from Fab-Form made the job much easier. In this case, not one, but two "heritage homes" built in 1892 were renovated with additions to serve as a seven-unit development.
The two older homes were nestled tightly on a 50' by 132' lot in Vancouver, BC.
Josh Klein, project supervisor, explains, "The lot width is only 50 feet wide, yet each Heritage building measures over 21 feet, not including roof overhangs. To excavate for the new foundations, we carefully slid each building to the south end to provide sufficient space for the backhoe to operate."
He continues, "Once the foundations were excavated, we slid the buildings back to their original location, and built the new insulated foundations underneath."
The installer chose to "monopour" the footings and foundation in a single operation, even though wall heights reached 15 feet. The boom operator had only 16 inches of space between the top of the forms and the bottom of the house.
For additional project details and pictures, visit http://www.fab-form.com/fastfootMp/ecoHeritage.php.
China Enters ICF Marketplace
After studying the North American ICF market for years, Chinese manufacturers have begun offering ICF ancillary products that closely parallel those already on the market.
The products offered by one Shanghai manufacturer include a one-sided ICF form—the other side is fiber-cement board glued to the webs—a reuseable steel window and door bracing system that copies a North American version right down to the product name and paint colors, and a steel turnbuckle bracing system that folds into the strongback, closely mimicking a popular ICF brace currently manufactured in the U.S.
ICC Rules Controversial Flame Retardant OK
Earlier this fall, the International Code Council has determined that flame retardants are to remain in foam insulation. The ruling came during ICC's public comment hearings at their annual meeting in Atlantic City, N.J., during the first week of October.
The flame retardant HDBC is used to render EPS foam fireproof, but has been shown to have long-term detrimental effects on the environment. To complicate matters, the only available alternative is not yet available in commercial quantities.
The EIFS industry worked hard to tamp down a growing movement to ban the HBCD flame retardant, and the vote on Oct. 4th proved them successful for now. The vote on two proposals (RB 163 and RB 164) to ban flame retardants in the International Residential Code failed on a voice vote. About a dozen persons voted in favor of the changes; the remainder, well over 100, voted against.
Interestingly, a movement is underway to remove HBDC from construction foams without replacing it. Basically, proponents of this approach argue that flame retardants in foam do not significantly affect the flammability of the building as a whole.
California Governor Jerry Brown recently signed a law which directs the California state fire marshal to consider fire safety without the use of toxic flame retardant chemicals.
"Excellent news that the state of California recognizes the need to revise out-dated flammability standards for both furniture and building insulation," said Dr. Arlene Blum, of the UC Berkeley chemistry department. Blum is a proponent of banning HBDC. "These old standards lead to the use of flame retardant chemicals associated with health and environmental harm, but we understand now that they don't provide a fire safety benefit in many cases, such as in insulation used below grade and behind thermal barriers."
Dr. Vytenis Babrauskas, a leading fire scientist, explains "The current practice of adding flame retardant chemicals to building insulation does not benefit fire safety for most applications. Changing regulations to allow removal of such chemicals will not diminish fire safety, but will be highly beneficial for public health and the environment. I congratulate the State of California for taking this progressive step."
The law, AB 127, does not ban any chemicals. "It simply asks the state fire marshal to look into regulations, and make changes that will give building insulation manufacturers the choice to achieve fire safety without the use of toxic flame retardant chemicals like HBCD," explained Bill Allayaud, California Director of Government Affairs Environmental Working Group.
Fox Blocks Begins Alaskan Manufacturing
Fox Blocks, the Omaha-based manufacturer of Insulated Concrete Forms (ICFs), has expanded its manufacturing to Anchorage, Alaska. They have partnered with an Insulfoam manufacturing facility there to supply the Alaska construction market with the full eight-inch-core product line-up (straight blocks, extended corners, Fox insulated window and door buck, and HV clips). Additional product lines will be added in 2014.
Fox Blocks are now manufactured regionally in 12 other locations across the U.S. and Canada.
"We have wanted to strengthen our presence in Alaska for some time," said Mike Kennaw, vice president of sales. "We feel the market potential for our products in Alaska is significant."
"Establishing in-state manufacturing allows us to provide ICF products to local dealers who then can supply their contractor and builder customers," he continues. "Timely supply and a strong product are keys to a quick efficient build."
The regional sales manager for Alaska is George Volker, who has more than a decade of experience selling ICFs in the Northwest.
"Manufacturing Fox Blocks in Alaska allows us to deliver ICF to our customers faster and more efficiently." says Volker. He notes that in a cold climate like Alaska, not only is energy efficiency important, but the severe weather shortens the construction season, so ICFs quick installation time is also a considerable benefit.
Habitat for Humanity Uses ICF to Rebuild Sandy Homes
In October, Fox Blocks ICF was used on a major Habitat for Humanity project. The project took place in Union Beach, N.J., an area devastated by Superstorm Sandy. The hurricane-strength storm leveled entire neighborhoods—close to 270 houses were destroyed in this town alone. After nine months, the area is starting to rebuild, and Habitat spearheaded the effort to rebuild the home of Elmer Lamberson.
This year marks Habitat for Humanity's 30th anniversary. The organization has partnered with former U.S. President Jimmy Carter to designate certain jobs as "Jimmy & Rosalyn Carter's Work Projects." The Lamberson home is one such project
Fox Blocks donated the Insulated Concrete Forms (ICF) and installation volunteers.
"Fox Blocks is honored to be a participant in the Union Beach Habitat project", said Brian Medford, Fox Blocks regional sales representative. "We have been delivering Fox Blocks to homes and aiding in the rebuilding in Union Beach for the last six months. Having Jimmy and Rosalyn Carter on site to rebuild the home of Mr. Lamberson will boost awareness for the many more in need and the fact that together businesses and the community can rebuild a community."
ICF High-Rises Reaching New Records
The City of Waterloo, Ontario, Canada is a hotbed for ICF construction. This summer, no fewer than 14 large commercial ICF projects were underway, using a variety of different brands. Located near Toronto, the buildings range from hotels to offices, and everything in between

One of the most notable projects finished recently is a high-performance 17-story student residence. The weight-bearing ICF walls are built with Logix ICF. Andy Lennox, VP of marketing reports that Logix is also involved in building another similarly sized student residence building in the same city.
"When ICFs were introduced to North America in the early 1990s they were used primarily to build upgraded basements for custom homes," he says. "While Logix still remains a great way to build your basement, over the last 20 years construction professionals have pushed the envelope to the point that now Logix can build almost any kind of building you can think of."
Concrete Associations Supports Obama's Sandy Strategy
Last fall, two concrete trade associations met with a representative of President Obama's Hurricane Sandy Rebuilding Task Force to discuss a possible partnership between the federal government's disaster rebuilding strategies and the concrete industry's goals for rebuilding in the face of natural disasters.
The National Ready Mixed Concrete Association (NRMCA) and the Portland Cement Association (PCA) met in September with the task force, a division of the Department of Housing and Urban Development (HUD).
During the meeting, NRMCA and PCA outlined their strategies for resilient construction which closely aligns with the federal government's strategies. NRMCA presented details of legislation it initiated in Congress, H.R. 2241, the Disaster Savings and Resilient Construction Act of 2013, which would provide tax incentives for building owners and homeowners who rebuild using resilient construction methods in the aftermath of federally declared disasters.
The meeting among NRMCA, PCA and the task force's representative, Josh Sawislak, concluded with recommendations that the government adopt the FORTIFIED programs of the Institute for Building and Home Safety (IBHS) when rebuilding and that they support a new NRMCA proposed LEED Pilot Credit for Resilient Construction. That credit emphasizes the concept that resiliency is a prerequisite to sustainability.
Massive "Gray Block" Project Slated In Hawaii
An enormous 4,000-home development in Hawaii is approaching the final planning stages, reports Dave West, CEO of MillenniumBlok. His company makes a screen-grid Insulated Concrete Block (ICB) with a proprietary blend of Portland cement and EPS bead. The resulting product is heavier and stronger than all-foam ICFs, uses less concrete to fill, and is completely fire- termite- and disaster-resistant.
The building effort is financed by a consortium of wealthy Japanese investors. West plans on setting up both a portable block manufacturing facility and a temporary concrete batch plant onsite to keep costs to the minimum. He claims to have similar projects in the early planning stages in Korea, China, Israel, Africa, the Caribbean, and South America. His company oversees the construction of the "super shell," from manufacturing of the material to proper installation of doors and windows. Local contractors provide interior walls, finishes, and utilities.
His U.S. operations, previously headquartered in Panama City, Florida are being relocated to Houston, Texas.

ICF Builder Magazine
Trade Show Report and Preview
Greenbuild 2013
The annual Greenbuild tradeshow took place Nov. 20-22, in Philadelphia, Pa. It attracted about 25,000 attendees, with room for 1,000 exhibitors.
Last May, Hanley Wood announced that it had acquired the Greenbuild Conference and Expo from the U.S. Green Building Council (USGBC), and this year's show was significantly different from the others. For instance, in past years education sessions were the primary focus of the event. But the new owners dramatically increased access to the exhibit hall this year, and made sure no competing events were held for four consecutive hours on Wednesday and Thursday.
In past years, ICFs have had a heavy presence, but this year only three manufacturers exhibited: Nudura, Amvic, and LiteForm.
Next year's event is already scheduled for late October in New Orleans.
Construct Canada
As this magazine was going to press, Canada's largest construction tradeshow was getting underway at the Toronto Convention Centre in Ontario, Canada. Held Dec. 4-6, the 2013 event is anticipated to be even more successful than last year's show, which attracted more than 25,000.
The 25th edition of Construct Canada offers more exhibits, special features, enlightening seminars and networking opportunities for success.
More than 1,050 exhibits have been reserved. Most of the major ICF manufacturers are represented (Amvic, Fox Blocks, Logix, Nudura, Plasti-Fab, and Quad-Lock) as well as commercial installers (Pro ICF) and makers of specialty ICF products (Cosella, Soprema, etc.)
Construct Canada is held concurrently with Concrete Canada and the National GreenBuilding Conference, and features more than 200 presentations by 450 speakers delivering the very latest in technology, best practices and applications for constructing all types of buildings.
World of Concrete Preview
World of Concrete 2014 will run January 20-24, 2014 at the Las Vegas Convention Center, which has hosted the event since 2003. Organizers are expecting the 2014 show to be slightly larger than the 2013 event, which attracted an estimated 55,000 attendees.
World of Concrete has several dozen booths directly related to the ICF industry, with form manufacturers, bracing, buck, exterior finish and waterproofing companies all planning on setting up significant exhibits. Most ICF-related booths are located in the North Hall, including this magazine, located at N2251. A few ICF manufacturers are holding their annual distributor meeting in conjunction with the show, as well.
WOC offers a number of ICF-related educational courses and events. The biggest, of course, will be the presentation of the ICF Builder Awards, which attracts over 300 of the most influential personalities in the industry. Many of them claim it's the best networking opportunity of the year (see story next page).
For more information about World of Concrete 2014, visit www.worldofconcrete.com. For more information about the ICF Builder Awards, visit www.builderawards.com.
IBS Preview
The National Association of Home Builders' (NAHB) International Builders' Show is back in Nevada for 2014, running February 4-6, 2014 at the Las Vegas Convention Center. The show focuses on residential homebuilding, with an emphasis on high-end custom homes. Usually a half-dozen of the largest ICF companies exhibit, and this year is no exception. Amvic, BuildBlock, Fox Blocks, LiteForm, Logix, and Nudura have all reserved space, along with many other names familiar to readers of this magazine, such as Hambro.
As in previous years, IBS has built a showhome to demonstrate the latest building technologies. For the first time in five years, no ICF technology is used in the 2014 New American Home.
The show also features a series of educational seminars, including more than a dozen on green building. However, none are specifically geared
towards ICFs.
The biggest ICF-related event at WOC will be the presentation of the ICF Builder Awards.

ICF Builder Magazine
2013 ICF Market Report and 2014 Industry Forecast
As 2013 comes to a close, it appears that the year has not been as positive for the ICF industry as many had hoped. More than six years have passed since the bottom fell out of the construction market, and despite the best efforts of the world's leading economists, the recovery has been relatively modest.
Despite that, the ICF market continues to evolve, and well-managed companies are solidifying market share and positioning themselves for the strong growth that inevitably lies ahead.
» Click Here for the Complete Story


ICF Builder Magazine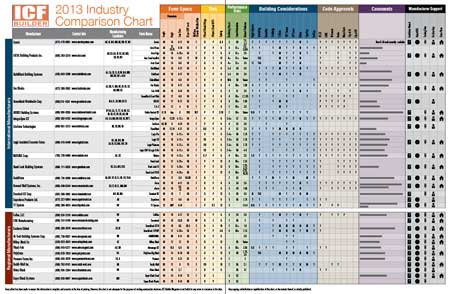 Comparison Charts
The ICF comparison charts below contain updated, comprehensive information on every significant ICF brand in North America. We've also included a comparison of the major ICF decking systems as well as many of the alternative stay-in-place forming methods.
Insulating Concrete Forms
EPS Decking Forms
Alternative Stay-in-Place Forms

ICF Builder Magazine
Project Profiles: The Unlimited Residential Winners
These amazing custom homes—each with more than 6,000 sq. ft. of living space—are beautiful, functional and extremely energy efficient.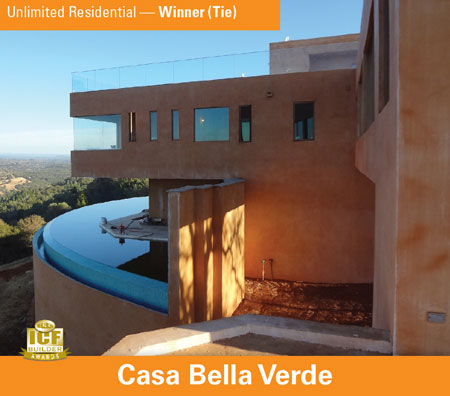 Casa Bella Verde
Situated on the foothills of the Sierra Nevada in Northern California, Casa Bella Verde is a magnificent example of energy efficiency, sustainability, and design ingenuity. More than that, it showcases how ICF technology can be used in an astounding array of construction situations. The main home and attached guest house have a combined 9,000 sq. ft. of conditioned floor space. Yet the homes used more than 30,000 sq. ft. of ICF wall forms, and an additional 30,000 sq. ft. of ICF forms in landscaping, pool construction, and other uses. An additional 15,000 sq. ft. of Insul-Deck EPS decking was also installed.
» Click Here for the Complete Story
---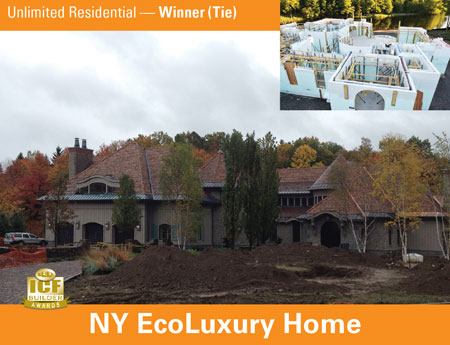 NY EcoLuxury Home
Inspired by a recent trip to Europe, the owners of this home wanted to build a residence to last for many generations. Like the grand homes of Europe, it would be architecturally impressive, but they also wanted to build in a sustainable and ecofriendly manner, and have the home be as efficient as possible. They quickly realized that wood-frame construction techniques would be inadequate.
» Click Here for the Complete Story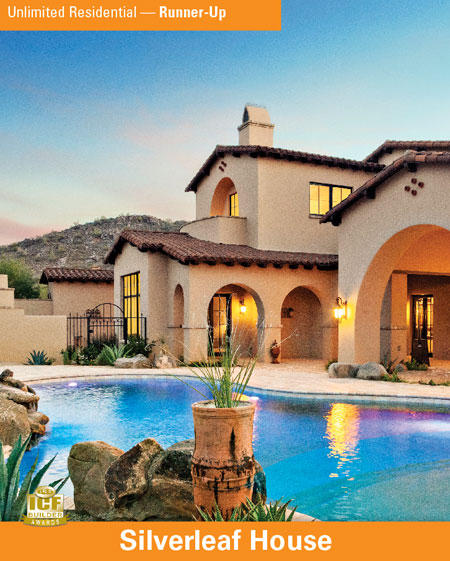 Silverleaf House
Silverleaf House, is one of the most stunning examples of Spanish Colonial architecture in a state known for outstanding examples of this style. ICFs accommodated the design far better than most systems. It was perfect for building long thick walls, with deep recesses at window and door openings. The rigid foam was the perfect substrate for a cement stucco finish, while the concrete core at the center of the wall easily supported the heavy tile roof. Additionally, ICFs could accommodate the balconies, columned colonnades and arched arcades this home has in abundance.
» Click Here for the Complete Story

ICF Builder Magazine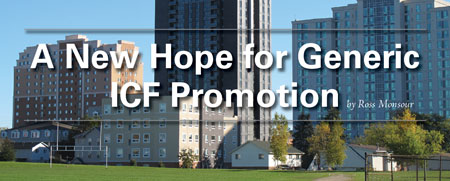 A New Home for Generic ICF Promotion
Insulating Concrete Form technology has been around for more than forty years and has provided an alternative innovative technology for builders and contractors to provide an product that meets the demands of today's consumer.

ICF Builder Magazine