EPA Moves to Ban EPS Flame Retardant
In March, the U.S. Environmental Protection Agency (EPA) announced that it would conduct a risk assessment on nearly two dozen hazardous chemicals, including an in-depth study on the flame retardant used in EPS foam.
Hexa-bromo-cyclo-dodecane (HBCD) is the chemical used by foam molders to make expanded polystyrene foam (EPS) fire resistant. Unfortunately, the chemical accumulates in people and animals, and has been shown to cause adverse health issues in animals. (For more information, see Fire Retardants and ICFs in the Aug. 2011 issue of this magazine.)
Of the 23 chemicals being assessed this year, 20 are flame retardants. HBCD is the only chemical on the list that has moved past the study phase into the "Action Plan" category. According to the EPA website, they will "assess alternatives to HBCD for use in insulation for buildings and construction… the project will not assess alternatives to HBCD in textiles and electronics." This chemical has already been banned by the European Union.
In response to the EPA announcement, the EPS Industry Alliance (EPS-IA) and the Extruded Polystyrene Foam Association (XPSA) released a joint statement pointing out, "Flame retardant chemicals employed by the polystyrene foam insulation industry have been successfully used for decades in a wide range of applications. We are encouraged that EPA already has deemed 50 flame retardant chemicals as 'unlikely to pose a threat to human health' in an earlier screening and look forward to a balanced approach moving forward."
Home Buyers Crave Energy Efficiency
According to a new study from the National Association of Home Builders (NAHB), new homeowners value energy efficiency over any other single feature.
In February, NAHB's publishing arm, BuilderBooks, released What Home Buyers Really Want, a study which outlines home buyers' preferences for home type and size, room layout and design, kitchen and baths, windows and doors, accessibility and outdoor features, electronics and technology in the home, energy efficiency and choosing a community. The study was conducted by NAHB's Economics and Housing Policy Group in 2012, based on a survey of home buyers nationwide.
It explains, "The housing downturn of the last few years affected not only the number of new homes that are built each year, but also the characteristics, features and size of the ones that do get built."
Energy efficiency was ranked the most desirable feature, and buyers indicated they were willing to pay for it. Nine out of ten buyers said they'd rather buy a home with energy-efficient features and permanently lower utility bills than one without those features that costs 2% to 3% less. Specifically, buyers wanted Energy-star rated appliances and windows, and an Energy-star rating for the whole home.
The second most popular feature was ample storage. Large majorities want a laundry room, a linen closet in the bath, garage storage and a walk-in pantry.
What Home Buyers Really Want is available at ebooks.builderbooks.com. Results from the study are available by age, income, race and census division, among other demographic characteristics.
Resilient Construction Bill Gains Traction
Legislation promoting disaster-resistant construction is gaining ground in both the U.S. Senate and House of Representatives. As reported in the May 2013 issue, the House is considering HR 5839, which would create incentives for rebuilding after a disaster with ICFs or other durable materials.
In early May, the Senate began considering a similar bill. Senators Roy Blunt (R-MO) and Bill Nelson (D-FL)—representing two states especially prone to natural disasters—introduced it as a resilient construction amendment to the Water Resources Development Act (S. 601).
The amendment would require the federal government to recommend resilient building techniques and materials to be used in response to damages from major disasters.
The job of defining resilient construction and approved materials would be delegated to the National Academy of Sciences and the Government Accountability Office. "Homes and businesses that can withstand disasters protect occupants during storms, and as more disaster-resilient buildings are built, there will be less debris to cause additional damage," says Robert Garbini, president of the National Ready-Mix Concrete Association (NRMCA). "The amendment will ensure that the benefits of resilient construction are known so builders and contractors can best prepare for a safe future."
Wind-lock Opens Reno Facility, Adds Foam Line
Wind-lock has opened the doors to its new distribution center in Reno, Nevada to service its Western customers. "We realized that this was an area that we really needed to have a facility to reduce the shipping time and costs for these customers," explained Andrea Loud, Director of Operations for Wind-lock. "With an inventory mirroring our Leesport, Pennsylvania corporate headquarters, our Reno distribution center is sure to deliver 'what you need, when you need it" to the West."
Also, this spring Wind-lock added a line of spray foam products to their inventory to complement their existing line of insulation and weatherization products. Wind-lock is now carrying select Touch 'n Seal products from Convenience.
Items in the new product line include a single-component foam, two types of two-component foams (open and closed cell) and a CPDS (Constant Pressure Dispensing System) to apply the two-component systems.
British Building Competition Highlights ICFs
The 2012 Build It Awards, a competition recognizing do-it-yourself home improvement in the UK, has spotlighted ICFs. The program, built around a theme of "Celebrating Excellence in Self Build and Renovation" has an entire category devoted to insulated concrete forms.
A project built with Logix ICF was on the shortlist of winners, ultimately losing out to an owner/builder project using a local British ICF system named Beco. The judges noted that ICFs are "easy enough for the home owner to construct on a DIY basis " and that "the resultant house is attractive and energy efficient in its use, and shows how innovative you can be in design when building with this material."
Oklahoma Man Named Driver of Year
Rayfield Harris may be the best concrete truck driver in the United States. In January, a panel of industry judges selected Harris as the top driver from a group of outstanding applicants from all across the United States, and the National Ready Mixed Concrete Association (NRMCA) named him the Ready Mixed Concrete Delivery Professional Driver of the Year for 2013.
Harris, who has worked for GCC Mid-Continent Concrete in downtown Tulsa, Okla. for the past nine years, was honored for his career achievements, safety record, professionalism, driving competency and customer service skills.
"Anyone who comes in contact with Ray walks away feeling a little better about themselves," wrote GCC's Kim Kelly when nominating Harris for the Driver of the Year Award. Kevin Jackson, GCC Mid-Continent Metro/Midco district manager, said, "…In 30 plus years in this industry, I have never seen a more dedicated employee."
Barry Goodrich, a 15-year veteran mixer driver working for CEMEX in Fairfield, Calif. was chosen as runner-up.
Health and Safety Manager Aaron Autsen wrote, "Barry has gone more than 13 years without a rejected load and without an accident while averaging nearly 10,000 yards delivered over the past three years."

ICF Builder Magazine
ICF Swimming Pools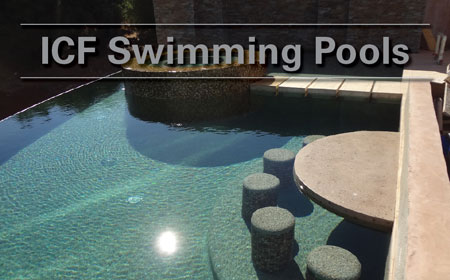 Insulated Concrete Forms are increasingly being used for applications besides homes and commercial structures. Retaining walls, water features, backyard fireplaces and even pizza ovens have been built with ICFs. (See Earthworks in the Oct. 2011 issue.) Perhaps the most common of these creative uses is ICF swimming pools.
It's a natural fit. ICFs are highly insulative and easy to adapt. In fact, swimming pools were being made with ICFs in the early 1970s, shortly after the technology was invented. But it's only been in the past five years that innovative builders have really pushed the boundaries of what's possible, creating eye-popping water features of all types. Additionally, coating manufacturers have recently developed a number of pool finishes specifically formulated for ICFs, which makes it easier than ever to make sure the client gets a beautiful, long-lasting, energy efficient pool.

ICF Builder Magazine
PROJECT PROFILES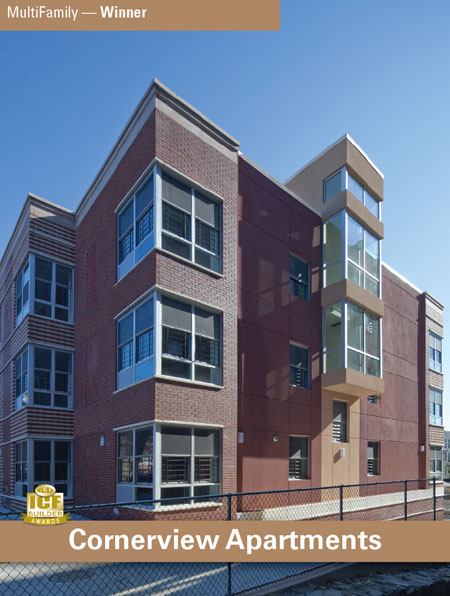 Cornerview Apartments features 15 affordable housing units on three floors. The unique corner windows featured throughout the building are one of its strongest selling points.
Click to read the full Project Profile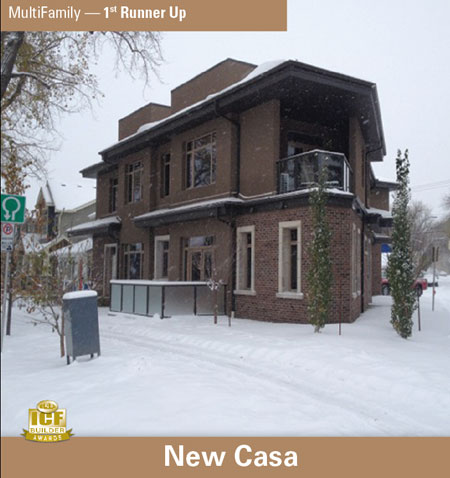 The New Casa duplex in Calgary, Alberta, is a great example of how an experienced ICF installer can turn an extremely complex project into a beautiful neighborhood landmark.
The challenges began when it became clear the oddly shaped lot would require a triangular building, and became more complex when the city required that two of the sides resemble front entries. The tight jobsite offered zero space for material storage, so close coordination between the general contractor, ICF installer, and suppliers was essential.
Click to read the full Project Profile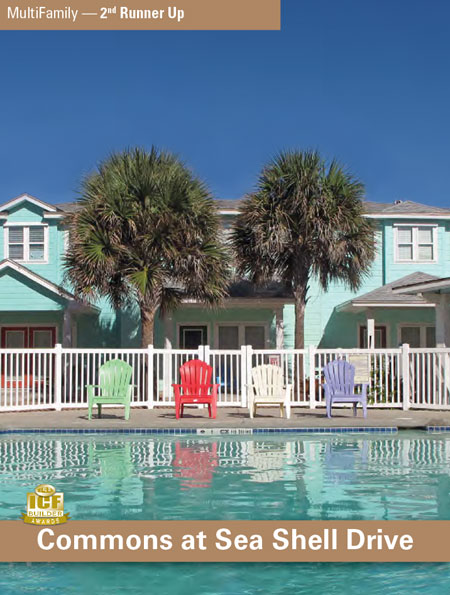 This three-unit development of vacation townhomes on the Texas Gulf Coast faced a number of construction and design challenges. Fortunately, Insulated Concrete Forms (ICF) provided an elegant solution to virtually all of them.
Click to read the full Project Profile

ICF Builder Magazine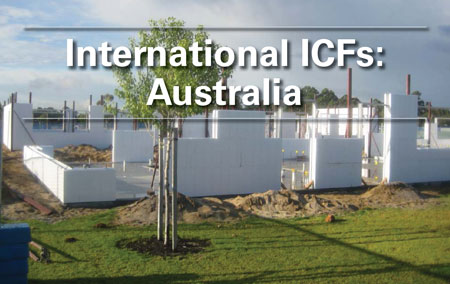 In North America, Insulating Concrete Forms (ICFs) have become fairly widespread. Although they comprise less than 10% of total construction starts, most construction professionals know what ICFs are, and hundreds of thousands of them have seen or worked on at least one ICF job. That's not the case in most other areas of the world, though. In this article—the third in a series—we're looking at the ICF industry in Australia.

ICF Builder Magazine



ICF Product Directory
This special advertorial section includes listings for leading ICFs and accessory products, organized by category and containing company contact information.
» Download the Product Directory